On me…Top: Olive & Oak. Skort: ZARA. Hat: Target. Earrings: Vintage.
Heels: ZARA. Bracelets: BCBGeneration c/o. Watch: Timex.
Shop the look:
Timex Events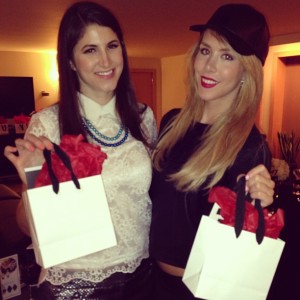 Last week I attended an exclusive preview of the new Timex fall collection and I was completely blown away. When I think Timex, I used to think of 80's digital plastic watches, but Timex has genuinely stepped up their game. They still had some fun and classic digital styles if you want to channel the 80's, but they they had so many new styles too. A sporty collection with interchangeable straps, a glam collection with glittery faces, rows of crystals, and metallic bands, a classic collection that features a beautiful gold chronograph style (on me) which is a pleasant update to the Michael Kors Runway watch that everyone and their mother has, but at $100 less. They also had some very expensive looking mens styles that were so rad that most of the ladies including me, ignored the "Mens" label and considered them unisex.
Timex graciously allowed us to choose a watch to take home. Laura, Roger and I had a very hard time selecting only one. Originally I thought I would get the gold one I tried on, but I still get use out of my trusty Michael Kors version so I took a cue from Elizabeth and, as I mentioned above, chose a mens style (below). I love the crocodile band and the rose gold detailing, but when Roger pushed the button to see if it featured the classic Timex Indiglo, I instantly made up my mind when I saw this bad-ass world glowing back at me.
Indiglo
"In the 1990s, a nearly 150 year old Timex vigorously pursued its long tradition of technological innovation and market leadership. The company introduced the industry's first electroluminescent watch face in 1992, when the blue-green "Indiglo®" night light feature appeared on some of its digital and analogue watches. More than 75 percent of all Timex® watches are equipped with the "Indiglo" night-light. All-Day Indiglo® display, a hologram-like material, provides greater contrast between digital numbers and the display background." –Timex Website
Huge thanks to Timex for an awesome event, and a freaking awesome watch- see it here soon.
P.S. Roger chose this watch, and Laura selected this stunning rose gold crystal encrusted beauty!
P.P.S Just wait until you see the tortoise shell versions coming out this fall!!! OMG, I die.
With love from Hollywood,
Kier