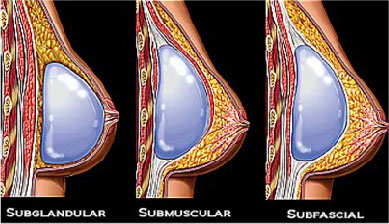 Boob Job Blog: Subfascial Placement, 5 days till D-Day
When I went into Beverly Hills Plastic Surgery Group for my initial consultation I had done a good amount of research and one thing I was "certain" about was that I was going under the muscle… even with my research I didn't know about subfascial as it is relatively new(I couldn't find the official date, let me know if you find out!). I was sweating like crazy in my robe and nervous to start and show them my boobs! When I opened the robe a sigh of relief came from both doctors and the office assistant Heather, I was a little confused and thats when I was told I was a great candidate for subfascial implant placement (their prefered method because of it's natural appearance) which requires a good amount of breast tissue to work with. As I understand it, subfascial placement means that you have a large muscle (your pectorial muscle) and a smaller one that is basically the connective tissue- (I think)… the subfascial implant goes over the pectoral muscle but under the connective tissue so the top will blend nicely and avoid that stuck-on appearance you get when you go over the muscle. Another reason to go subfascial is that when you are fairly thin framed and you go under the pectoral muscle you can have what they call "Implant animation" which already doesn't sound good. Implant animation is when you lift groceries or work out and use that pectoral muscle, your entire implant shifts under it and moves about, talk about awkward! Yet another reason, as if those weren't enough, is with the subfascial technique, the recovery is much less painful and not as long becuase you don't lift the muscle off the chest wall, and there is less risk of capsular contraction which I understand to be pretty common… So why doesn't eveyone get subfascial implants? Why would anyone go all the way under or over the muscle? Because you need to have some breast tissue to work with. Thank goodness I'm not completely flat chested, and this option is perfect for me.
Read more in depth about this subfascial technique here, or I love this video for a walk through of the types, profiles, insertion techniques, incision locations, and a visual of how the procedure is done. (I don't think they show the subfascial technique in this video unfortunately, the "partial unders" they show look different than what I understand subfascial to be and what the illustration above shows.)
Tomorrow find out what size I'm going… the CC debate..
With love from Hollywood,
Kier
*I am not a medical professional, these opinions are just that: opinions..