Beverly Hills Plastic Surgery Group…
6 days till D-Day
If you are just joining you can see my other posts here.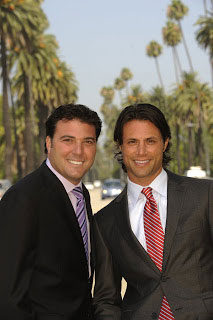 I went to a few consultations with doctors who had been recommended by women who's boobs I trusted- so to speak, but I just didn't feel that connection, that spark like, "This Doctor gets me, he understands my needs and wants, and I trust him" until I met this pair. The doctors, yes 'doctors' with an 'S' that I finally selected are Dr. Layke and Dr. Danielpour of Beverly Hills Plastic Surgery Group. They work together for a more comprehensive and complete approach. I have always believed that two heads are better than one especially when it comes to something like this that's important. Don't you ever wish you had a right-hand man as trained and skilled as you, to help you finish an important project? That's what these two have, in the operating room they both work, and evaluate together making sure everything is perfect- from every angle, in the end,  you're getting two amazing surgeons for the price of one.
This dream team has worked on several women I know, who don't look "done." In fact, if you saw them, you'd think they were born that way. They really understand how to make boobs look natural, and that's one of the reasons I selected them. Dr. Danielpour and Dr. Layke actually prefer a refined natural look, just like I do. (For some reason plastic surgeons in my mind, before I met these two, were scary and try to convince you to get all this unnecessary work done- case in point Heidi Montag…) You need to find a doctor who is on board with your needs, and these two are perfect for me. To ensure a natural look they utilize the newest technology. The silicone they use is the new generation of silicone, which not only feels more natural and looks more natural, but if you cut it in half and squeeze it, nothing comes out, therefore no leakage, which is also safer.
These two Doctors constantly give off the perfectionist vibe but in a totally excited way, they are so detailed and thorough and make everything easy to understand so all my questions were answered. Drs Layke and Danielpour are sensitive, professional and made me (and Roger) feel totally comfortable and excited throughout my consultation. Not to mention, they have impeccable hygiene, good posture, firm handshakes and soothing voices, and they are young- so they have a steady hand, and call me crazy, but those things are important to me in someone who will be modifying my body and easing me out of surgery.
Will be discussing placement tomorrow, so come back! (Behind or in front of the muscle, the debate..)
With love from Hollywood,
Kier
*I am not a medical professional, these opinions are just that: opinions.