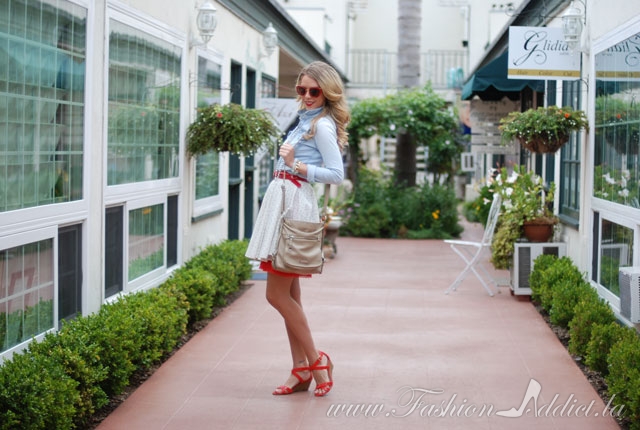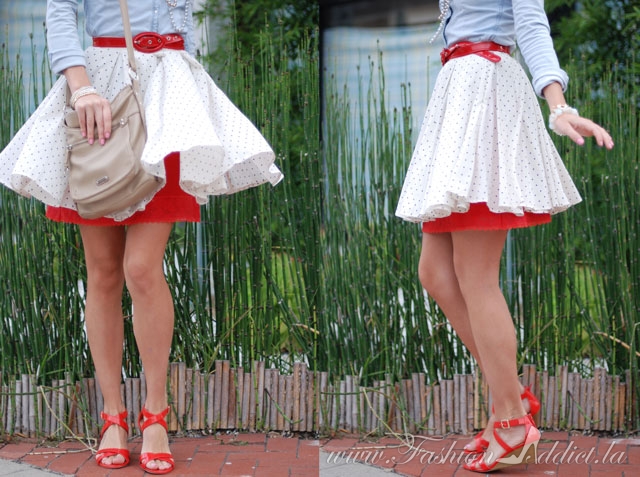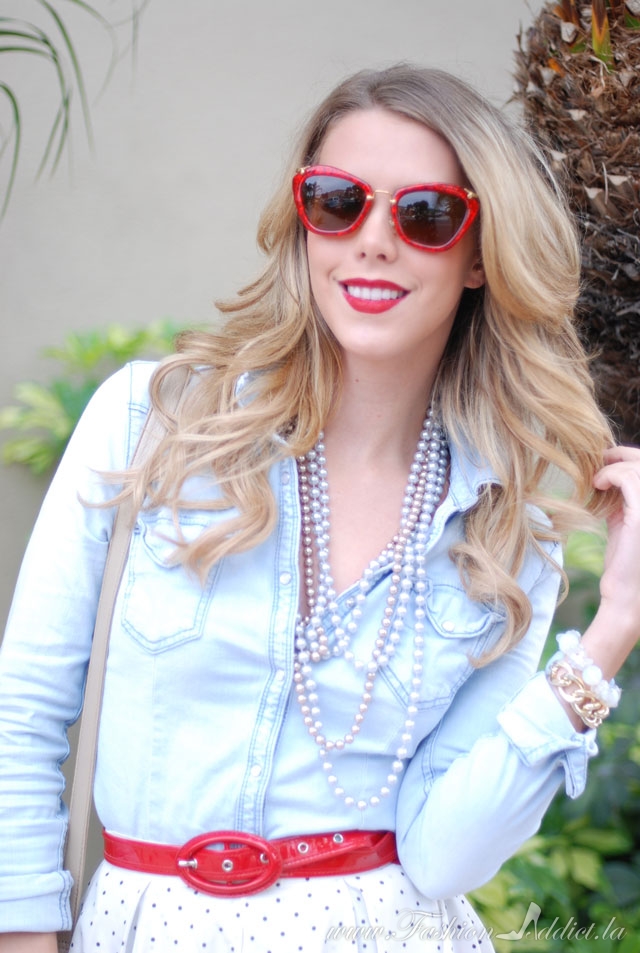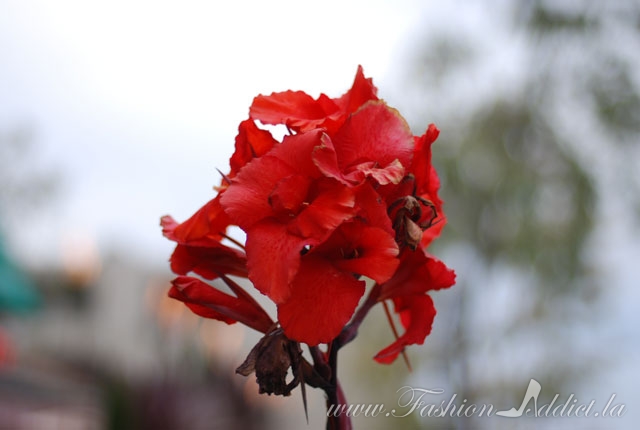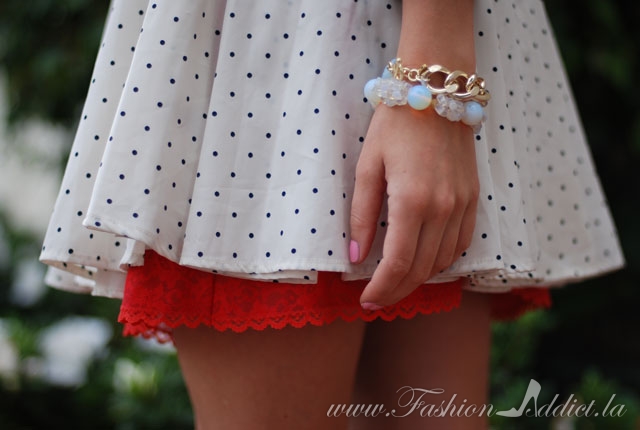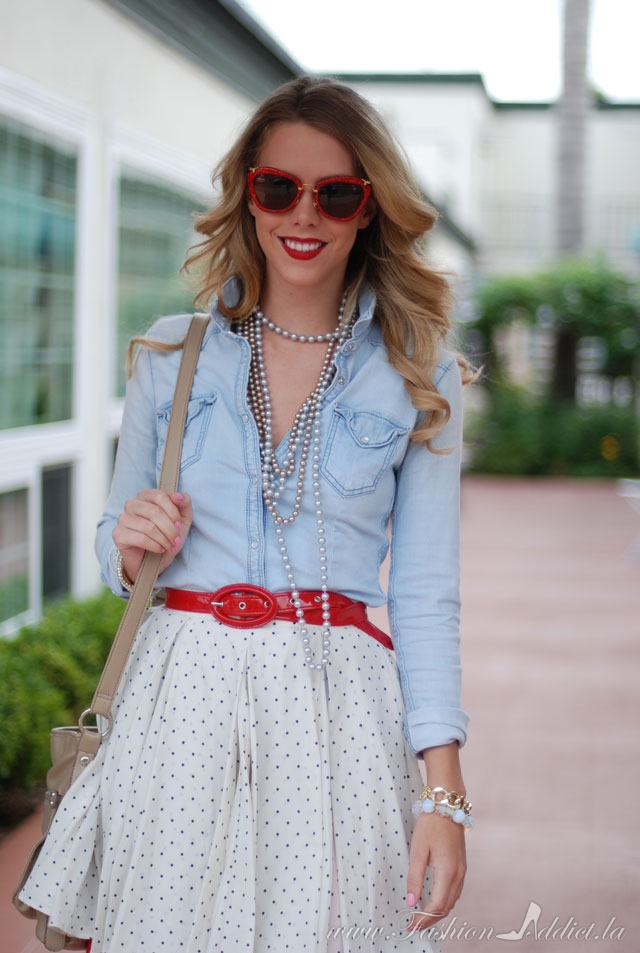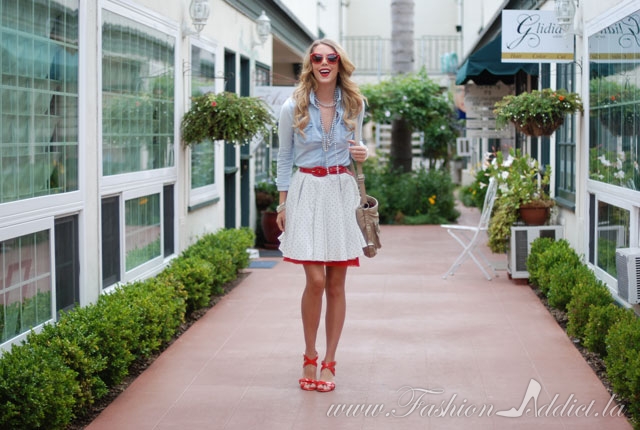 Slip: Vintage. Skirt: American Apparel. Sandals: Merona. Bag: Franco Sarto.
Pearls: Thrifted and Nordstrom. Shades: Miu Miu. Belt: French Connection UK, old.
Bracelets: Oia Jules c/o & Giftshop in Mexico.
Shop the Look:
How to wear poppy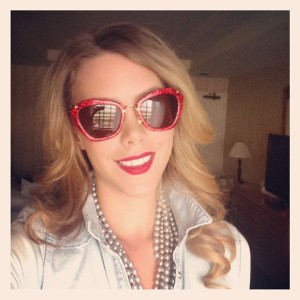 I always think of Poppy as a fall color and it's been 'popping' up all around lately! I feel I don't look as good in warmer colors next to my face, that's why I didn't wear red for 10 years! So to incorporate poppy into my look I stick to waist and below for the poppy and a more blue red lipstick and shades.. Anyone can use this trick of keeping the color waist down to bring some warmer shades into your wardrobe!
I've have this vintage slip for a while and but I hadn't gotten to see it in action. This was actually one of those  outfits I planned in my head but the end result was way better than I imagined- love it when that happens!
If you follow me on IG you have already seen me going nuts in these Miu Miu shades.. I can't get enough of them. I kind of want the pink ones too, what's a girl to do?
Eating in La Jolla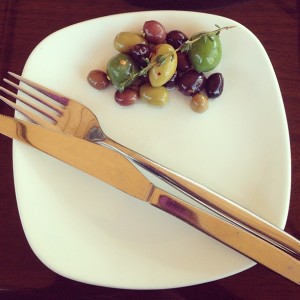 I loved the area we stayed in in La Jolla, it was walkable to the beach, had adorable little restaurants, good food, and fun little shops- oh yeah, and like 10 fitness locations of all sorts in a 4 block diameter. I've never seen so many yoga, pilates, personal training locations in such a small area. The people there were very fit, always carrying yoga mats and walking everywhere.
We ate at three really great places, Tapenade: try the lobster bisque,  The Cottage for breakfast lunch or brunch , and The Prep Kitchen for small bites, however I don't like cucumber so I steer clear of the cucumber lemon water here, but otherwise the food is fresh and good. Highly recommend all three… or one of the several juice bars. ;)
PS. These sandals are perfect for walking around exploring, glam, super stylish and comfy- nice one Target! (ON SALE)
With love from Hollywood,
Kier