Dress: Hale Bob, old. Shoes: RACHEL  by Rachel Roy. Bag: Vintage.
Sweater: Jones New York. Bracelet: Gift Shop at Hilton Torrey Pines La Jolla.
Hale Bob
I've had this dress for years but only recently noticed all the colors in the geometric pattern at the hem, I love how intricate it is, and how it's not a separate fabric sewn on, it was actually designed as part of the textile, which I love. All the newly discovered colors make it a lot easier to match than I originally thought. Hence the random green sweater from this post, but hey, the cold sneaks up on you when you're near the beach..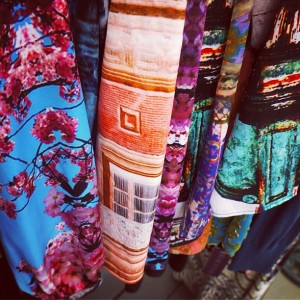 I got this dress at the boutique in the Hard Rock Hotel in Vegas a few years back… I basically stayed an extra night, changed my flight and crashed my girlfriends room but all I had to wear to breakfast was my dirty clothes from clubbing the night before… my bags were across town and I really needed to get something to eat but was not trying to look like a hooker at 10am. I dashed down to the boutique on the hunt to find something day-appropriate that would match the blue suede stilettos I had from the night before and instantly fell in love with this dress which was on the mannequin. The last one in my size I asked the sales associate to sell it off the mannequin to me and although against policy, she agreed. It was marked up to almost $500, due to the boutique price point, but I happily spent my winnings from gambling the night before 'all in one place' so to speak because I loved and still love this dress… I get so many compliments on it, and it has all my favorite colors in one silk, short, shift dress, just the way I like it. It was an investment piece, but one well worth it.
Also, I love that it sexily shows off my legs but isn't body conscious so if I'm feeling a little bloated it the PERFECT dress…
BTW, the new fall season of Hale Bob is to die for. Follow them on Instagram for amazing sneak peeks!! (Instagram photo above is from Hale Bob's Instagram.)
These photos were taken at the Hilton Torrey Pines La Jolla and it was such a beautiful property! The pool was stunning, and the sprawling golf course behind the property which led up to the ocean was so nice, I found myself just staring out for hours. Thank you to everyone at the Hilton for treating us so well.
With love from Hollywood,
Kier