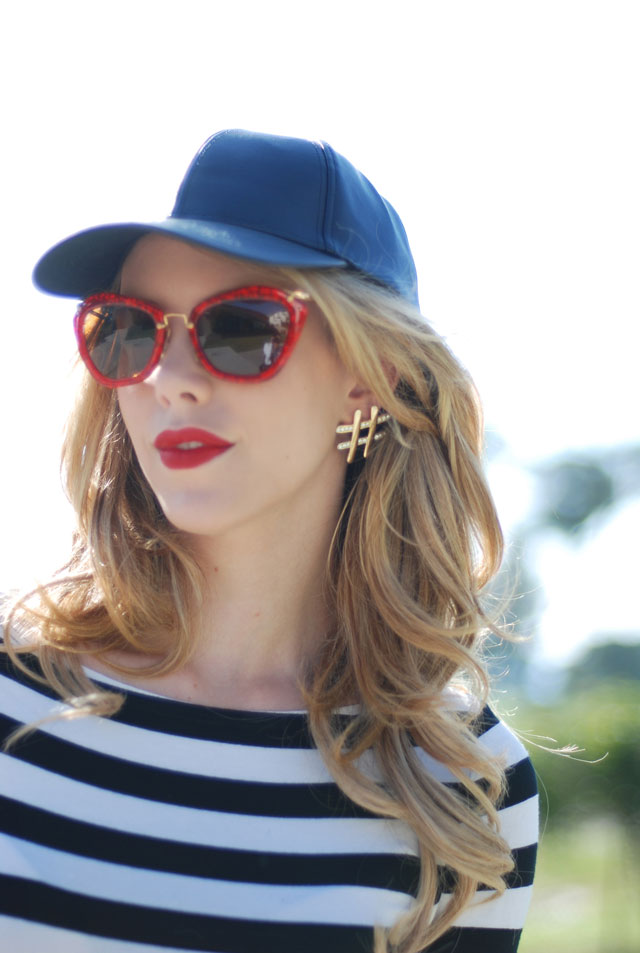 Striped Shirt: H&M, old. Skirt: H&M, last year. Bag: Aldo, s/s '12. Shoes: ZARA s/s '13.
Shades: Miu Miu. KIER Bracelet: BCBGeneration c/o. #Earrings: Vintage, similar.
Watch: Michael Kors. Hat: Target. Belt: French Connection.
Shop the look:
Glitter Miu Miu Sunglasses from Ilori & Last La Jolla Look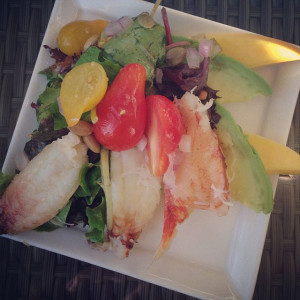 The final outfit from my trip to La Jolla… I kind of threw this together last minute. Although this look is super cute in my opinion, it just wasn't the right setting for it and I felt slightly out of place. I just really wanted to wear my new Miu Miu shades so I put this on and rocked them out anyway. I had an amazing mango and avocado salad (I added crab) at the Hilton's restaurant while wearing this and it was so delightful and pretty I thought I'd share the photo with you (Right). P.S. it was way bigger than this, I just made a little version for the pic!! Xx
I got these Shades at the event that Kelly of Kelly Golightly and Sheryl from Walk in Wonderland hosted at Ilori at the Americana at Brand. Ilori wasn't a store I was familiar with before the event but I was very impressed by the end of the night; their sales associates were extremely knowledgable, their selection included everything from exclusive designs from Chanel, Miu Miu, Prada, and Fendi to the new sporty mirrored styles from Ray-Ban, and most styles come with warrantees.
I recently found this awesome DIY for these shades, so if you're as in love with them as I am, check it out to get the look for less! I have about a week of posts lined up, maybe more before I'll shoot with my new boobs, as they are just way too swollen right now, so if you can't wait, follow along on Instagram to see the ladies in real time.
BTW…. I just listed a bunch of clothes on Threadflip that I won't fit into anymore with my new boobs, stuff you both you have and haven't seen on my blog is up for very reasonable prices so sign up here for free, get $5 instantly by signing up through this link, and go shop my closet!! While you're at it, do a little fall closet clean-out and sell some of the stuff you no longer wear, it's super easy and you can sign in with Facebook for expedited account creation. Make sure you follow me on Threadflip after you sign up to get alearts when items in my closet go on sale or when new items are listed!
With love from Hollywood,
Kier