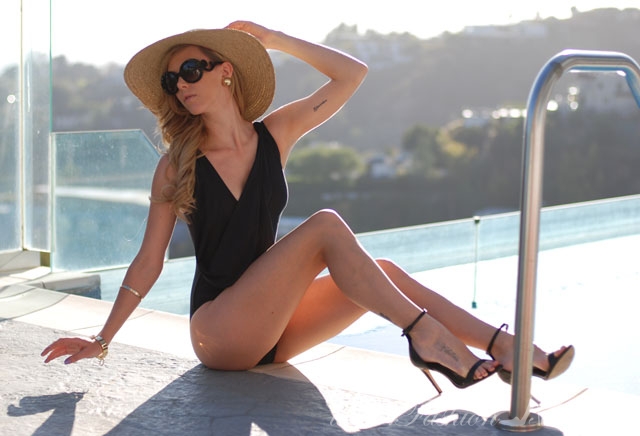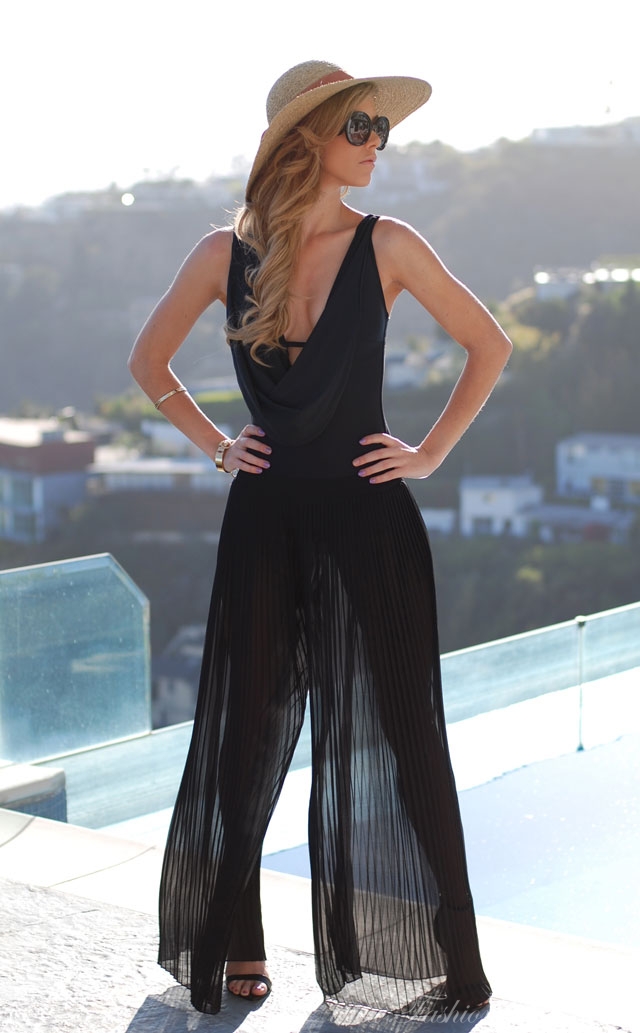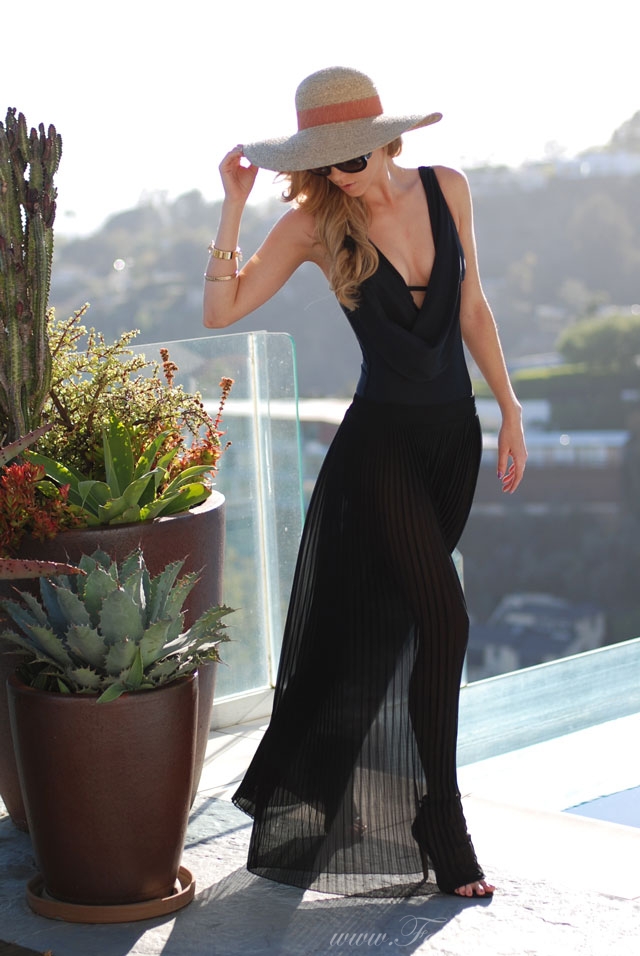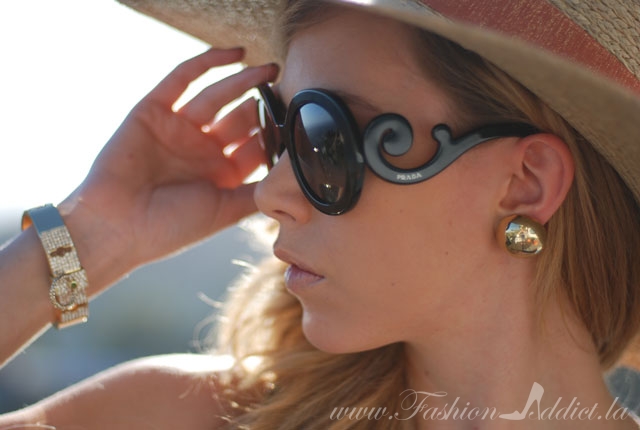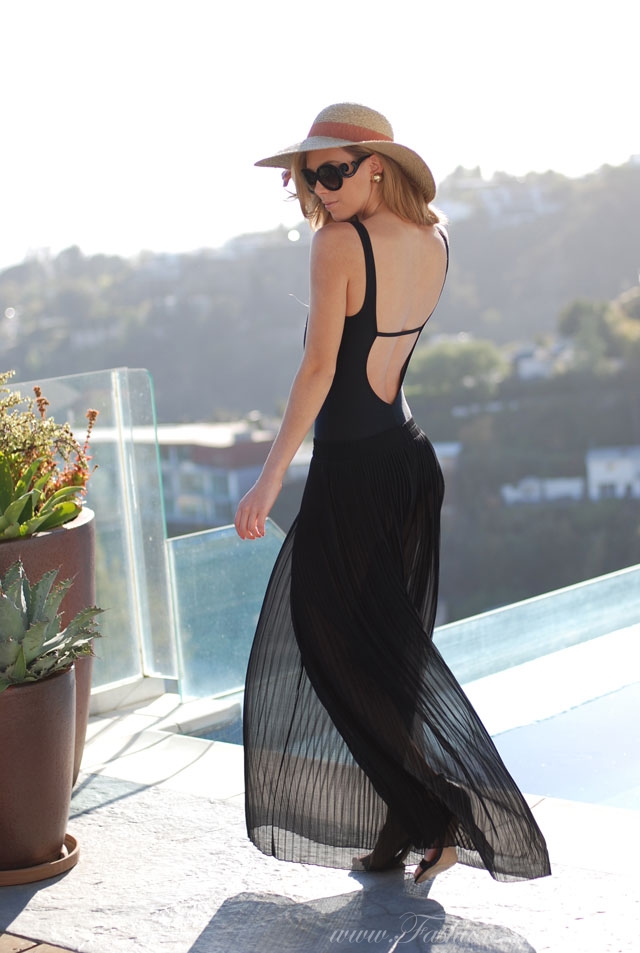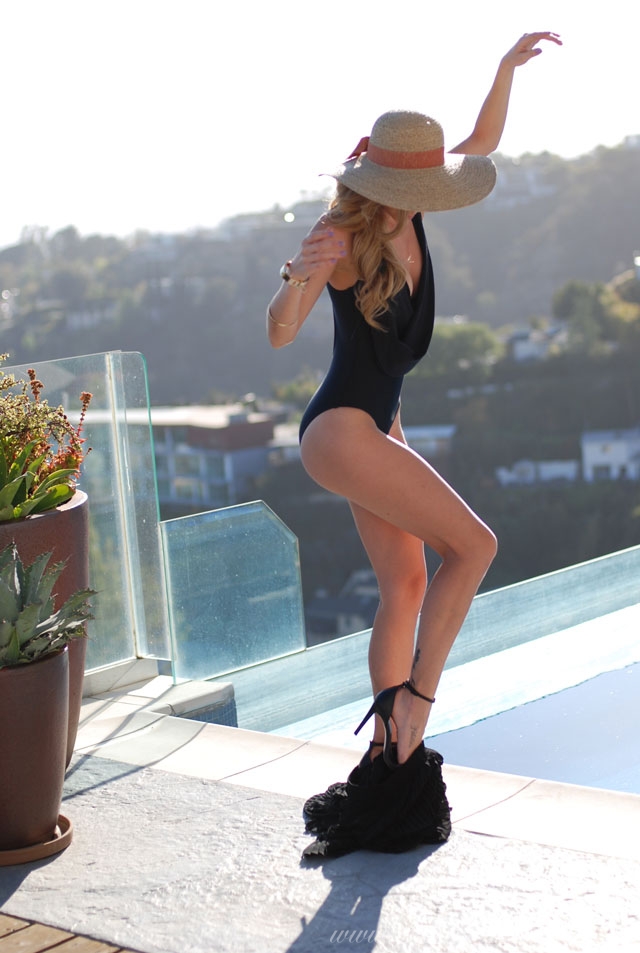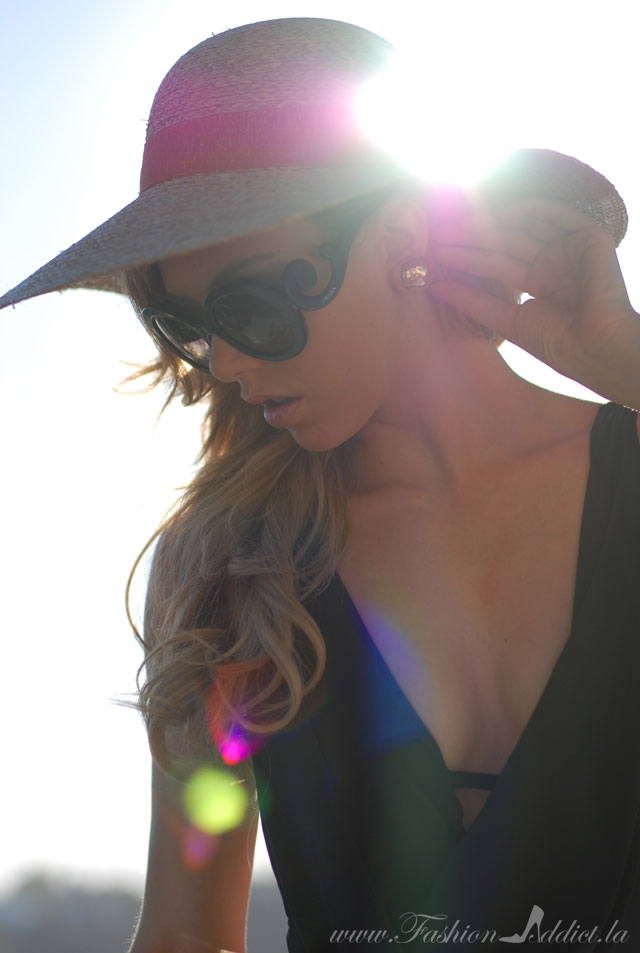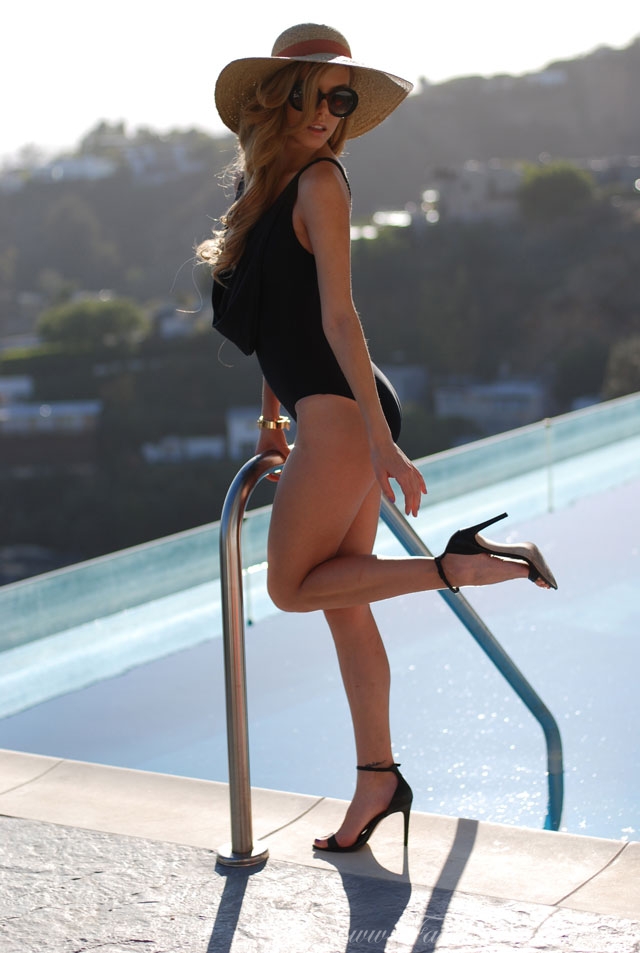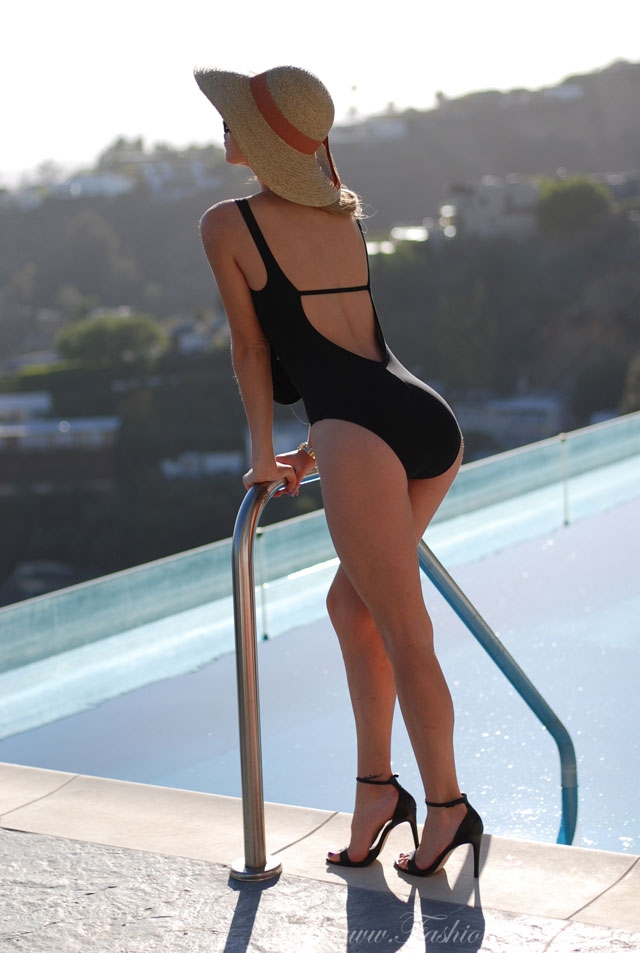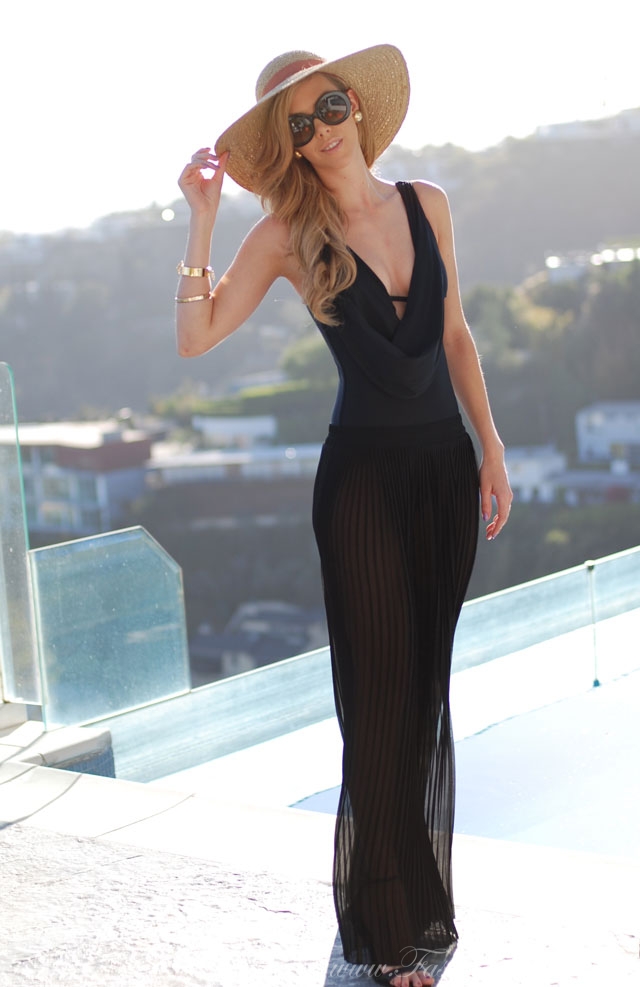 Swimsuit: LUXE by Lisa Vogel via Swim Spot c/o. Pants: ZARA spring/summer '12, similar, similar, similar.
Shoes: ZARA s/s '13. Sun Hat: Goorin Bros, (a Birthday gift thanks to Ashlee).
Gold Crocodile Texture Bangle: Black House White Market. Pave Toggle Bracelet: BCBG Max Azria.
Earrings: Vintage. Shades: Prada, "Baroque" (a birthday gift thanks to my bf).
Glamour is a lifestyle
So, I was pretty stoked about how these photos turned out, I'm no super-model, but in some of these shots, I could fool a fool. I have to give credit to my boyfriend Roger for this look (and these photos) because he saw a girl wearing pants like these with an American Apparel leotard and he thought it was really hot and that I should try it, so I did. I actually wore these pants with a different one piece swimsuit last winter in Florida to dinner after leaving the beach and heads turned for sure. I knew instantly when Swimspot approached me, that I would wear this sexy suit with these pants, (I cut out the opaque shorts that were attached inside, just not necessary for this look.)
Black strappy sandals don't weigh this look down like wedges would, this perfect floppy hat adds that extra touch of Hollywood glamour  (I'm a sucker for hats, Thanks Ashlee), and some simple yet luxe gold jewels glisten in the sun. Oh, yeah, and HOW FABULOUS ARE THESE SHADES???? I've been obsessed for months, and finally my birthday delivered. (Thanks baby)
Swim Spot
When Swim Spot asked me to do a review, I went to their site of course to choose a suit, but most importantly to evaluate the site so I could give all of you an amazing and accurate review. When I saw the suit below, which most of us have seen on Pinterest like 60 times without actually being able to find out where to buy it, I felt not only a sigh of relief like, "oh wow, this suit does exist, and it's easy to buy here", but also like, "Wow, Swim Spot has a fabulous buyer." The more I looked through Swim Spot's selection the happier I became, but the more difficult it became to choose a suit. I decided to take full advantage and try out their Fit Guide- GENIUS! What a great addition to an ONLINE SWIMWEAR site- um, yeah, it's hard to buy a suit online, it's kind of a personal thing- but thankfully their fit guid's suggestions, in my opinion, were (swim) spot on! hehe. The only things I'd recommend to Swim Spot, is that they add what size the model is wearing to the description, and also that they add a section for "Long Torso" to the Fit Guide, because I have a very long torso, and that's something I always look for in a one piece suit.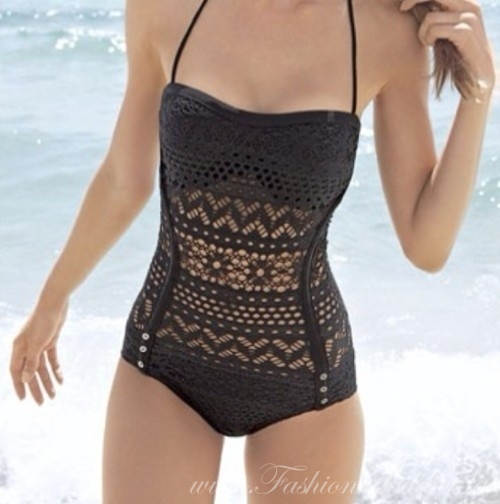 (Photo thanks to Pinterest– I can't find the original source, buy here)
Luxe by Lisa Vogel
Okay… so many great things about this suit, where do I start? Black = classic and flattering. The cowl neck is interesting, classy, and covers the stomach area which is a HUGE problem area for most women. The low cut neckline and back are super sexy, and the horizontal strap holds everything securely in place. This suit gives me cleavage!!! I never have cleavage in swimsuits, like never- I've tried to buy padded suits, and push-up suits, and they all create that weird armpit fat, but no actual cleavage- well this suit not only covers that armpit fat, but presses your tah-tahs inward and down to hold them still! This suit will be mine for years to come- an item I will treasure, and depend on to make me look great even after I have babies. Thank you for this impeccable design Lisa Vogel, I'd love a white version too- please consider!!
With love from Hollywood Washington,
Kier
HYPE on LOOKBOOK.nu