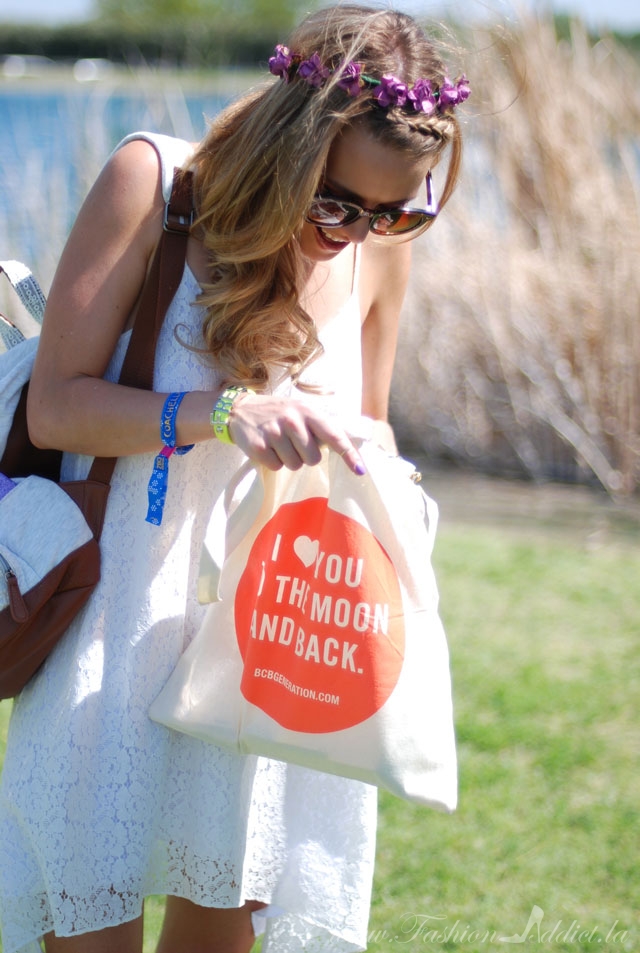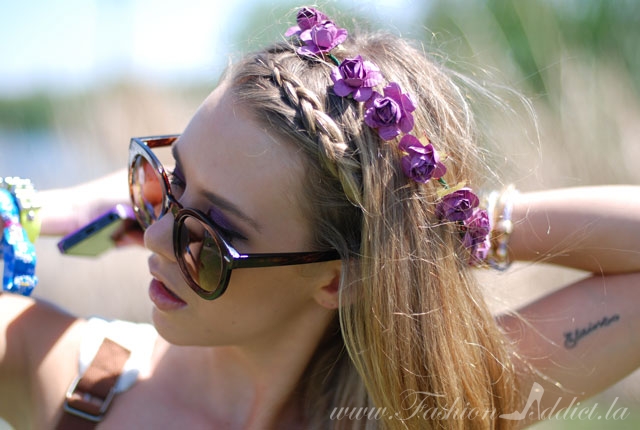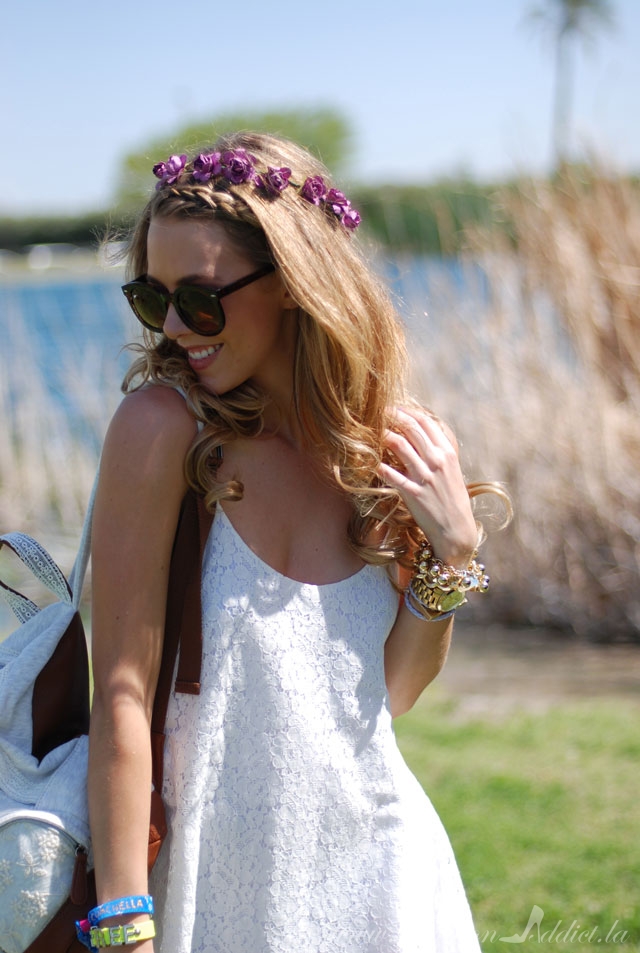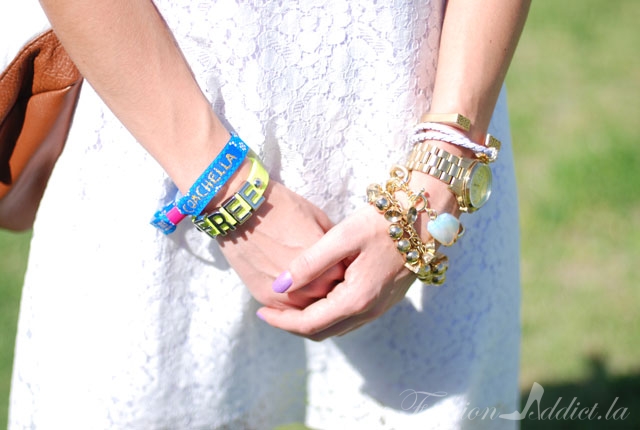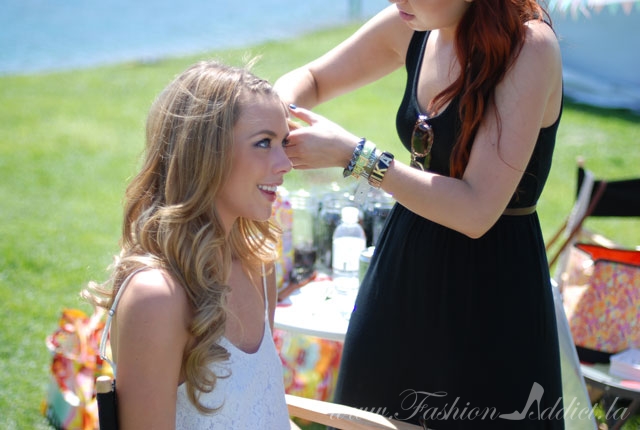 The Amika Braid Bar, (Thank you for the fab Dry shampoo- SAVED my life in the dust storm!)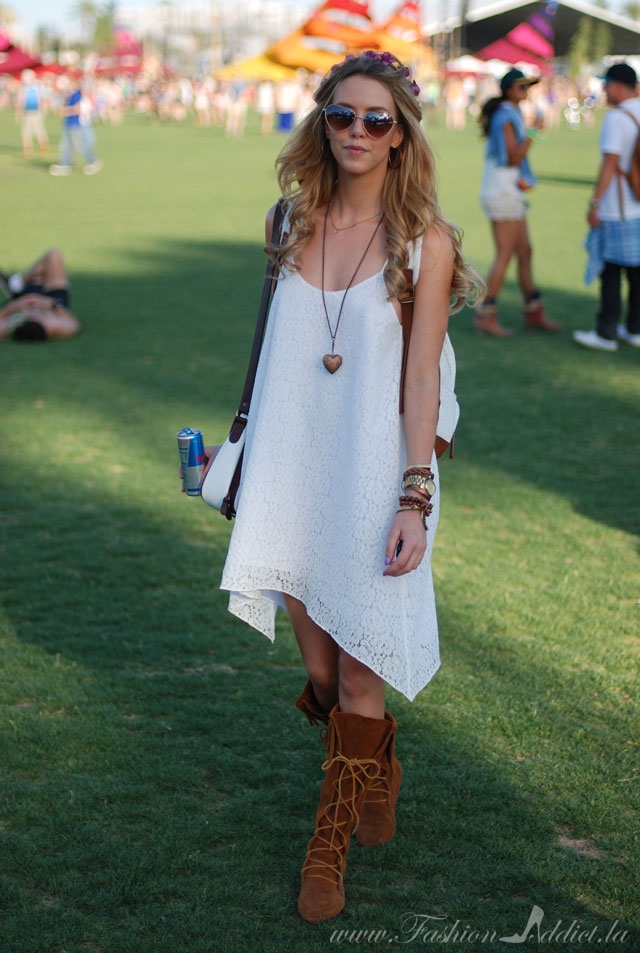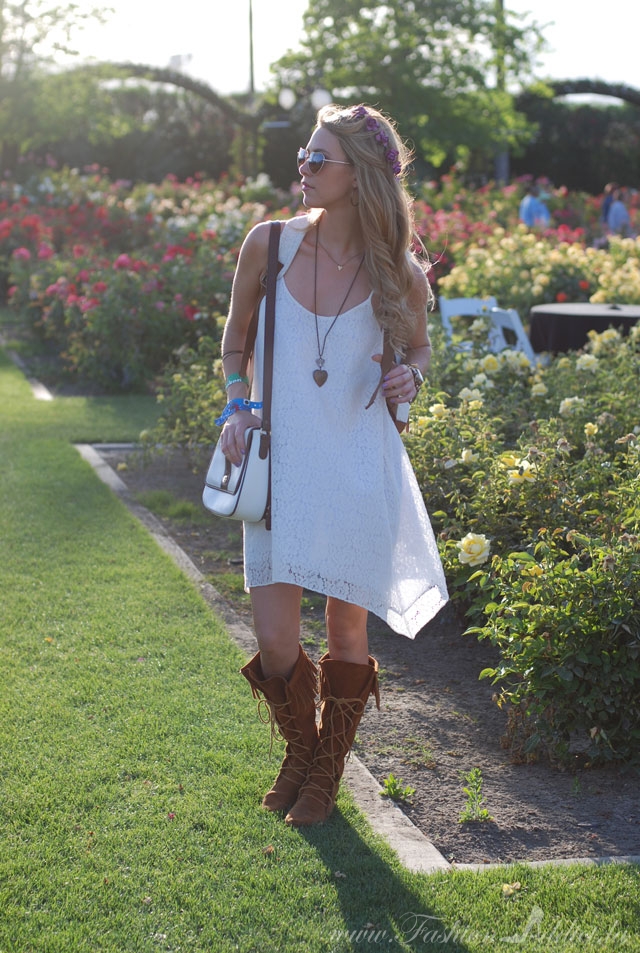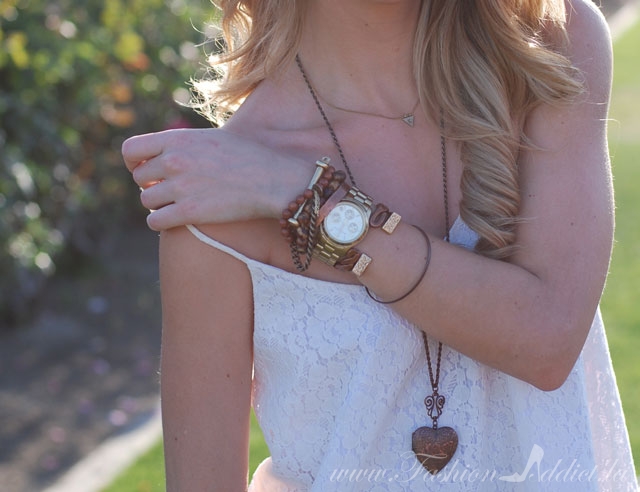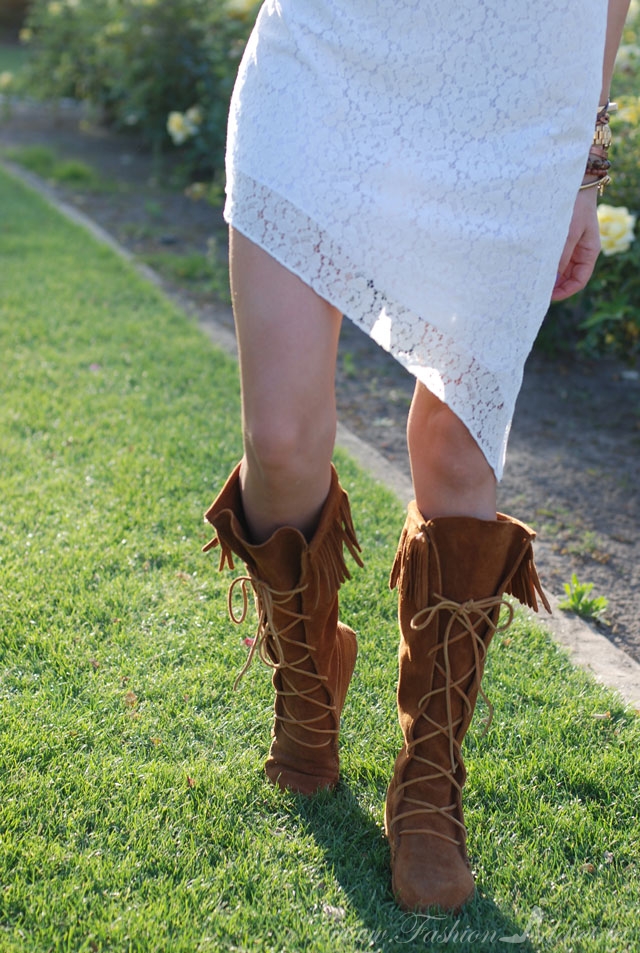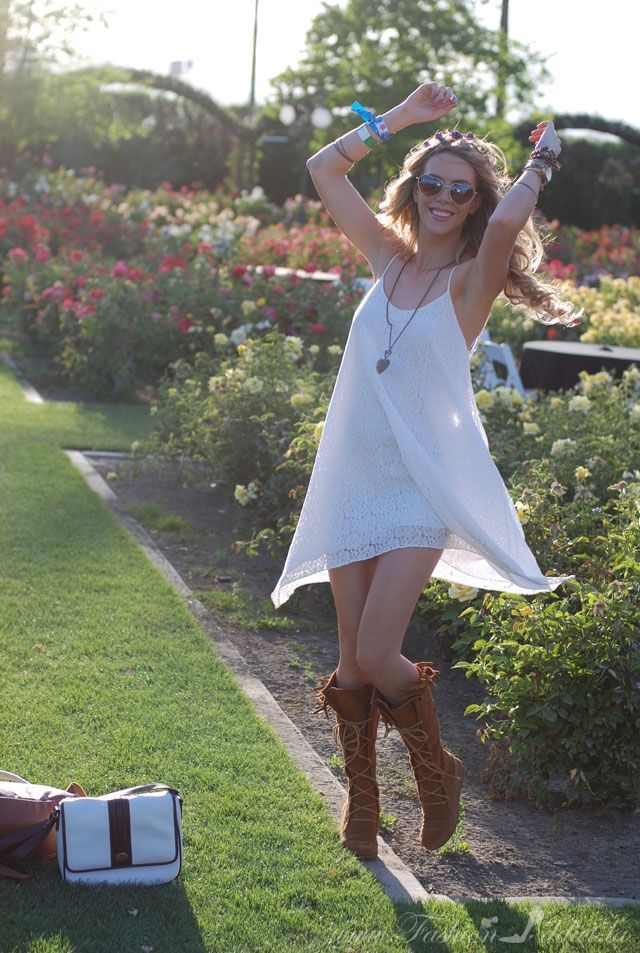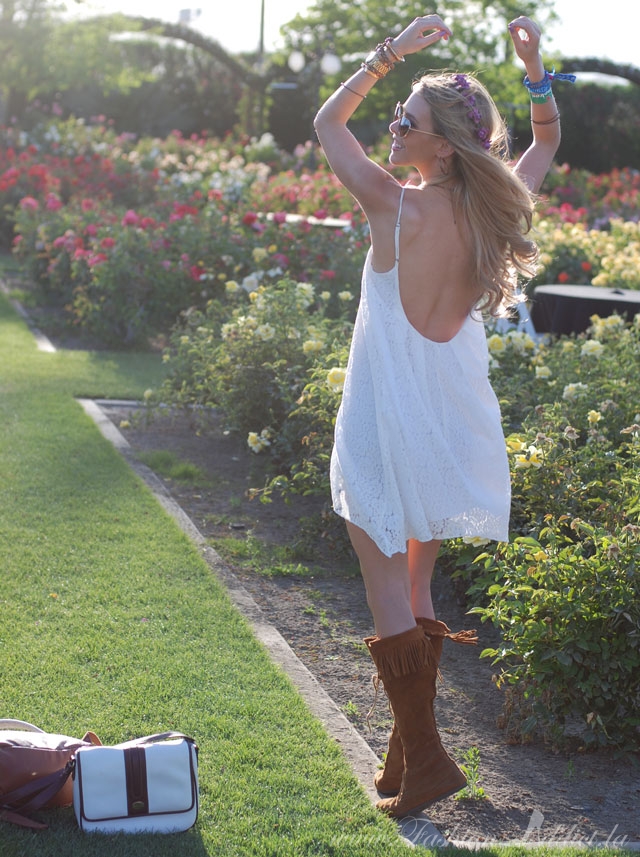 Dress: BCBGeneration c/o. Moccasin Boots: Minnetonka.  Heart Shaped Shades: Urban Outfitters.
Copper Hoops: unknown, similar. Copper Locket: Unknown. Copper Bangles: Forever 21.
Cowboy boots: Vintage Capezio. Initial necklace: Urban Outfitters. Tortoise Shades: Aldo.
Flower Crown: Ina Dayle Lola Crown.  Shoulder Bag: Vintage. Backpack: Kimichi Blue.
Wrists first look: FREE Bracelet BCBGeneration c/o. Madewell, Jami c/o, Michael Kors, Oia Jules c/o, Vintage.
Wrists second look: Mainsai, The Lace Project c/o, Veev, DIY, Michael Kors, DIY, Madewell.
Coachella Fashion Day 1, One Dress, 2 ways.
Coachella was an amazing whirlwind, one that I wait all year for and plan for months. Back in February I took a trip to Las Vegas to attend Magic and BCBGeneration gave me the star treatment. While touring BCBG's new lines I came across this gorgeous dress and fell totally in love. BCBGeneration graciously sent this to me for Coachella as an early birthday present, and I immediately found two fabulous Coachella worthy ways to wear it, so I decided to wear them both! This dress was definitely the star of the show, as soon as I walked into the BCBGeneration party a girl ran up to me asking where she could find it, and throughout the day several envious girls asked about it. The low back is super sexy without being overt, and the hemline is longer on the sides, so I felt comfy dancing around without flashing anything. One thing I always look for in a spaghetti strap top or dress is adjustable straps and thankfully, this dress has them. BCBGeneration spoiled me again, this time with the cute gift bag above reading "I love you to the moon and back" full of goodies and the perfectly fitting "FREE" affirmation bracelet that I wore again to the Neon Party Saturday night. Thank you BCBGeneration!!
After arriving on the actual festival grounds we headed for the VIP rose garden to snap some photos, got a few drinks and started exploring! My favorite acts from Friday were Nicky Romero, Dog Blood (Skrillex's duo DJ group), Yeah Yeah Yeahs, and my favorite of the night- Mode Step!
Just Extensions
What do you guys think of my new extensions? Just Extensions on La Brea hooked me up with a sweet deal on their "Just Beautiful" package and I couldn't be more satisfied.. you all know how devastated I've been since loosing so much length of my hair throughout my transition from brunette to blonde so this is a nice temporary fix to help me feel pretty again. I bought my hair separately- I'm not going to tell you where from, because they were rude, but I do recommend buying your hair separately from a large scale hair store so you get the best match. The Just Beautiful package is great because when it's time to maintenance them, all they have to do is loosen the clips, slide them up the hair shaft that's grown out, and re tighten, they don't have to re-sew them at all. As of now, I've had some pain from the clips being very tight but it was only present for a day or so, I took an Aleve and was fine… I've also washed, dried, straitened, and curled them and had no problems,  I'm super happy. (I sleep with them in a loose bun clipped to the top of my head.)
UPDATE: The hair actually lasted pretty well, however my real hair needed a good deep condition and that is against the rules because you may cause the clips to slide down.. So after about 8 weeks I had them removed and not replaced.. I wanted to try tape in extensions which I also liked but now I'm opting for natural and letting it grow.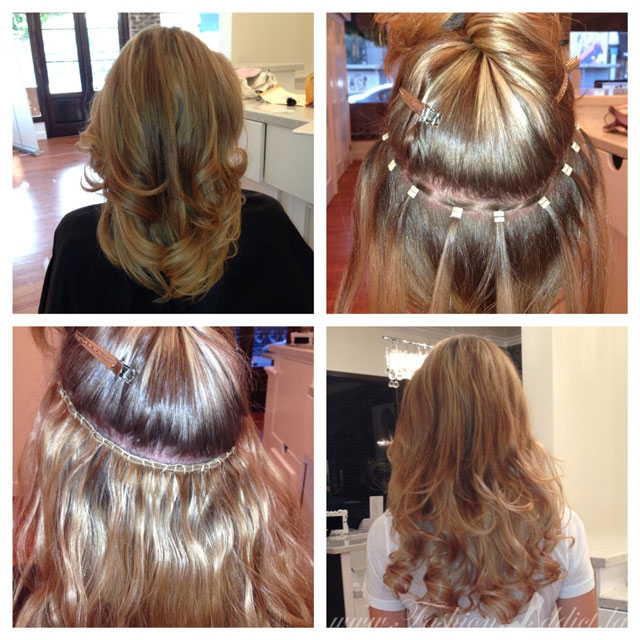 And don't forget, it's the last day to enter my giveaway to win $40 to Oia Jules!
With love from Hollywood,
Kier
HYPE on LOOKBOOK.nu