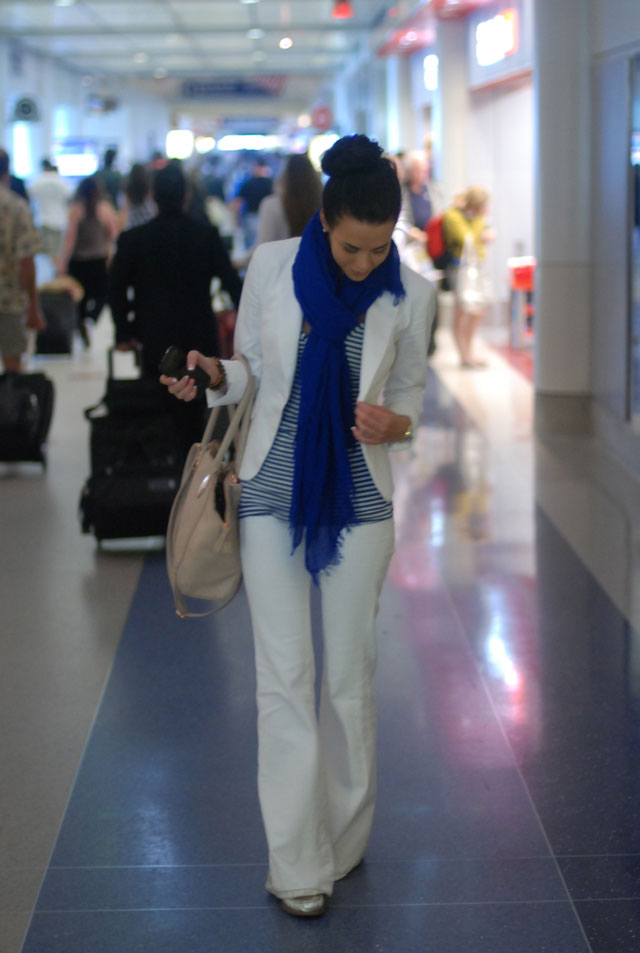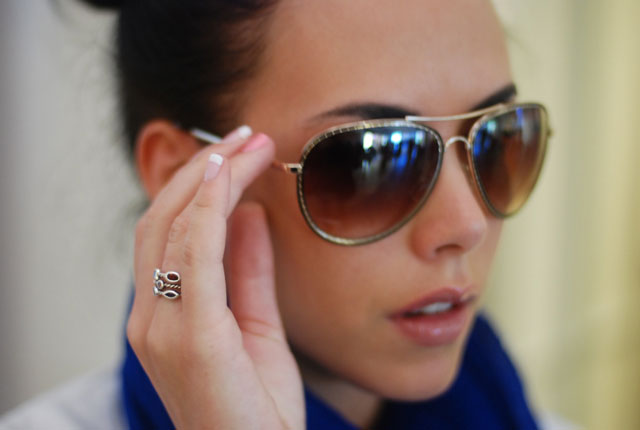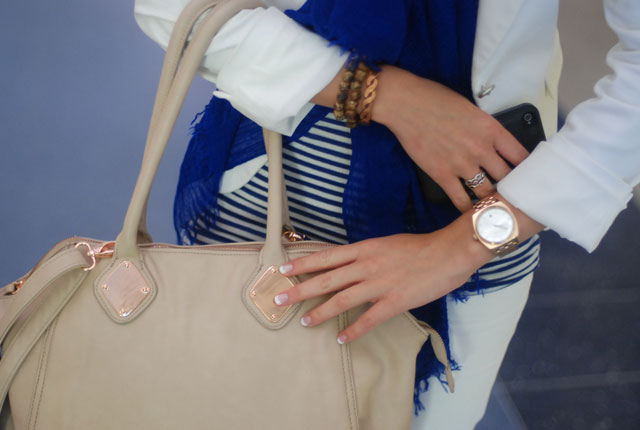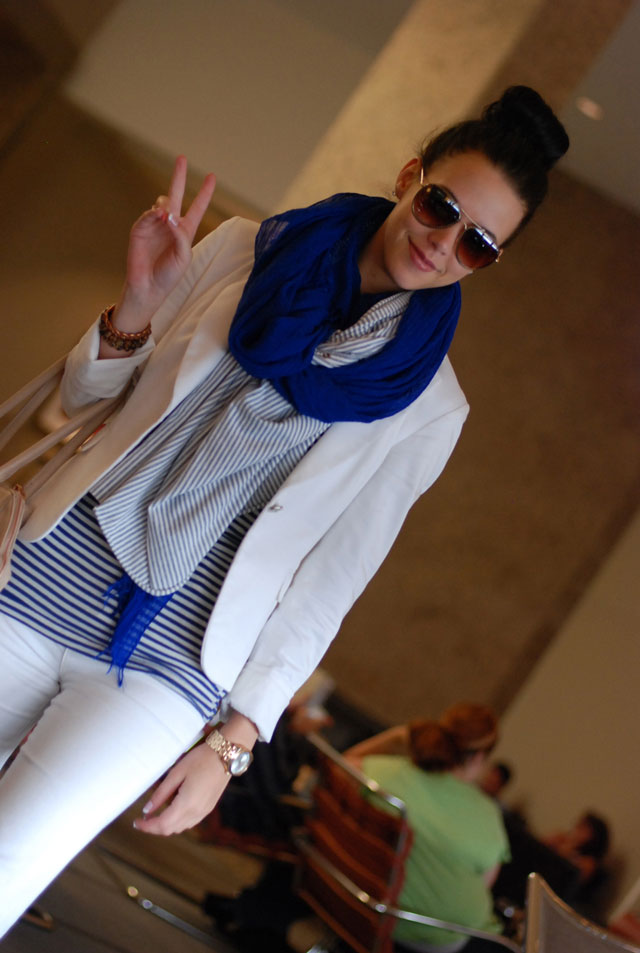 Earrings: CZ, Ring: David Yurman- similar style
here
Bracelets: DIY
Hello everyone! Greetings from Florida! I have been sick the last two days (the first two of my vacation) and, there is a hurricane heading right for us! I'm feeling better now so I made time to post my airport/travel look before we pack up and head north to Disney world, and to avoid the storm.
I always think a lot about my travel look because I check my bags, so if i'm uncomfortable, I can't change. I am also usually cold, especially in airports. So, the anatomy of my perfect airport outfit is as follows…
Loose fitting top: Stripes feel current.
Tailored blazer: It keeps me warm and adds an old school formal vibe (you'd be surprised how much better people treat you at the airport when you look pulled together.)
Flared comfy jeans: White feels current, and flares keep my ankles warm, plus- this high waisted version doesn't squeeze or pinch after long sitting sessions, and the fabric is soft.
Boat shoes or loafers: Flats for sure.. even for me who lives in heels, and preferably ones you can wear socks with- for security when you have to take your shoes off, and to keep your feet warm. I love these because they are gold, silver and pewter, so they match everything and I feel pretty comfortable with mixing metals in my look, freely.
A large scarf: This can double as a blanket on the plane. I actually brought an extra (the striped scarf) in my carryon and ended up adding it later because the blue one, while stylish, just wasn't substantial enough. I highly recommend Lulu Lemon's scarfs which are super soft and large, perfect for using as a blanket. The one above also has snaps on either end making it versatile and easy to keep the way you want it to stay.
Large Purse:
Big enough to carry my iPad, makeup bag for touchups after sleeping, phone, earbuds and/or earplugs, eye mask (I highly reccomend
40 Blinks
which are made of one piece of formed foam with risen bubbles over the eyes to alleviate pressure on the eyeballs and they wont crush your eyelashes), water, wallet, chargers, etc. It also helps if it has a shoulder strap for those moments you need both arms (running through the airport
Matching Watch: I almost always match my watch to my bag, I don't know why, but I just prefer it that way, even if I'm wearing other metals in my jewelry like my ring above. If my bag has gold hardware, I wear my gold watch. If it has rose gold like this pretty Aldo bag, I wear my pretty Rose gold Nikon as you can see above.. silver, black, etc.. even if you mix metals like I do, I try to make the main items match. Regardless of matching, I like to have a watch on every time I fly for those times when you can't check your phone..
Sunglasses: Maybe this is me being overly LA, but I like to be able to hide my tired eyes and shade them from the bright lights coming in through other people's little plane windows.
Simple Jewelry: Basic Studs always work, and trust me- FAKE IS FINE. It's actually better.. you don't want to loose a valuable earring or any piece of jewelry while traveling… when the places you could find something span states or countries, it's very unlikely you'll ever recover your items if lost. I also added a ring small enough to not set the Xray off, and some easy to get on and off bracelets.
So there you have it! Let me know if there's anything you always wear or bring that I forgot or don't know about, I'd love to hear about how you travel in style and stay well prepared.
With love from
Hollywood
Naples,
Kier