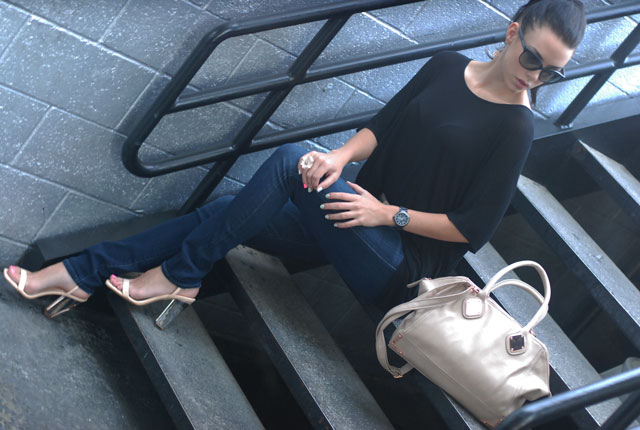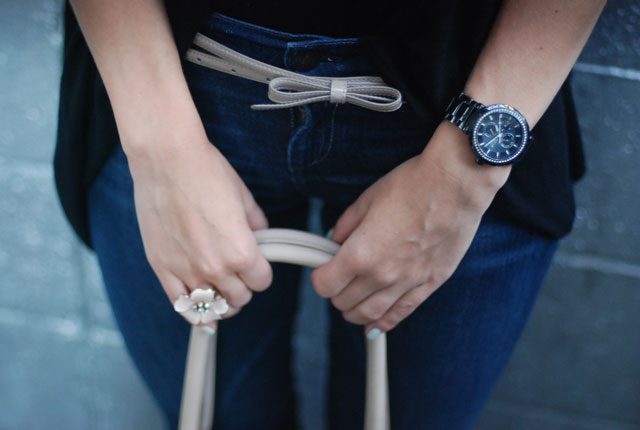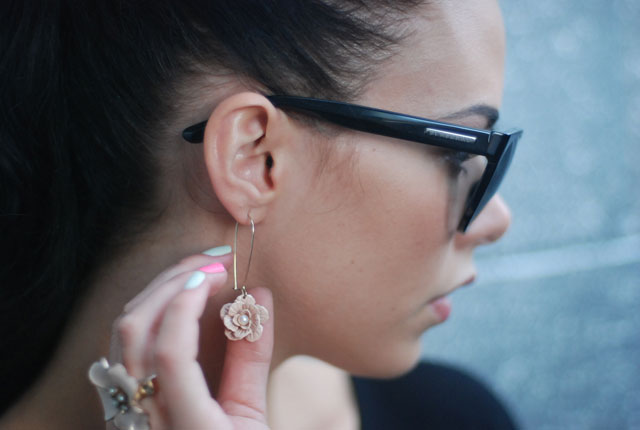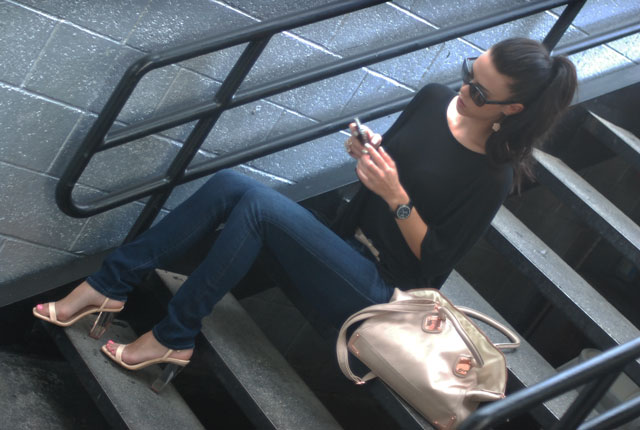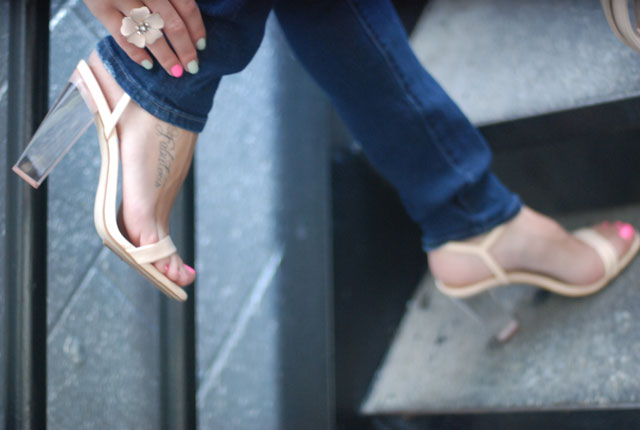 Top: Daydreamer LA, Belt: Express, Jeans: Goldsign,
Clear Lucite Heeled shoes: Zara, Watch: Fossil,
Jewelry: Forever21, Bag: Aldo, Shades: Burberry
I wore this out to Korean BBQ at a place called Park in Korea Town Los Angeles, and the food was AMAZING. Roger and I were the first of our group there, so we snuck into the little stairway to take pics and found this amazing silver wall! I rarely wear jeans, but when I do I need to dress them up with heels. I love these lucite heels from Zara. They are chic, sooo comfy, and go with almost everything.. But, the color is the most fabulous part. I used to have some pointy toed pumps by Jessica Simpson in this same color and a "friend" stole them. They were my favorite pair of shoes, and I had been looking for a replacement ever since that was 3 years ago.. These are them. And the fact that they have this badass clear heel – cherry on top… oh, not to mention that I got them on sale!
 I also had a pair of flip-flops once, ZIGirl similar to
these
, they were also stolen, but at a pool. I was devastated and every time I go sandal shopping I remember them.. Is there anything you have lost or just worn through that you miss? That one item that was so perfect you wish it would last forever? Take my advice, next time you find something perfect, buy two (or three).
In other news… My Vacation has started! I am in Naples, Florida with Roger visiting his family. Today was filled with walks on the beach, which I don't do in LA because the beaches in Cali are dirty, the water is cold, the sand sucks, and you can't drink alcohol on the beach.. So I enjoyed a Corona Light, bought a little pair of
Havaiana's flip flops
so as not to ruin my pretty
zara sandals
, and strapped on my oversized pink old lady vizor that Roger thinks is ridiculous. If you want to follow my vacation more closely, follow me on
Instagam
!! Stay tuned for my travel look, and the rest of my vacation!
With love from
Hollywood
Naples,
Kier