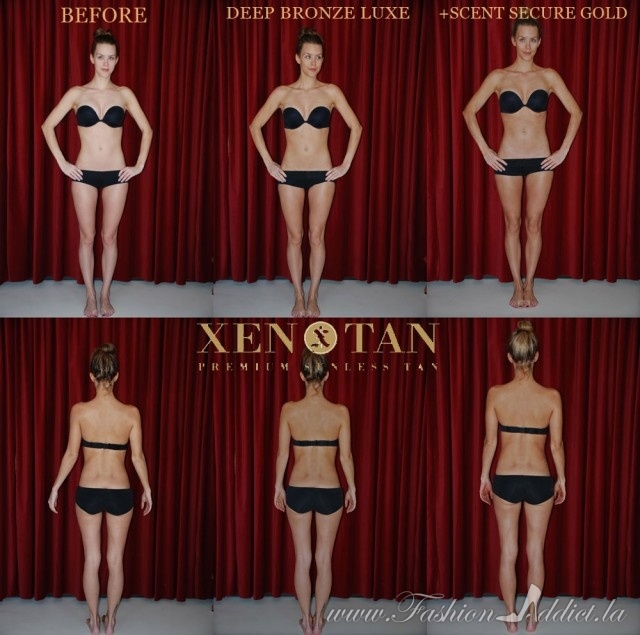 Xen Tan Deep Bronze Luxe  c/o. Xen Tan Scent Secure Gold c/o
Strapless Bra: Felina (voted Bra of the Year, and my personal fav). Booty Shorts: Polistic.
Xen Tan Reviews
I got the Xen Tan deep bronze luxe at Lucky FABB last week, and with Coachella fast approaching I wanted to give it a try. I shaved and exfoliated first and I watched the video below for tips on how to get the best results. The products both smell amazing, but I liked the Deep Bronze Luxe Weekly Self Tanner smell better even though the Scent Secure Gold is supposed to be the deodorizer. I applied the Deep bronze Luxe first and like the video suggests, I tried to be systematic. I felt like it was a little difficult to get it even in some places, but I used a damp paper towel to help me blend it in some areas or remove excess. I applied both products in natural light in front of a mirror, and I had my boyfriend help me in hard to reach areas. I rubbed it in circular movements as fast as I could, and I applied the Scent Secure Gold about an hour and a half after the Deep bronze luxe. The Scent secure gold looks like mud with gold glitter when you first squeeze it out of the bottle, and even though it's implied that it's just a deodorizer/tinted moisturizer, it seamed to make my tan significantly darker and more olive toned than the Deep Bronze Luxe alone. I felt like my tan looked a little splotchy on my torso especially my chest, but I got it as good as I could. I slept in pajamas and the next morning finally washed it off. In the shower I just used my hands to rub myself down gently since I was uber clean from the day before's intense clean and exfoliation, and blotted gently with a towel. After my shower my tan looked amazing and the areas I thought looked blotchy were even and tan! The whole tan was perfect and even without a streak or splotch at all. The Xen Tan faded from my face after makeup removal on the first day, so I think I like Sublime Bronze by Loreal for my face better, but Xen Tan is much better for my body. (On your face make sure you use a Q-tip to remove tanning gel from your nose creases and eyebrows.) I am VERY pleased with Xen Tan, and although they provided me with these products free to try, these opinions are my own. I highly recommend Xen Tan.
P.S. I did not wear gloves, but I did wash my hands throughout the application process to make sure it wasn't drying on my hands- which can stain them, and cause it to be more difficult to blend as you rub.
Make sure you Enter my Giveaway to win $40 to Oia Jules!
Stop by tomorrow for LUCKY FABB outfit post, and follow my Coachella adventures on Instagram!!
With love from Hollywood,
Kier