Style Challenge: Millennial pink… what is millennial pink?
Well, it's time for another style challenge. I used to do these "challenges" all the time. They're a way to share our interpretation of the trend, support one another and introduce you all to other blogs you might love! How it works is basically, a group of bloggers join forces to style a trend in their own way and you get to see several ways to wear/incorporate the trend into your life/style. This time we are styling millennial pink. But what is millennial pink? Well, it's a kind of light grapefruit pink.. but not as coral toned as a grapefruit…
It's similar to rose quartz but a little darker.
It's well, it's… here: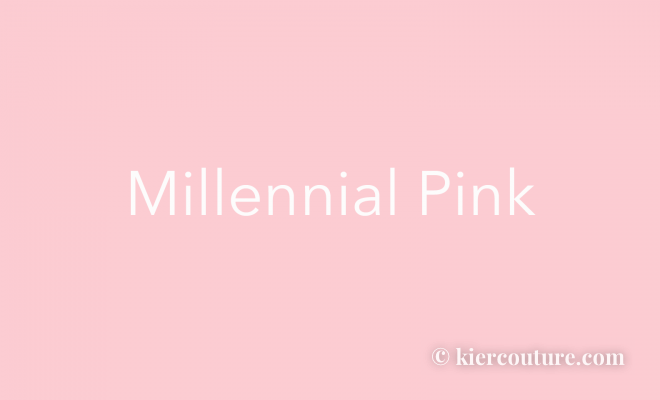 Millennial Pink is Inclusive Pink:
The thing about millennial pink is that it's not a barbie or bubblegum pink. It's a neutral-ish pink, a not-too-feminine pink; a genderless pink, if there is such a thing. Viva Glam magazine wrote: "A survey of millennials show that 50% of them believe gender runs on a spectrum, and this new shade of pink is allowing millennials, and others, to truly be themselves without the deep-rooted judgment of society staring them down…"
So if everyone loves pink, and I understand, because I too LOVE pink, and this shade is available to all, then, in my opinion, it's the perfect shade of pink. I am after all, all about inclusion, as most millennials are.
I mean, it's fun to play with fashion. I thank the universe every day that I was born a girl so I could be myself, super feminine without struggling. One of my cousins is transgender, she lived with us when I was a teen during her transition. I know how much she struggled. I had "friends" tease her and me because of it. So when I see people just trying to live their truth, whether it's a young traditionally categorized "male" wearing makeup or pink or a "female" wearing a suit to prom, I just think, "let them live."
So what better way to celebrate millennial pink and it's gender fluidity than to wear a men's floral suit including the shade? I mean, it's got to offend someone right?
"People will stare, make it worth their while"
– Harry Winston
(Side note, some scientist believe the increase in trans people and gender fluidity is because we are consuming so much plastic. If you watched A Plastic Ocean, on Netflix you know plastic contains chemicals that disrupt hormones and can cause cancer among other issues.)
Suit: ASOS Mens. Shoes: Stuart Weitzman. Earrings: Aldo.
Shades: Jessica Simpson, c/o. Bag: Chanel. Vest: Vintage.


Make sure you check out the other bloggers in this millennial pink challenge.
(All Posts should be up by 2pm EST. )
And, if you're a blogger, join my Facebook Group to take part in an upcoming challenge!