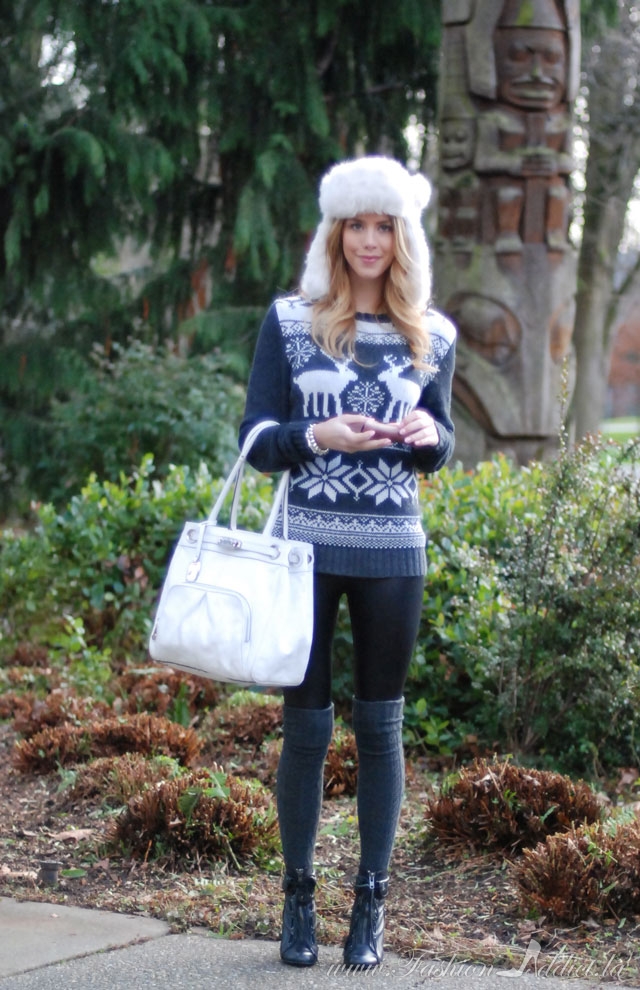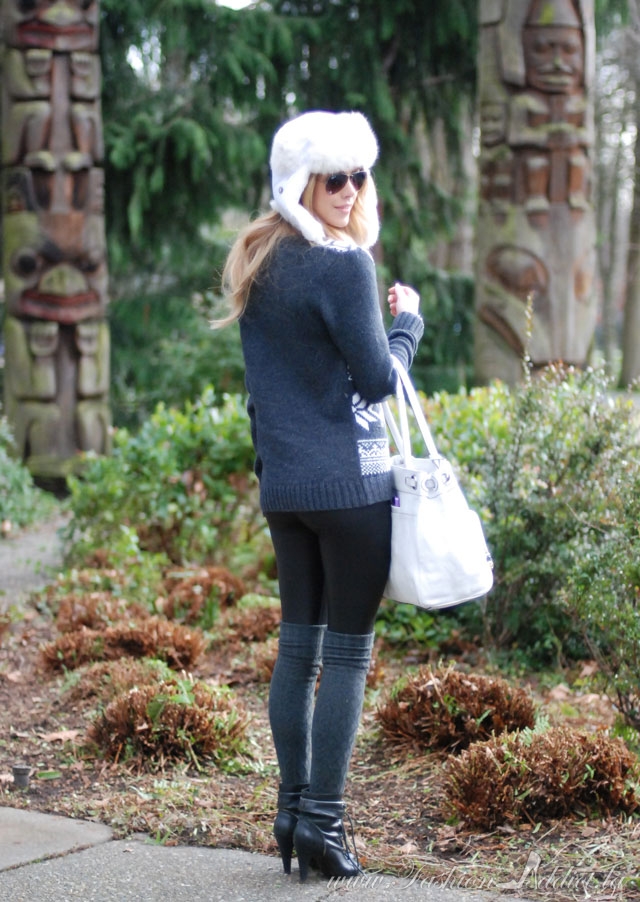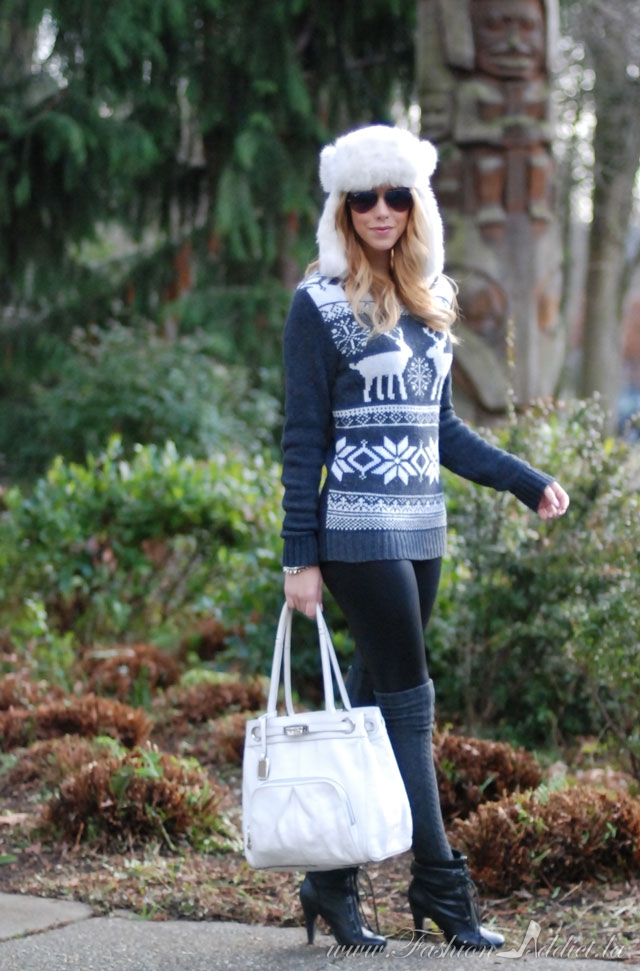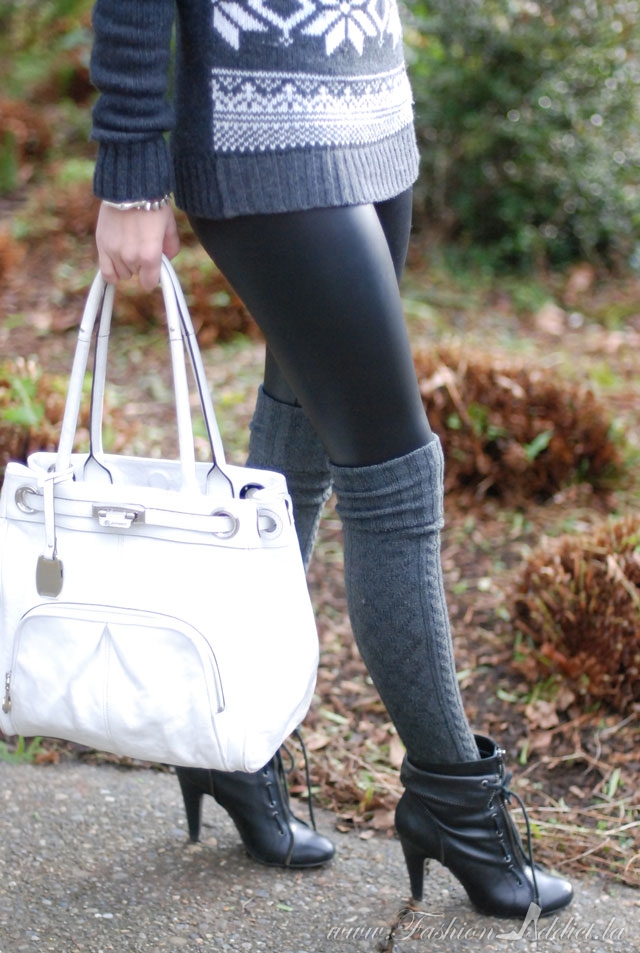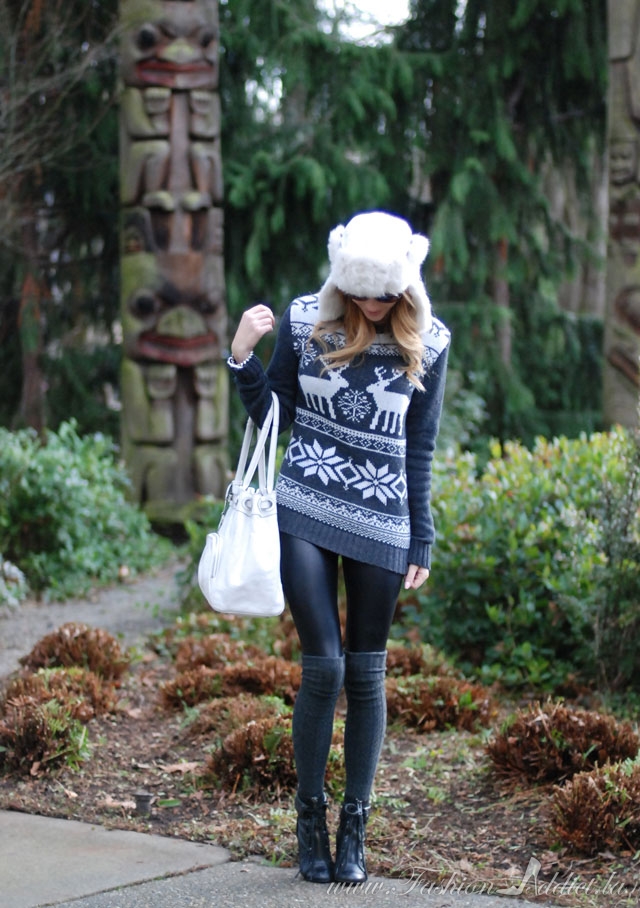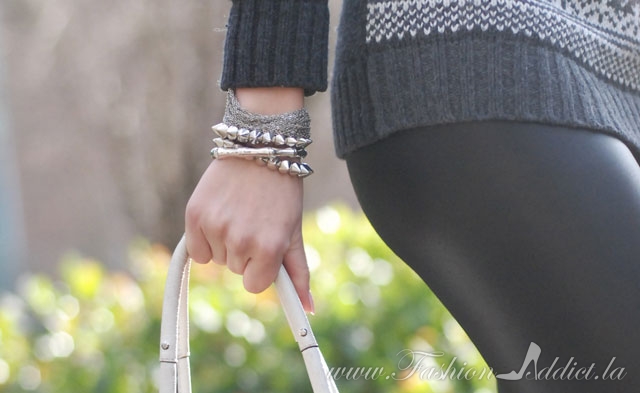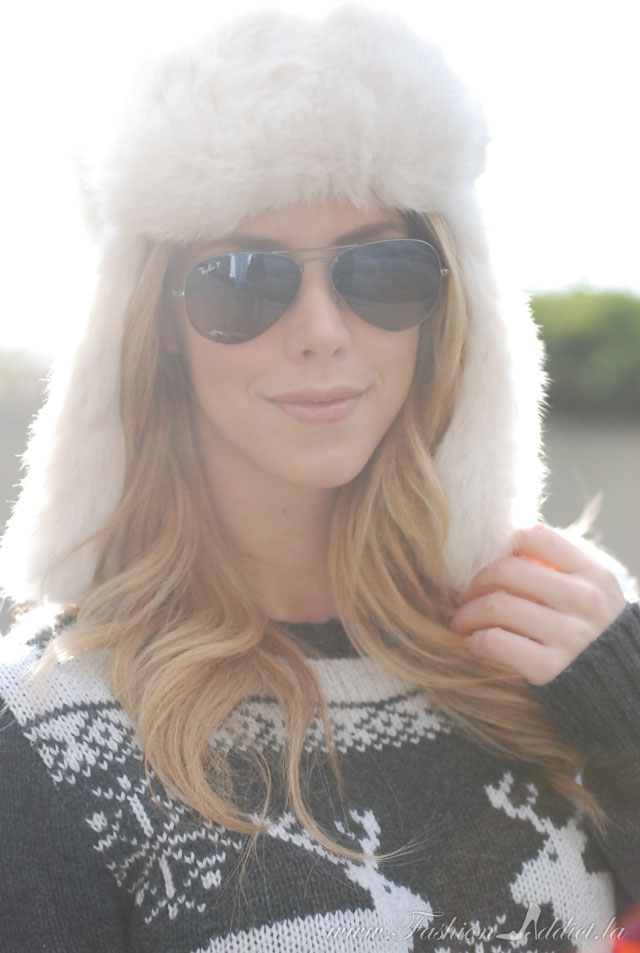 Sweater: Merona (Men's), Pleather Leggings: Forever 21 –similar, Socks: Gold Toe –similar, Boots: Trouve,
Hat: Mad Bomber –similar, Bag: B. Makowsky, Bracelets: Assorted, Shades: Ray Ban.
The Trapper Hat
I got this hat years ago before I swore to only buy vintage fur. I actually ordered it out of one of my dad's hunting magazines and I was so stoked to receive it. I don't often get an excuse to wear it though so when I do, I am really excited! One thing about fur, especially white fur, is that people want to feel it, they ask to touch it and it's like, "dude, it's expensive to clean and it's white… why would I let you rub your dirty hands on my hat?" Of course I don't say that, I let them down a little more gently, but it does get a little annoying having to figuratively bat people away. Why do people feel the need to touch furry things? I guess it's similar to a pregnant women's belly being rubbed; my sister said all kinds of random people came up to her asking to rub her belly when she was pregnant, and I don't think I'd be as lackadaisical as she was considering my hat isn't my physical body carrying my offspring and I'm still so iffy about it. Okay enough trailing off.
The Burke Museum
We went to the Burke Museum in Seattle in this outfit and it was super cool. My mom's late boss Mr. Hugh Ferguson was a retired contractor and philanthropist well known around Seattle for his generosity, and for introducing the tilt-up wall to the Pacific North West while building many of the industrial buildings in West Seattle. Mr. Ferguson donated so much to his community but his main passions were the Woodland Park Zoo, and The Burke Museum. While perusing the exhibits I got to finally see the plaque commemorating his generosity to the Special Exhibits Gallery there, and I was so moved. I know this story seems random for a fashion blog, but it really clicked with me how one person can make a difference. And if you follow your dreams and give back to your community your legacy will live forever. So Cheers to Mr. Ferguson, we miss you. Find out more about the Hugh and Jane Ferguson Foundation. For now, I'm off to eastern Washington..
P.S. Do you guys like my random stories and writing? Do you read it? Sometimes I feel I have nothing to say while other times I can't organize my thoughts well enough to make any sense at all.  Anyway, thanks for reading to those of you who do.
With love from Hollywood Washington,
Kier
HYPE on LOOKBOOK.nu