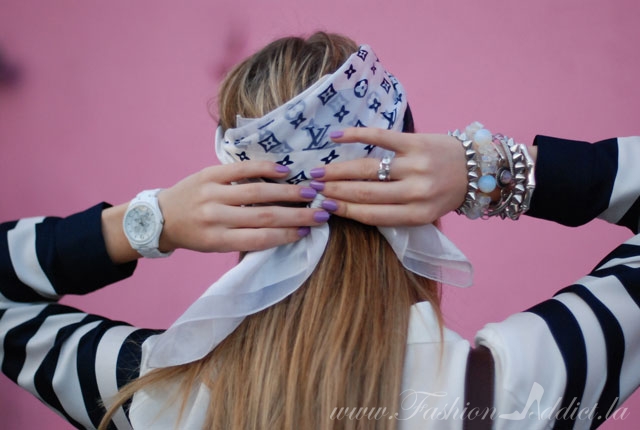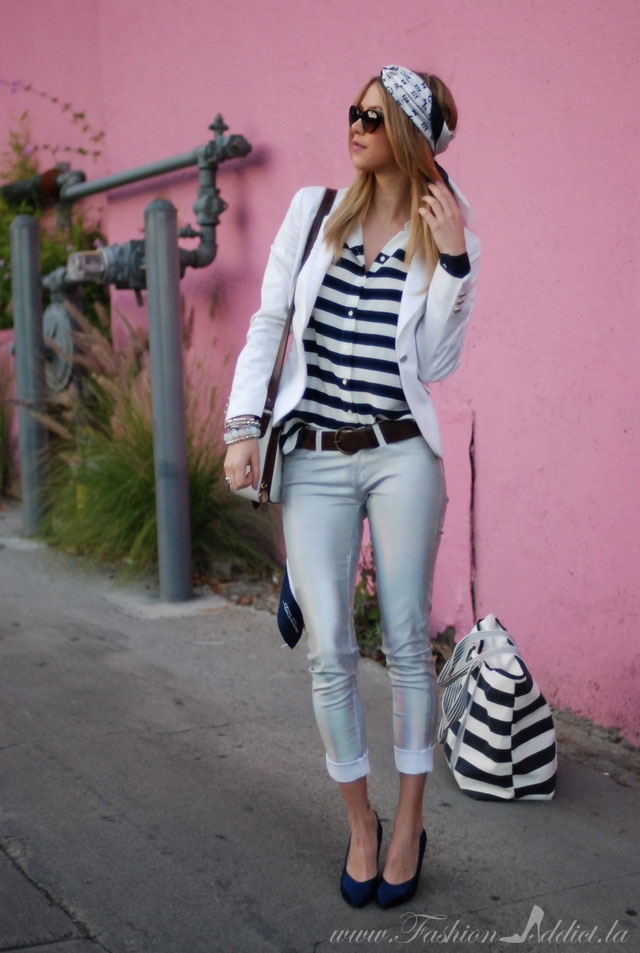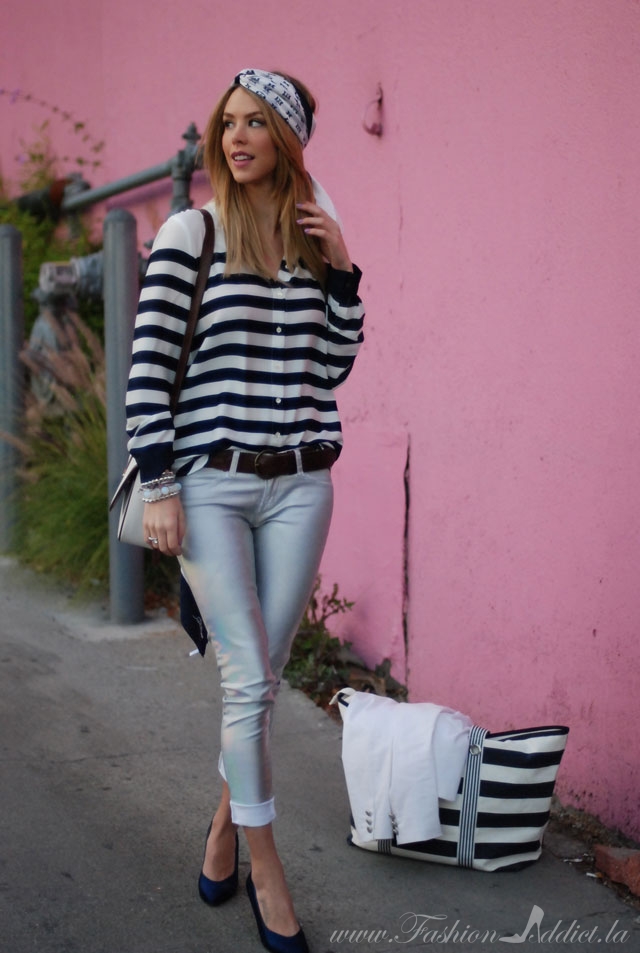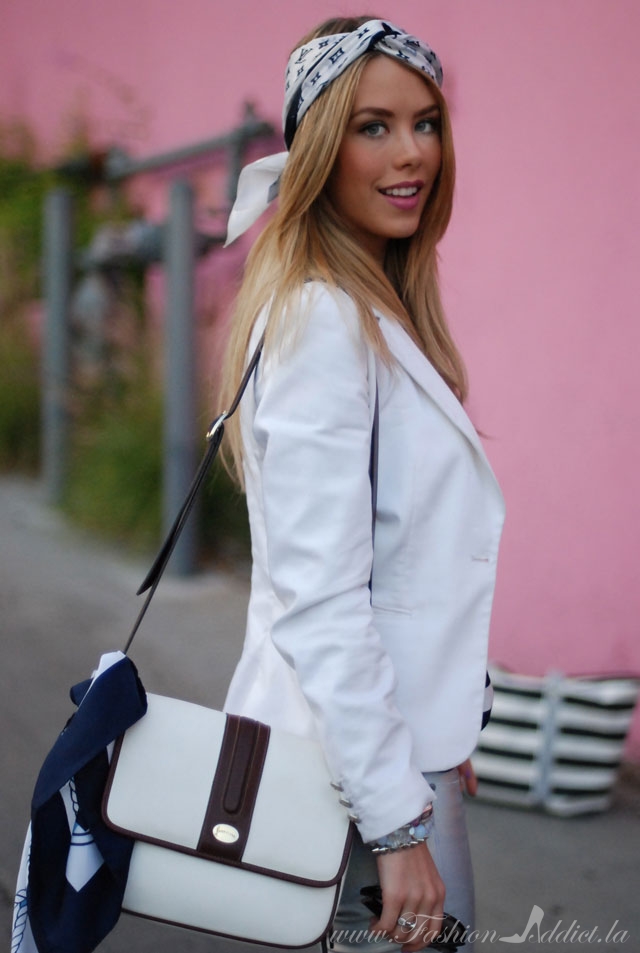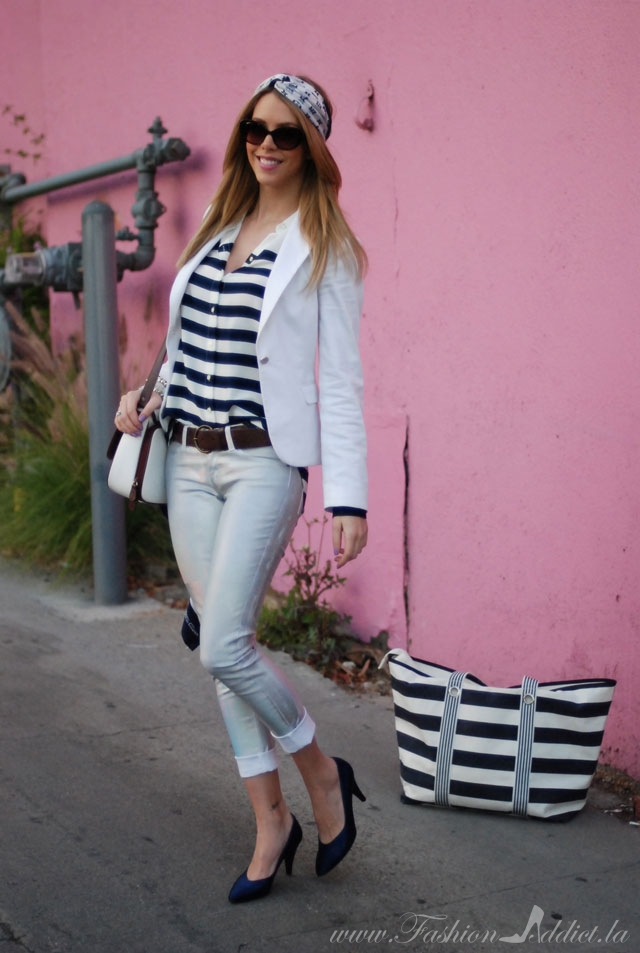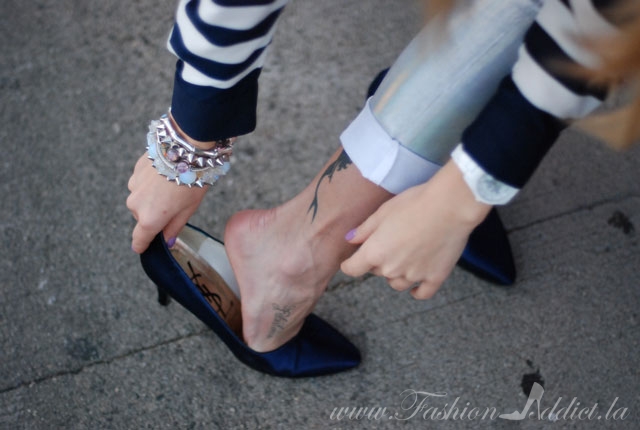 Striped Button up: Ann Taylor. Holographic Pants: CAR MAR, similar. White Blazer: Tahari, similar.
Belt: Abercrombie & Fitch, old. Shoulder Bag: Carryland, similar, and similar. Shoes: Vintage YSL.
Shades: Kate Spade. Striped Tote: Forever 21, love this one. Watch: Disney.
Head Scarf: Vintage Louis Vuitton.  Scarf tied to bag: Vintage, love this one.
Bracelets: Giftshops, Mexico, Tommy Bahama, Aldo. Rings: Swarovski.
Simply Stylist LA, #SSLA
Last saturday was the Simply Stylist event in Los Angeles. I had so much fun and met so many amazing girls. The event was fabulous, there were amazing gifts, drinks and the panel was so informative. I loved hearing Aimee Song's story and after reading Brad Goreski's book "Born to be Brad" it was so great to meet him face to face and pay him a compliment for telling his incredible story.
In a room full of the fashion elite, all of which I wanted to impress, I knew I needed something classy, eye catching and unique. These holographic jeans are a new favorite of mine, they're super flattering and always a conversation starter, which is exactly what I wanted at a networking event. I wore two of my favorite thrift store finds that I knew the company there would appreciate if anyone would: my vintage LV scarf, and 80's YSL satin pumps. (I'm generally not a huge logo person but I was so thrilled to find this scarf at the goodwill in Palm Desert that I couldn't help but surrender to the monogramed gem.) I brought a shoulder bag for easy access to my phone, camera, lipgloss and business cards and a huge striped tote to carry all my gifts without having to carry several mismatched gift bags, however I was SO spoiled at the event my tote wasn't big enough and I actually hurt my back trying to haul around about 45lbs of gifts- note to self, roller bag next year lol.
A huge congratulations and thank you to everyone at Simply Stylist, I can't wait to attend next year!
PS. As I use and try items from the gift bags, I'll be sure to mention my favorites, so far I'm obsessed with the NuMe Moisturizing shampoo and conditioner. For someone going through so much hair drama, I was hesitant, I really need to be careful of what I put into my hair, but my hair feels amazing. I LOVE the texture of  both products!
*** LAST DAY TO ENTER!! Win a handmade Thin Hammered Textured Bangle by Belcho USA here!***
With love from Hollywood,
Kier
HYPE on LOOKBOOK.nu