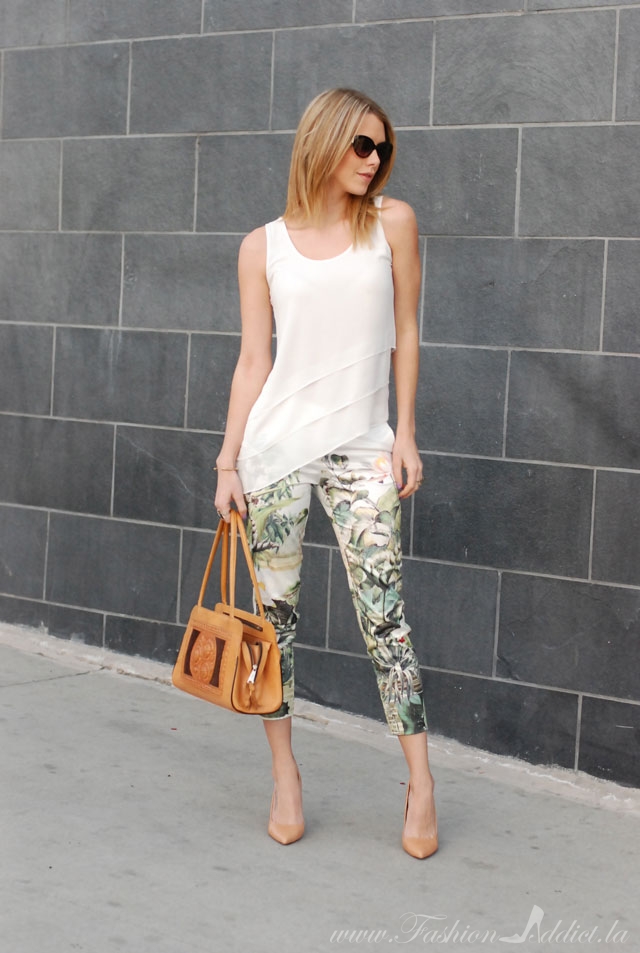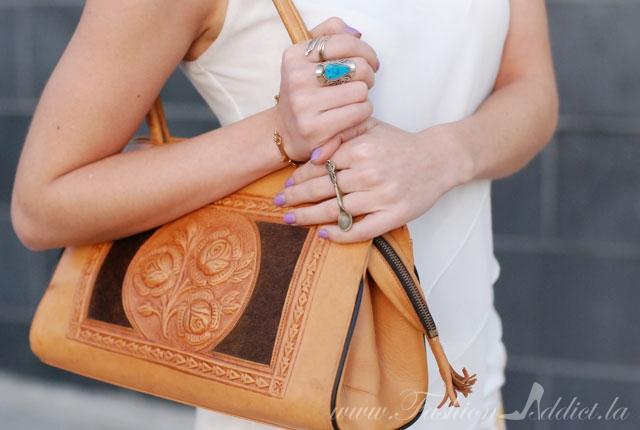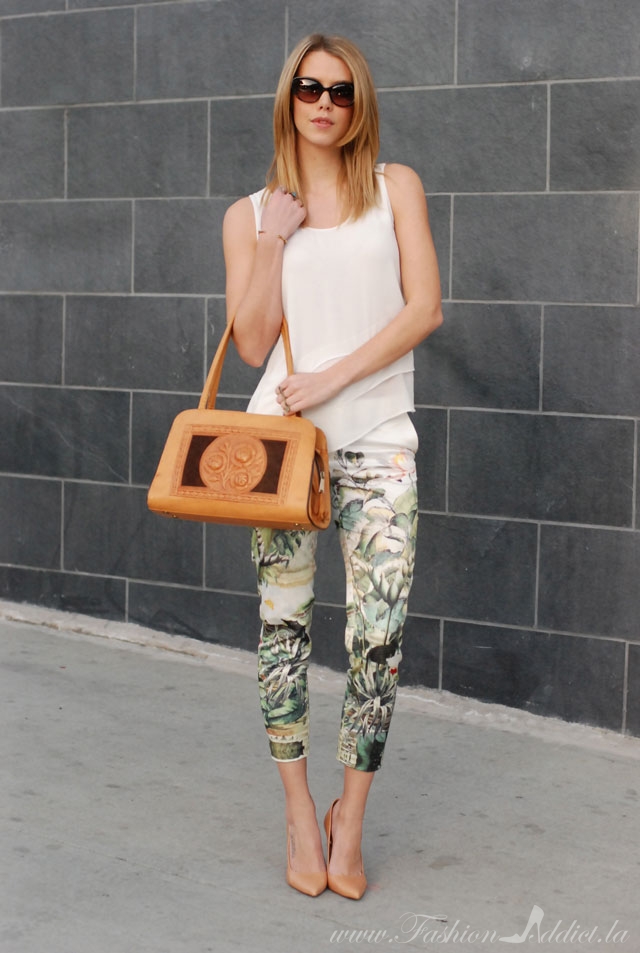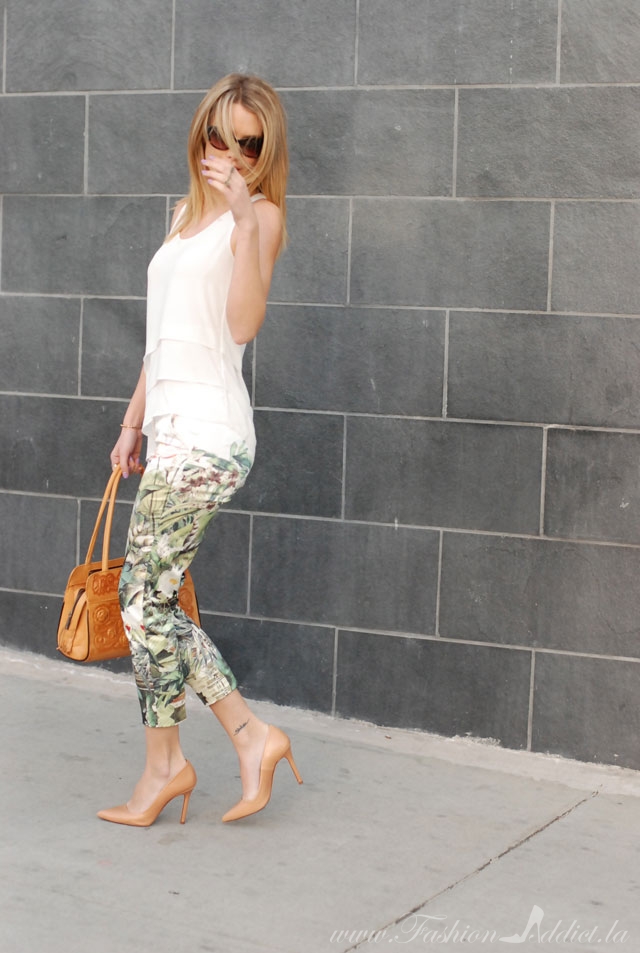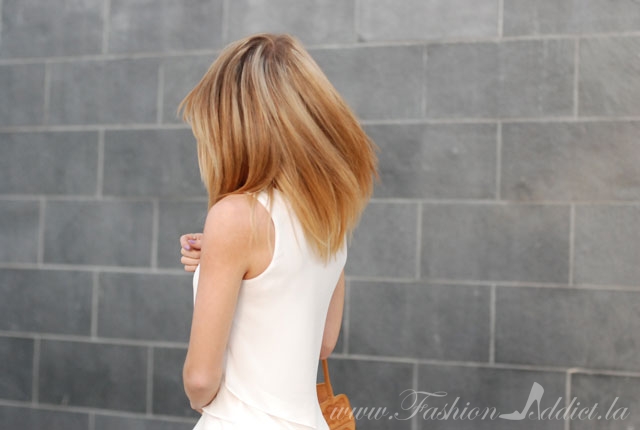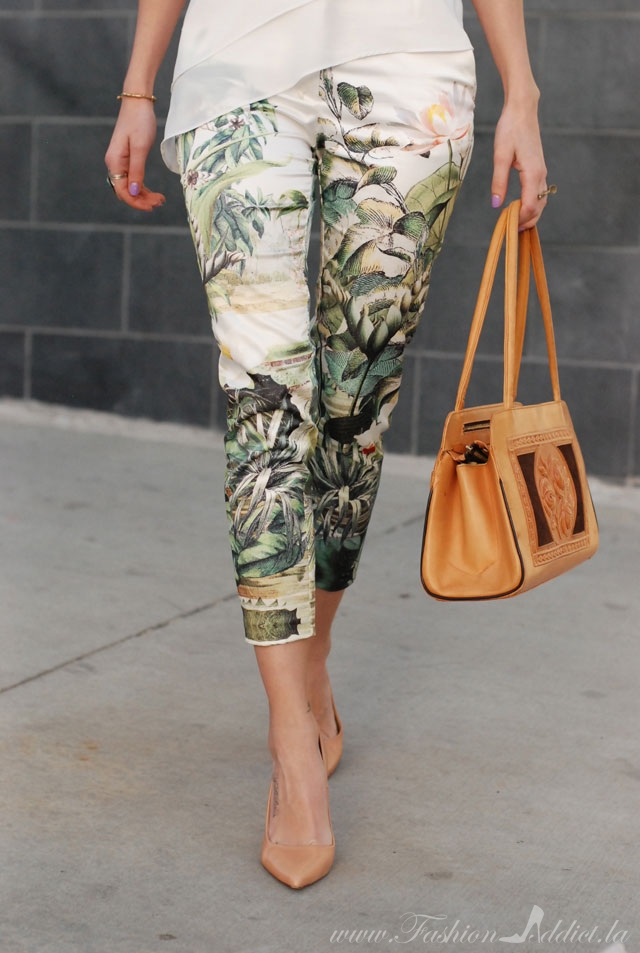 Top: Naked Zebra c/o. Cropped Ankle Pants: H&M Conscious Collection.
Shoes: Zara, similar. Spoon Ring: The Library on Larchmont,
Twig Bracelet: Madewell. Shades: Kate Spade.
Feather Ring and Turquoise Ring: Seminole Indian Reservation, Florida.
Vintage Leather Tooled and Pony Hair Bag.

John Francis Hair Review:
So most of you know I started with black, boxed colored hair a few months ago and have gone through many processes. Well, because I didn't condition my hair enough, I lost a lot of length and fullness. My hair still wasn't the color I'd like to be but I knew I needed a trim. I went in and I was hit pretty hard with the shock of how short my hair was.. this is after my "trim" … seems long enough right? well, remember that just a few months ago my hair was like this. After my trim I had no ombre left… so, still unhappy with my hair I convinced my roommate to let me borrow some bleach, and ombre my ends, she reluctantly helped me… More breakage. Even still unhappy with the color, I decided to try something new. I went in to see John Francis at Prive Salon on Beverly Blvd. John and his assistant Melanie understood exactly what I wanted: not to go darker or lighter, but just to go less brassy, and after going through what I've been through with my hair they were indulgent of my hesitations and multiple questions.
John applied what I understood to be a mild glaze that helped take out the brassiness but didn't darken it. To clean up the breakage I've experienced John dusted my cut, careful to not take much length off and added some layers. I generally don't like layers, especially when one is trying to grow out their hair (if you try to break a single twig you will easily, if you try to break a bundle of twigs you won't be able to, so my theory is that the thicker you keep your hair the better it will be protected i.e.. power in numbers, less breakage, etc.) But, because my hair is so short (at least to me) I'm going to be wearing clip in extensions a lot, and the blunter your haircut is, the harder it is to blend with the extensions. The color John Francis gave me matches perfectly with my hair extensions, the cut is easy to blend, and will compliment my curls perfectly- I can't wait to try it curly.
If you need to try something new, or if you just want to be cared for by the man who has styled Amy Smart, Anna Farris, Blake Lively, Hayden Panettiere, January Jones, Minka Kelly, Penelope Cruz, and more, I highly recommend John Francis. Find his website here, his Facebook, his Twitter, his Instagram, and schedule an appointment at 310.927.2870
I for one, am letting my hair rest for a while and I will be hosting a Grow Your Hair challenge. I know there are so many other girls out there going through breakage and short hair they're not used to, crying over losing length (I've lost about 8 inches), and it sucks. You're not alone. If you want to participate I would love to have you- I'm going to get a stationary background with linear markings every half inch to photograph my hair in front of so we can see the progress, so If you want to participate you should get one too. (A poster board and sharpie lines will work) I also suggest you purchase a few things to help… a Turbie Twist and satin pillowcase to prevent breakage, Dumb Blonde a moisturizing protein treatment, a hair clip to reduce using elastic which also causes breakage, and Biotin to encourage growth.
PS. Have you guys checked out the H&M Conscious Collection? I got these pants, another pair of pants, a dress and scarf. I'm obsessed with it! Go check it out today, they have a beautiful maxi dress for only $19.95.