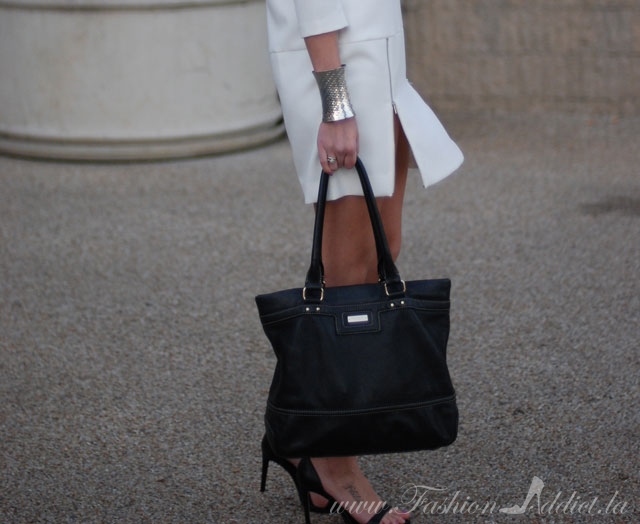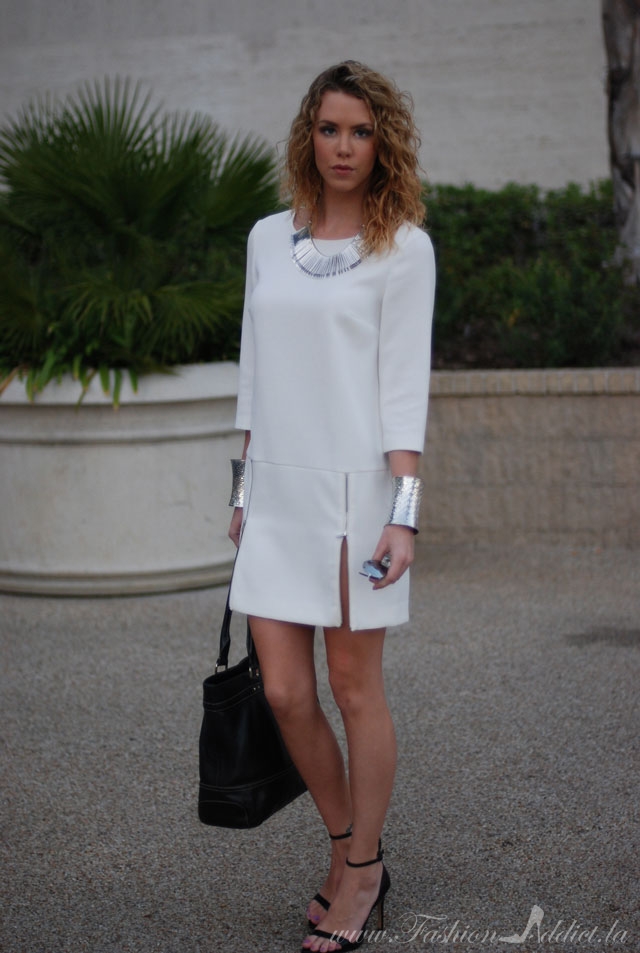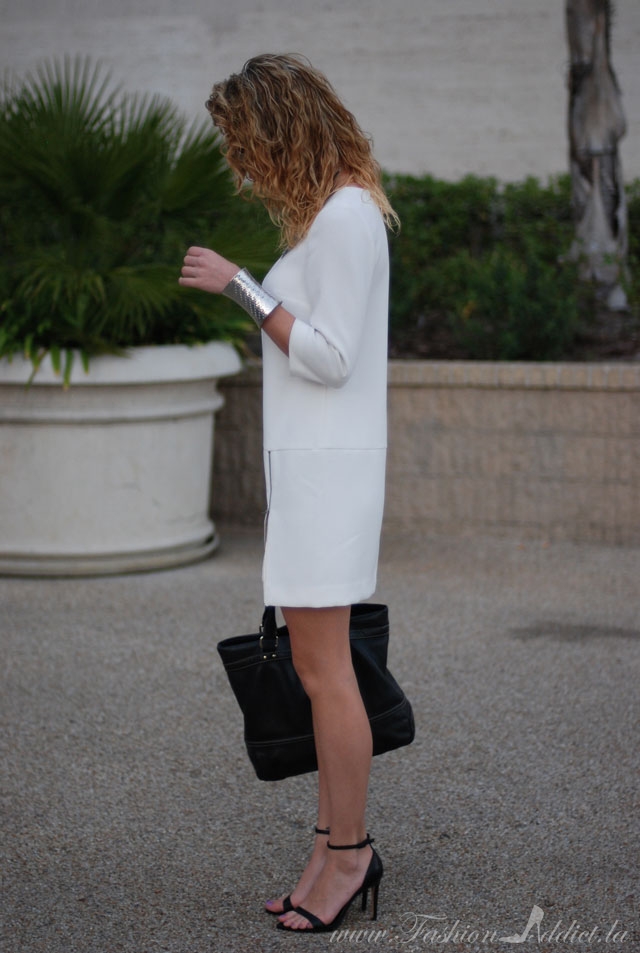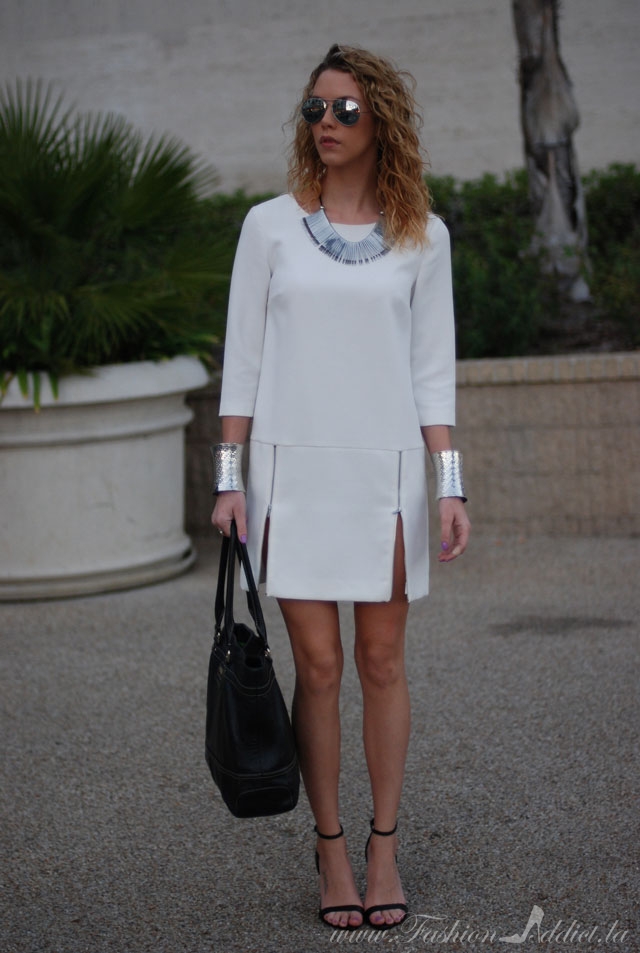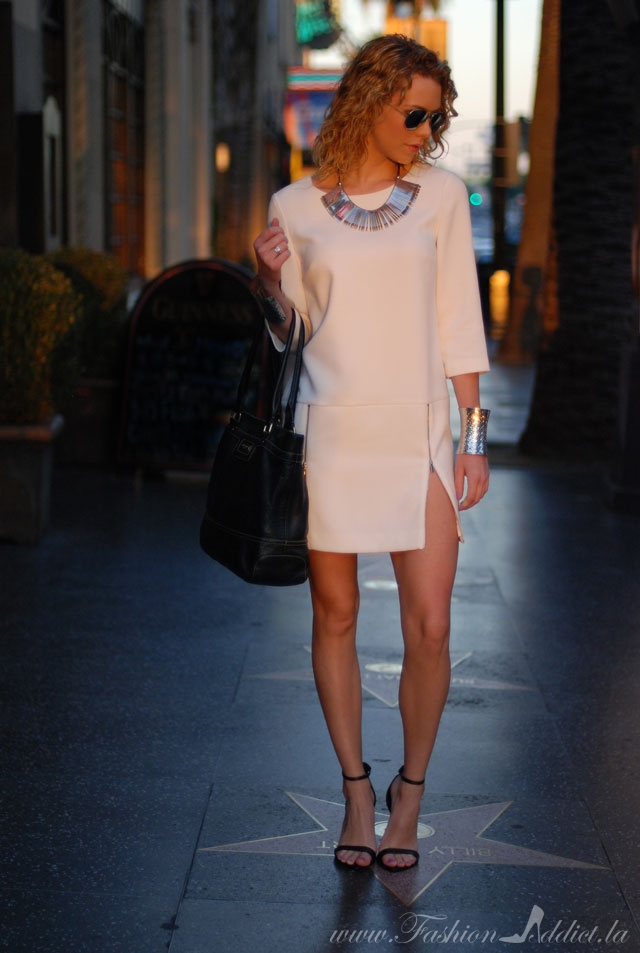 White Sheath Dress: Ann Taylor. Wrist Cuffs: Forever 21, similar. Sandals: ZARA. Bag: Kate Spade.
Necklace: Unknown. Ring: Swarovski. Sunglasses: Ray Ban.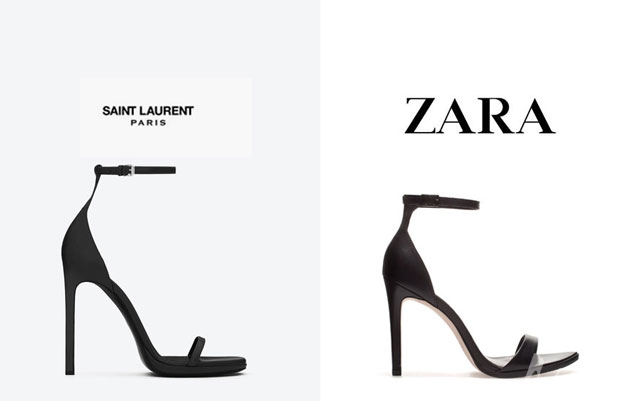 Saint Laurent Shoes VS ZARA Sandals
So you may remember these, well I don't know if i shared this with you, but those shoes were thrown away on accident (I don't want to talk about it). So while browsing instagram the other day a friend mentioned that ZARA was currently carrying a very similar shoe to last years version, and because of this post, I was very bitter about not having my sandals for this summer, so I called a list of ZARA stores until one came through with a pair in my size. ZARA's version is $79, and Saint Laurent Paris (Formerly YSL) carries the above sandal for $795. I like the thinner sleeker style of the SLP version better and the higher heel is more 'me', but for 10X less cost, I'm satisfied with ZARA's interpretation. Although, last years style from ZARA fit better and had a better platform (being covered in leather, and this year's is cheap plastic which I hate), this year's ankle strap is made of a single piece of leather- last years were made with two pieces, the strap and the anchor which came apart forcing me to have to take them in for fixing, so this year's is a better design in that light, BUT…. This year's are also just a little too pointy, my toes have a hard time staying on the base, and that's not a good look- especially because I have pretty proportionate feet, (Not good ZARA!). If you can't get the Saint Laurent pair like me, try the ZARA pair, they're a good investment either way.
The Every Woman Dress
This dress is on sale for 65% off right now, and I recommend you all go out and buy it. The fabric doesn't wrinkle, the style covers  all areas of the body most commonly disliked by woman (inner thighs, arms, tummy), but shows off the legs and just enough of the décolletage (the collar bone), which men find extremely sexy. The slits are adjustable with sexy zippers, and, if you didn't know, "The M Slit" is going to be very big for the next few seasons. This is a size 4, but I probably should have tracked down a 2, it's just a little too big, but sometimes that's what I need. Go Buy this dress!! I promise, you'll thank me, there are a million ways and places to wear this!
With love from Hollywood,
Kier