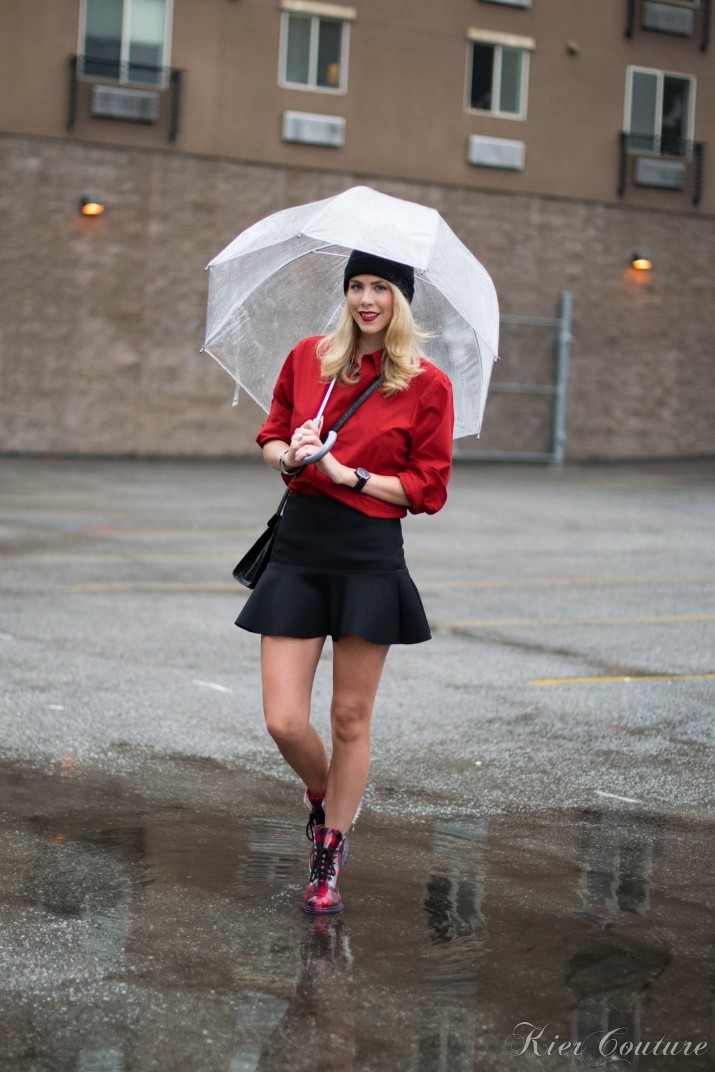 Hi y'all! So last week we finally got some much needed rain in Los Angeles and I got to bust out my new rain boots! How cool are these? I'm obsessed! I haven't been out puddle jumping in a very long time, and it was just as fun as it was when I was a kid. Actually, while we were shooting these, a man and his little boy walked by and the boy jumped in every puddle they passed, it was so cute!
I wore these cute boots with one of Roger's shirts he was going to throw out, and a little black flippy skirt, beanie to keep the hair under control in the humidity and my favorite clear umbrella! I wanted to do a GIF image of me jumping but my camera died right as I started to shoot the gif images! Oh well!
Right after I shot these a girl recognized me on the street  from House of DVF and asked for a picture, I have to admit, it was probably cooler for me than it was for her!
Thanks so much for reading!
Photos with a Nikon D5300 and 50mm 1.4 lens.
With love from Hollywood,
Kier
Shop the look:
Boots: Dirty Laundry, c/o. Skirt: H&M. Top: Express (mens).
Bag: Vintage Ralph Lauren. Bracelet: Swarovski. Watch: Fossil.
Beanie: Unknown. Umbrella: Target. Lipstick: NYX "Perfect Red". Ring: Berricle.