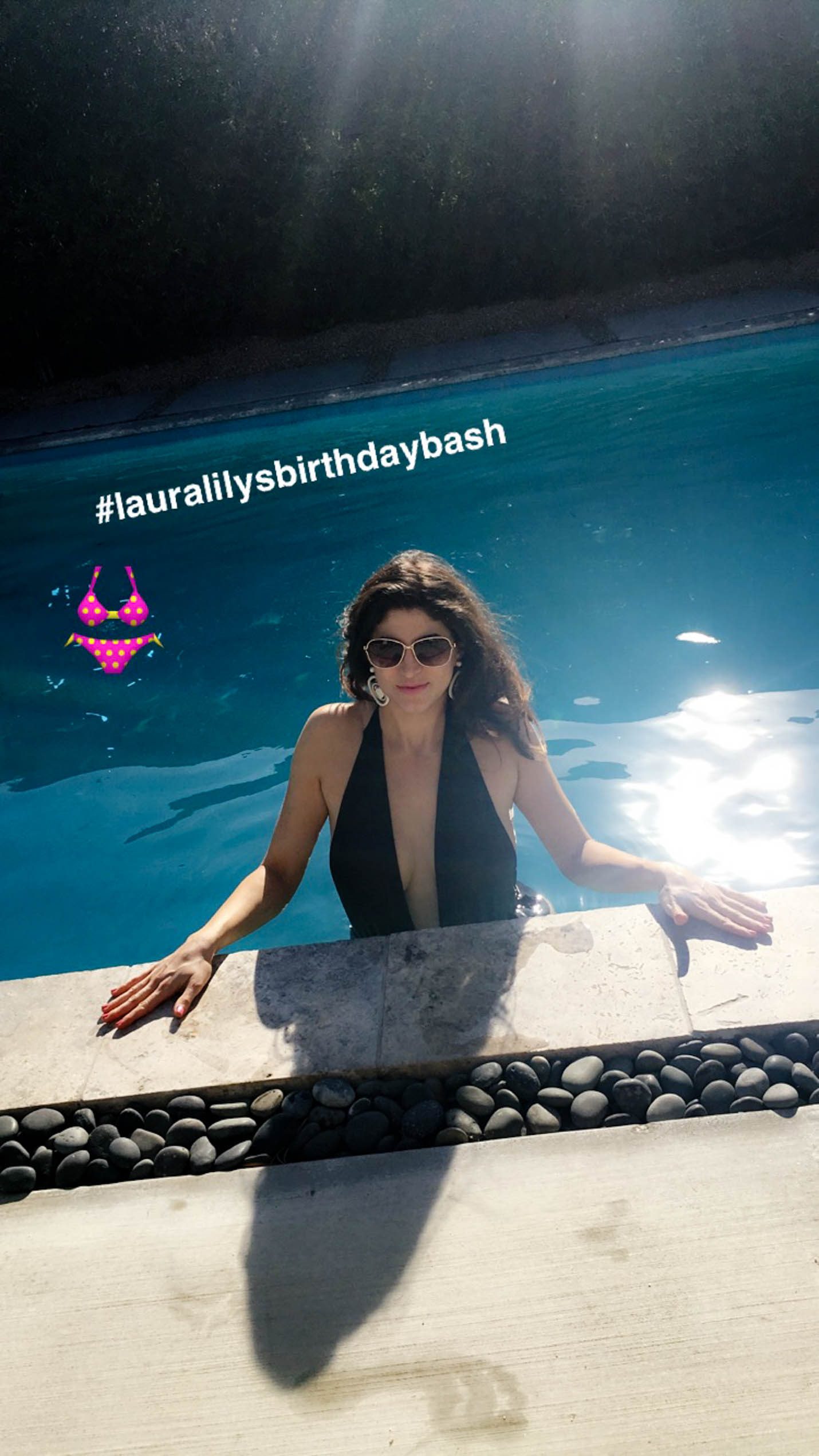 At the end of May Laura, Laura's sister Kelly, Elizabeth and I concluded our two month celebration of birthdays with Laura's Birthday Bash in Palm Springs. (Elizabeth's is early April and mine is later in the month followed by Laura's last.) Every year we celebrate one by one as we move into summer. However, last year right before Laura's turn my Grandfather got ill and subsequently passed away… The year before I was flown away to begin my journey on House of DVF. So, this year I really wanted to celebrate Laura's birthday right! When Laura said she wanted to do a Palm Springs getaway I was so excited, some R&R, mixed with some champagne and cocktails in Palm Spring's swankiest venues and of course bikini weather, perfect!
First, I flew in so I missed the fun road trip part, but being based in Vegas I didn't want to drive alone… Note to travelers, if you are flying in to Palm Springs and you have time to kill, don't leave the terminal area, all the good restaurants are inside security!
We stayed at Enclave in the Sun, a private residence stocked with instagram worthy plasticware perfect for enjoying mimosas by the pool, WiFi, sleeping for six, a hot tub, fire pit, bocce ball court, floor to ceiling windows (perfect selfie lighting) enclosed parking and outdoor living space which we thoroughly enjoyed!
Soon after arriving we were met by Dre Naylor, Palm Springs' cool girl photographer, and for a group of bloggers, being shot by a pro, hanging out with our besties, was heaven! Dre shot us arriving to out little getaway house, lounging by the pool, and enjoying a champagne toast for Laura's birthday which is how we spent most of the trip, so it was very fitting!
That evening we headed out to get a cocktail at The Avalon and we explored the grounds and caught up on life while sipping our custom confections! I forgot what mine was called but it was spicy and I think made with mescal, and anyway, it was delightful!
After drinks we ubered to Seymour's (inside Mr Lyons) for a second round of drinks. Recently reimagined into a speakeasy it was a bit of a boys club, literally a row of men lined the bar as we walked in (note to all you single ladies). Josh the (handsome) Kiwi bartender took great care of us, explaining and recommending drinks to our specific tastes. I got the pineapple tequila sour (with the egg white) and OH MY GOODNESS, was it ever tasty! I could sip that drink for the rest of my life!
Finally we had dinner at Mr Lyons. We wanted to try as much of the menu as possible so we opted to share several apps and one main dish (the wagyu beef). Everything was amazing but the clear favorite was the mushrooms as we couldn't help but order another round. (Note to those who are like me and dislike cucumbers, they weren't noted on the menu in two dishes which was disappointing to order and then not be able to eat so ask specifically about any food you dislike or are allergic to.) The dinner was so good we couldn't even fit dessert but that was okay as we had other plans!
That evening we roasted marshmallows by the fire in our backyard and giggled the night away still a little buzzed from such a fabulous night.
Huge thanks to Visit Palm Springs for partnering on this post. While our accommodations were complimentary as well as some of our food and drinks all opinions remain my own and I don't accept collaborations with brands and companies I wouldn't recommend to my family and friends.
Thank you for reading!
With love,
Kier