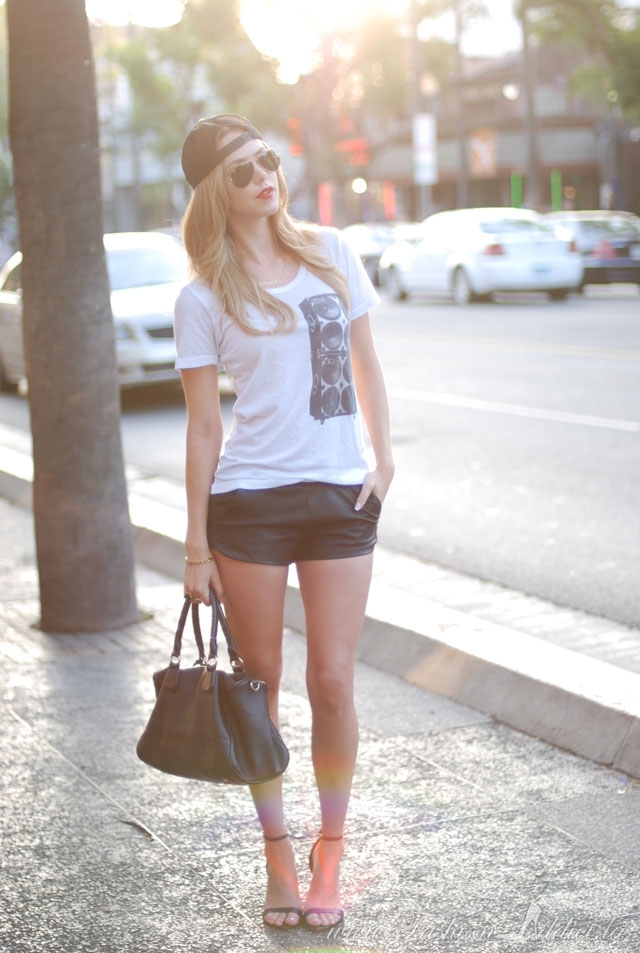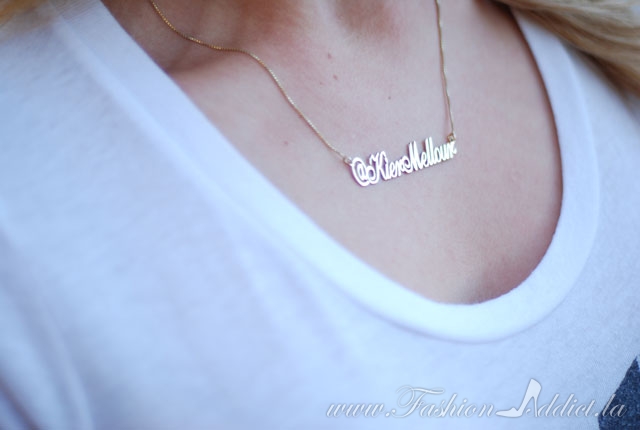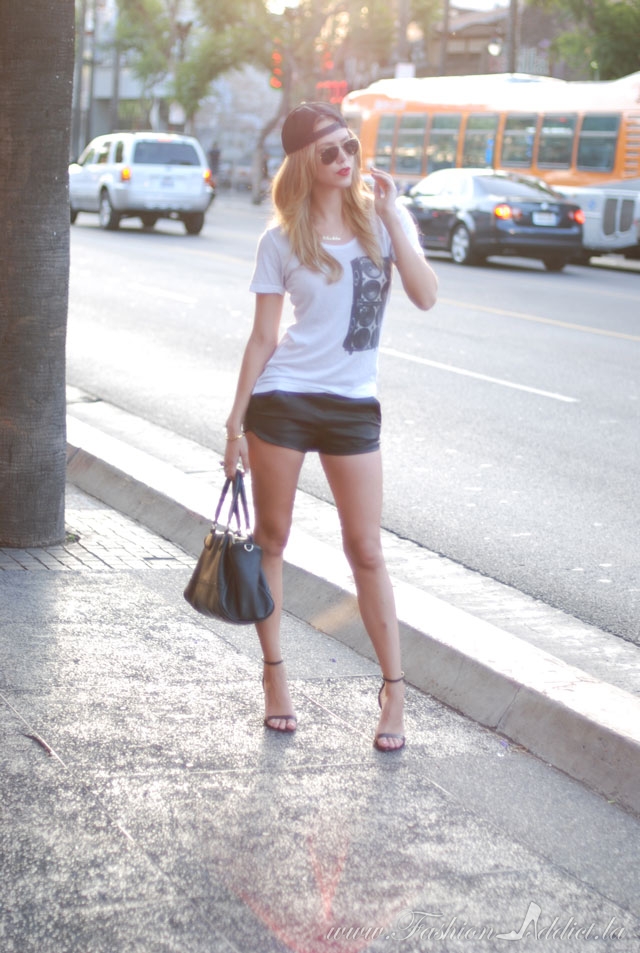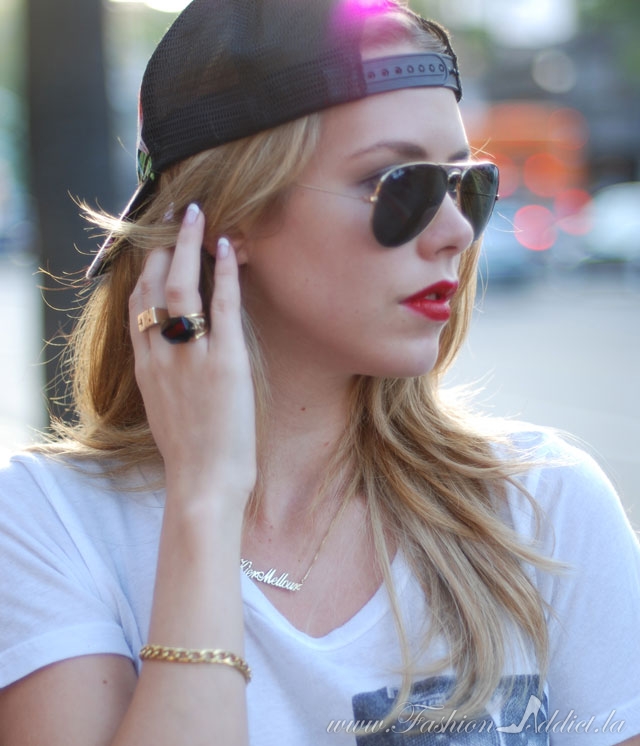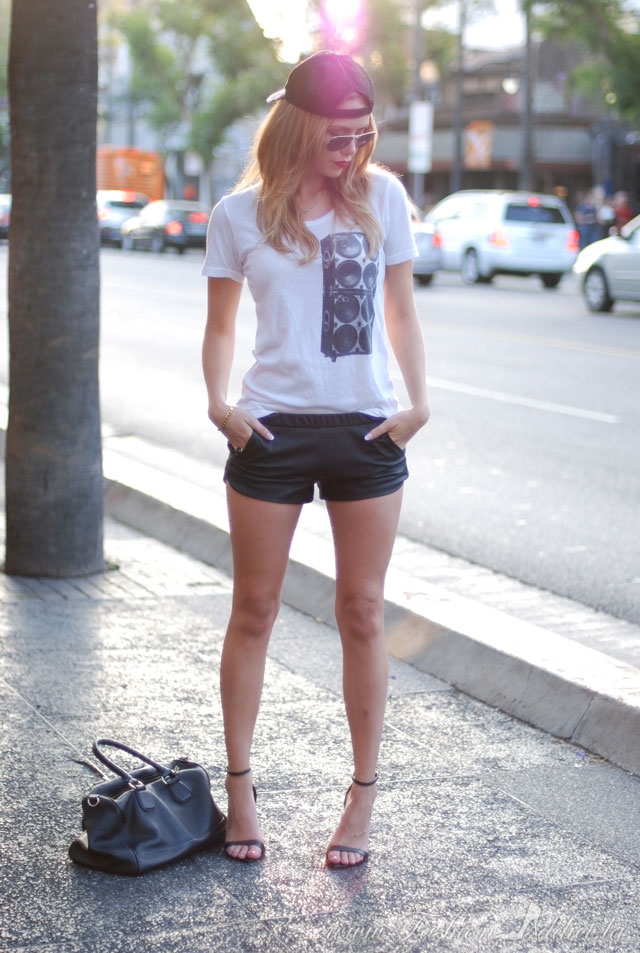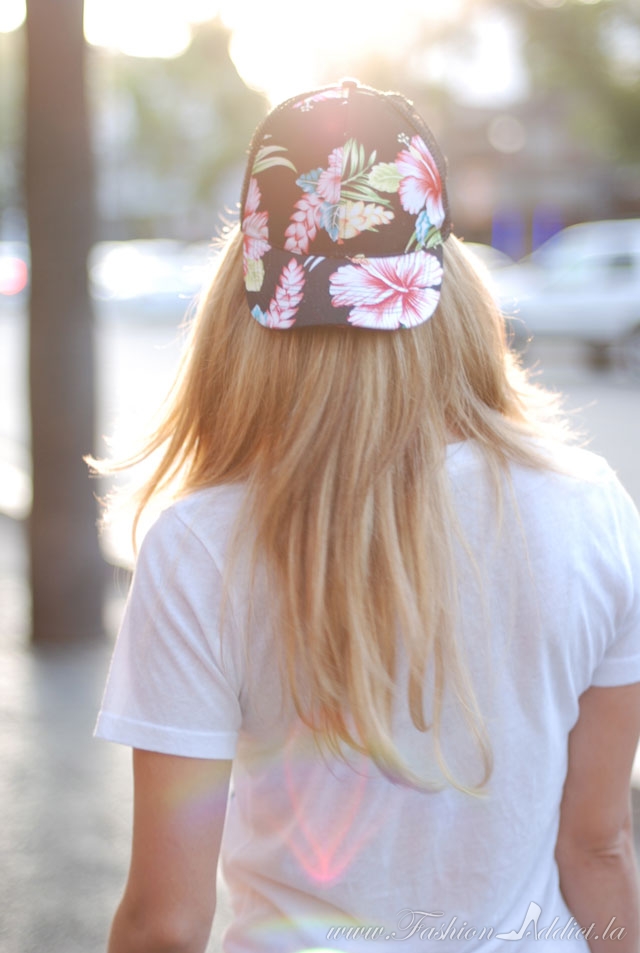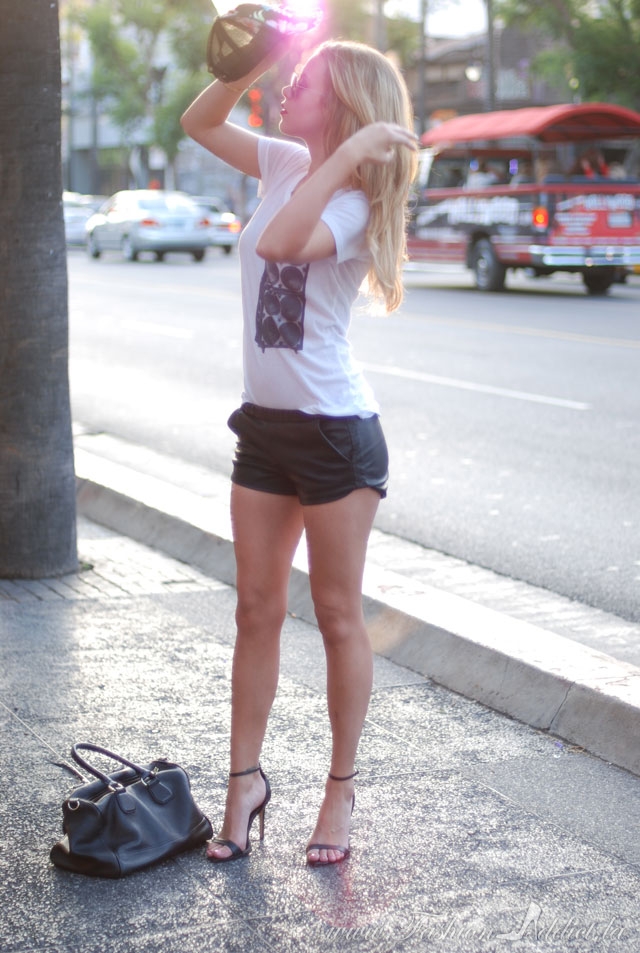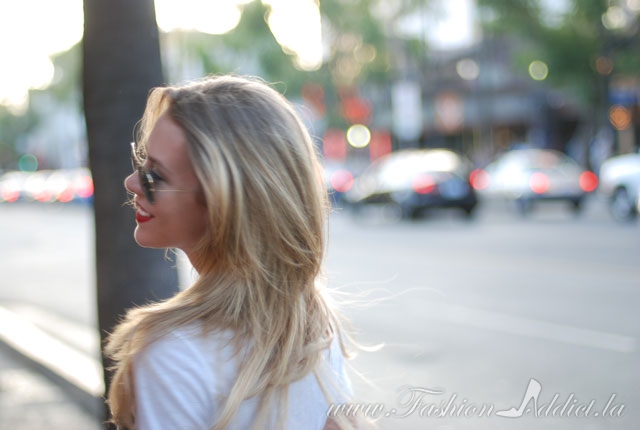 T Shirt: Billabong c/o, old. Shorts: ZARA, similar. Sandals: ZARA. Hat: Xhilaration.
Bracelet: Leola lace. Rings: Custom and Judith Bright. Necklace: oNecklace c/o.
Shades: Ray Ban. Bag: Aldo. Lips: Ruby Woo.
Shop the Look:
Hip
I love these shorts, they always make me feel super hip and sporty. Last time I wore them I rocked the wedge sneaker trend, but this time I felt the minimal sandal was more appropriate to make this look sleek and a little more grown up. Snap-backs (baseball hats with the snap adjustable closure) are making quite the comeback and as you all know I am a fan of hats- I generally wear floppy hats, but sometimes you'll catch me in a fedora or in this case, a snap-back. Roger's mom always says, (and I'm paraphrasing) "The more degrees your hat is turned the more IQ points you lose." I think that's funny because I remember the 90's and early 2000's when the side ways caps were all the rage. I like this cap backwards tho so that it's easier to lean in for a kiss from my babe, I'm assuming Roger's mom didn't think of that!!! LOL. But just wait until you see my hat/ look for Del Mar Opening day which is tomorrow! Follow on Instagram for live updates!
We all remember the Carrie Necklace right? Miss Bradshaw was not the original, but she was the trend setter of the name necklace. We all wanted a tiny classy "Carrie" necklace- but in our own name of course. Well I have always been really into personalized, customized, monogrammed stuff- maybe because I could never find a fridge magnet or bedroom door sign that said "Kier" in restaurant gift shops and my sister Ashley could.  Anyway, I'm in love with this necklace that oNecklace sent me! I decided to have it say my instagram/twitter handle complete with the "@" symbol because everyone usually just gets their first name, which is fine, but a little played out. In the last few years this social media phenomenon has swept the world and now I personally have added my handle to my business cards, my email signature and now my neck… This necklace is gold plated but they have 14k designs and silver as well so there is something for every budget. I've been on several name necklace sites and very few offer as many font selections as oNecklace.com. ONecklace even has monogram necklaces comparable to those seen on Max & Chloe, for a fraction of the cost-  less than 1/5 of the cost actually!  My pretty necklace came in a sleek gold jewelry box and was shipped and delivered swiftly- I highly recommend oNecklace! – oh yeah, and free worldwide shipping doesn't hurt!!
What would you have your necklace say if you got one of these personalized baubles? Your name, handle, monogram or a trendy slang word like "Boom" "Hella" or "Ratchet"?? I am seriously considering getting one that says "Ratchet" because I love the elegance and simplicity of the necklace juxtaposed with urban, recent slang. Oh yeah, and check out my "Carrie Diaries" inspired bag for another Bradshaw trend I couldn't help but follow…
Don't forget to enter my Giveaway to win a together bag by Thursday Friday!
And congrats to Tory Radday and Ruth Gistelinck for winning the Couture de Minnie Giveaway!
With love from Hollywood,
Kier