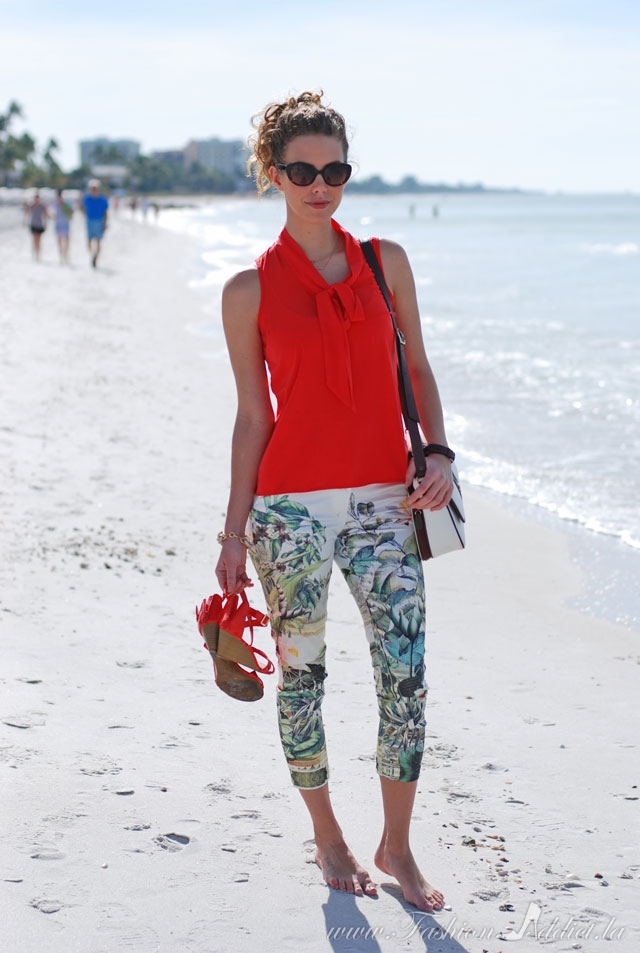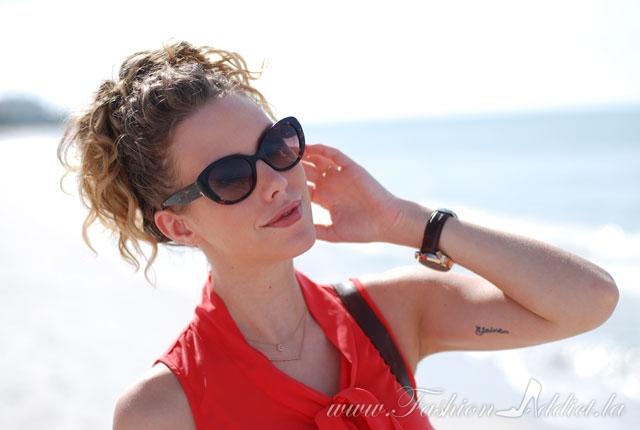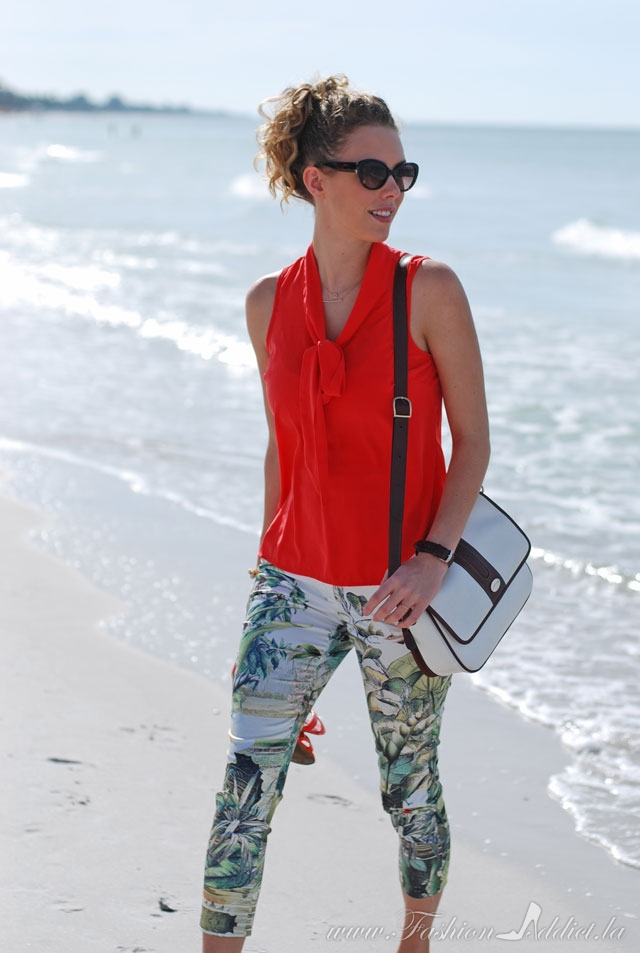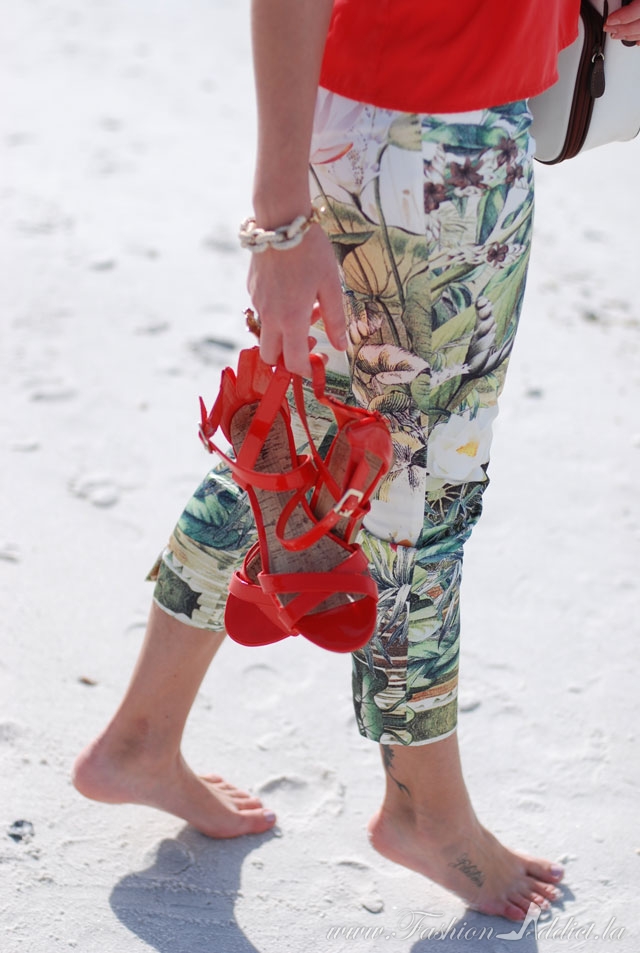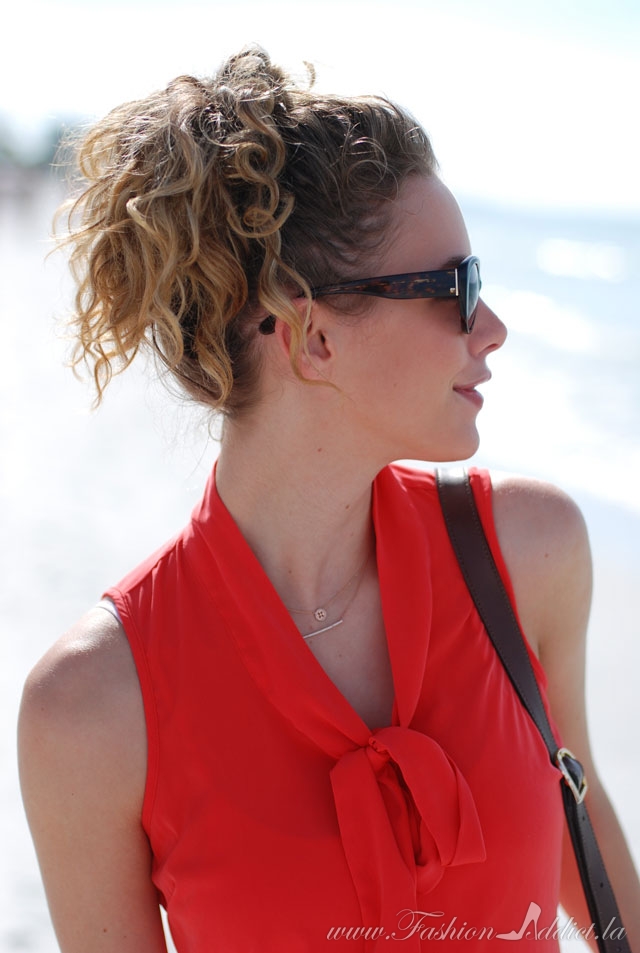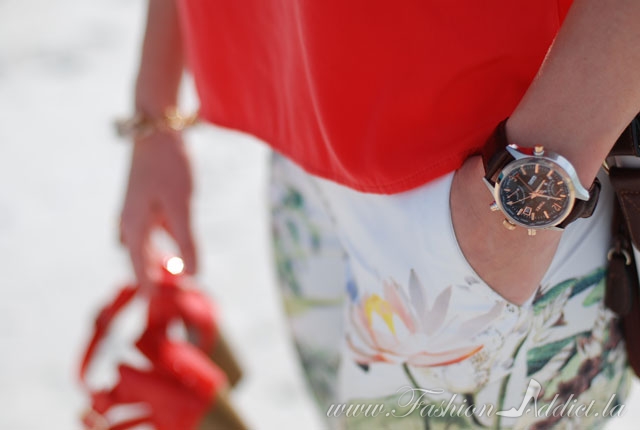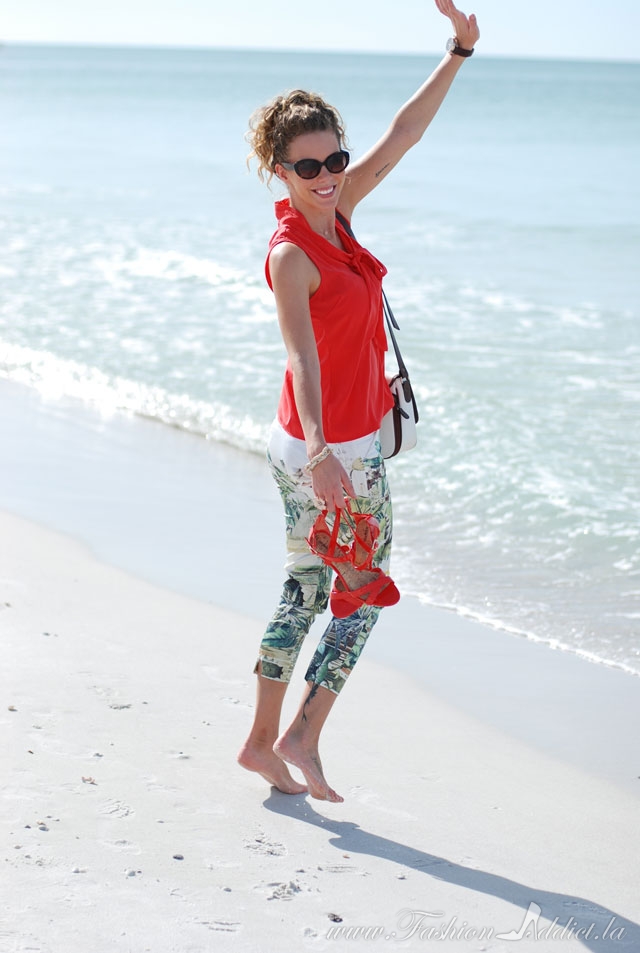 Top: Forever 21. Pants: H&M Conscious Collection. Bag: Vintage. Watch: Timex c/o.
Shades: Kate Spade. Bracelet: J.Crew. Necklaces: Simon G. c/o, and Leola Lace.
Shop the look:
H&M Conscious Collection
Did you know that H&M is a conscious corporation? I know, that sounds like an oxymoron, but as far as I can tell, it's true. I first ran into the conscious collection last summer. I went looking for it because I fell in love with these pants in an advertisement in one of many fashion magazines I read, on my way to the H&M store I was hoping the fabrics were still nice and not itchy since they were "sustainably manufactured". Not only are they not itchy or less in quality in any way, they are actually nicer. I have these trousers (same cut) in several colors which are not part of the Conscious Collection, and these are the softest and highest quality feeling and looking pair of the bunch.
Furthurmore, they have stopped production of Angora products releasing this statement….
"We have been in close dialogue with PETA for several years and as a responsible company we have decided to permanently cease the production of angora products.
We have put considerable effort into ensuring that our requirements are being met on our sub-suppliers' angora farms. On November 27, we stopped all production of angora products. We have since then made additional inspections of the farms from which our suppliers source their angora wool. Since angora farms are located further upstream the supply chain, we can currently not guarantee the compliance with our Product Policy and specific requirements for angora husbandry. We have therefore decided to cease production of angora products."
Now, I'm sure you know by now, I wear (vintage) fur and leather of all kinds, I'm not a PETA person, and I like angora products, I don't know what goes on to get it, but I'm glad H&M does, and I like that instead of just caving into PETA telling them to stop production, they first made a commitment to make sure it was being ethically and sustainabily resourced, when they couldn't confirm any sources complying with their strict policies, they stopped production at that point. I like that they did try to keep their angora loving customers happy, but stuck to their word when that couldn't be done. However, I'm sure there are networks of willing farmers/ranchers and families out there who would be happy to adhere to H&M's policies if they could land such a huge account. In my opinion, H&M should look around for  better sources instead of stopping production forever. hint, hint.
I even found this Facebook post while searching the web for info on "the truth about H&M" to make sure I wasn't missing anything, and I love how they responded.. (Click the image to be taken to the post so you can follow both links.)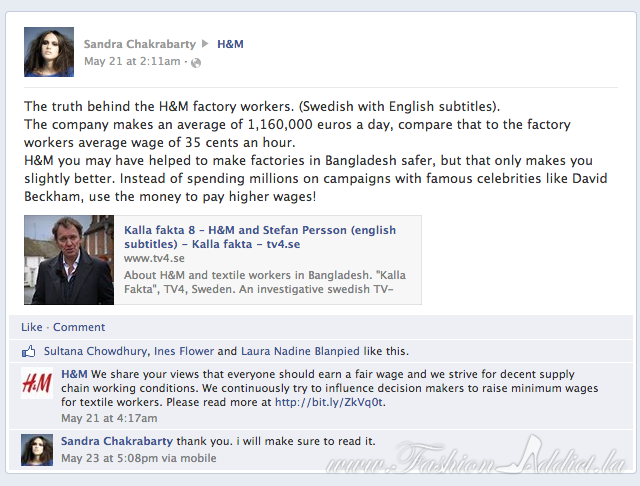 I love H&M's designs and I trust their ethics. I love that I can actually count on them to do what they say they will, and I love their efforts to make this world a little better- none of us are perfect, but every little bit counts. Thanks H&M
Have a wonderful, fulfilling, healthy and magical new year! Thank you all for your continued support. I am so grateful for all of you and looking forward to another year together!!
With love from Hollywood,
Kier
(This is not a sponsored post in any way.)