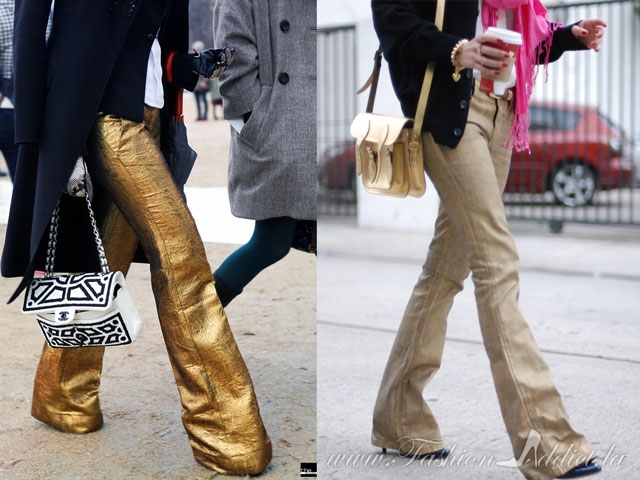 Left: My Pinspiration: Balmain gold brocade pants, see my pin here.  | Right: My finished product: DIY Gold Jeans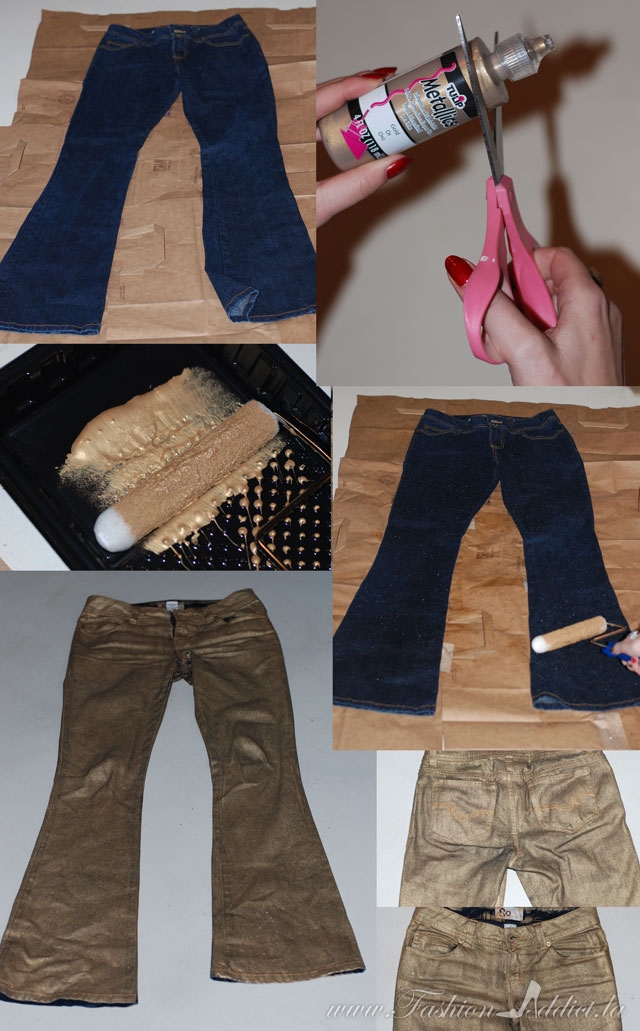 How to paint jeans gold AKA 'DIY Gold Jeans':
1. Start with jeans of your choice, I wore mine for 1 hour before starting to allow fabric to stretch and paint to seep into the fabric and seams. (My jeans are from Kohl's, I think they were $20)
2. Cut off to top of Gold Fabric Glue and empty into a paint pan. (These pants took 3 tubes of paint.)
3. Paint jeans with a small paint roller making sure to cover evenly, smoothing and working into crevices as you work.
4. Allow 24 hours to dry,
5. Flip pants over, paint the other side.
6. Use your hand inside the jeans to check the seams for missing coverage, make sure to check the crotch and inseam as well.
7. Repeat  steps 3-6 until desired opaqueness is achieved. (I used 2-3 coats) Keep in mind that the more coats you use the better the pants will look, however the more stiff they will feel.
8.Wash inside out with in cold water, hang dry.
 Jeans: DIY, Blouse, Sweater and Belt: Vintage, Scarf: last seen here –buy here, Earrings: Kate Spade,
Shoes: Marc by Marc Jacob, Bag: Cambridge Satchel Co., Ring: Custom- Similar, Shades: Tiffany & Co.
Gold Jeans:
So I pinned the above image of these gorgeous Balmain gold brocade flared pants months ago and I've been pretty much obsessed with them ever since. They've become a "favorite" of mine… To actually buy the pants would run me $1900, even on eBay I'd spend around $500 if I could even find a pair that fit. So I decided to figure out how to make them, or something similar. I hope the instructions above were easy enough to understand. I want to mention however, that I tried several types of paint and application methods before I decided this was the best way. Also, unfortunately it was very gloomy when we shot these pictures, the pants are much more metallic and shiny than they appear in these photos. I can't wait to wear them again and show you how they gleam! I dressed down a little with a baggier than normal upper body, but sometimes you need to let one thing shine at a time, and these pant's needed to have their day ;)
Don't forget to enter to win the gift box below-
*Click here to enter and see giveaway rules!*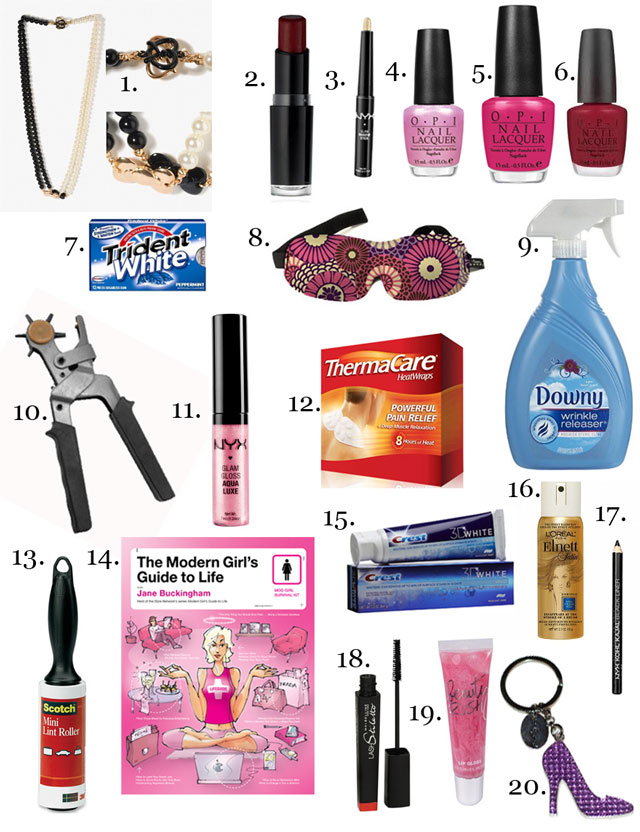 *Click here to enter and see giveaway rules!* 
With love from Hollywood,
Kier
HYPE on LOOKBOOK.nu