Going from black to blonde hair…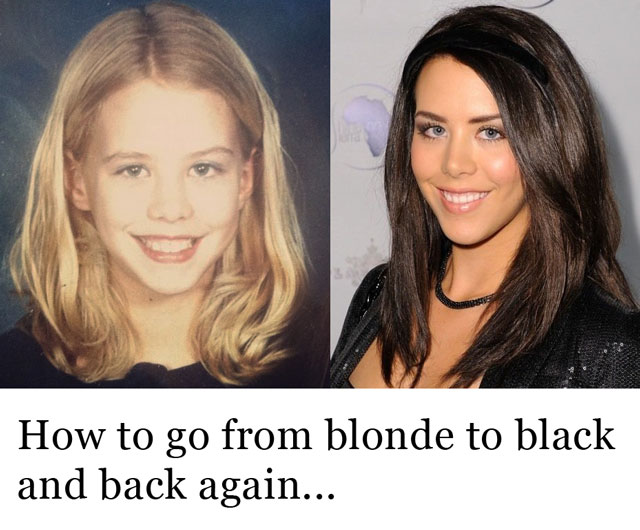 The above photos were of me at age 10, and age 20, right after I began box coloring my own hair. At this point it was still a deep brown, but after a few years it became more of a black/brown. I used Clairol Perfect 10 in 'Dark Brown'. I left mine on for 25-30 mints each time instead of the recommended 10 minutes because my light hair wouldn't hold the color very well. That worked when I was raven-haired, but on the journey back to blonde it's become a major problem. You can see my light roots in a couple of the pictures below. If you know anything about hair color, my natural color is at about a level 8. This post will show you step by step the process of going from black to blonde hair, with the help of an amazing colorist.
Step 1. I stopped coloring my roots about two months before I started my lift and I also began using Head and Shoulders which is very harsh on hair color- using a "clarifying" shampoo also helps to strip away the color. I tried using my Head and Shoulders with Vitamin C crystals as I read on the internet that it would strip out the box color dramatically, but that didn't work for me. It did work for a friend of mine who only colored her hair dark once, but mine I think was just too set in. My hair stylist and I needed to see how the hair would react so she laid in a very subtle highlight focussing on the ends. She needed to pull some of the color all the way through so she could see how the hair in different lengths would react. She also touched up my very light roots with a semi-permanent brown that would fade. She did this so the line of demarkation wouldn't be so obvious and would subtly bend and would be easy to lift out later. My hairstylist is Garidey at J. Beverly Hills on Wilshire, 310.246.8080 ($75 for a haircut) she's amazing. You can read my testimony all about her by clicking here.
Step 2. We added more highlights and ombre'd the entire bottom. This step obviously left me pretty brassy, but it needed to be done to gradually take my hair lighter. We toned it as much as we could and I made an appointment for the following week as to not spend too much time in this stage.. You can see there are still some very black parts. The first images below were taken the day of the color, and the second set was taken 6 days later, you can see how the color settled and blended within about a weeks time it looked much better.
Step 3. We did a full highlight and tone. Finally getting there, and being able to consider myself a blonde I was much happier! You can still see some black sections, but the ends lightened up considerably and the hair was starting to blend and not look like it was in the middle of a process, but like an actual style. (Keep in mind I was using Shimmering Lights Purple conditioner for 5 minutes between washing and conditioning regularly to tone out the brassiness as much as I could)
Step: 4. We did another full highlight starting about an inch to an inch and a half down because my roots were susceptible to lightening much higher than the rest of my color treated hair. Garidey also focused on lightening opposite strands than lightened in the previous highlight. Once the foils were in she baliaged the ends adding bleach where it was needed. She then did a tone and deep condition..
Step 5. I go in for my next highlight on Saturday so look for pictures next week! If you're very impatient make sure you follow me on instagram @KierMellour for live updates!  ;)
P.S. I have naturally very curly hair (It began to curl at age 14) so having long blonde curls will be very fun! I imagine it'll look similar to Shakira's hair.. and I'm so excited!! I've also just begun using Virgin Coconut oil as a hot oil treatment on my hair twice a week and massaging it into my scalp as I've read that it can help to grow your hair faster as well as keep it healthy and protected. Apparently it unclogs hair follicles, kills bacteria and increases circulation all contributing to faster growing hair- we shall see, right?!
With love from Hollywood,
Kier
 *Disclamer: I'm not a hair professional. These statements are speculation and some knowledge picked up by experience with my own hair and my conversations with my stylist.*