Don't be a Hater:
Don't be a "hater", sounds easy right? I know, you're probably thinking, "I'm not a hater. Those people have nothing better to do, I would never troll anyone."
But, most likely you've totally done it. I have. I admit it… and it sucks!
Rewind to a few years ago. I have been following Rachel Parcell for years, I generally love her style. One day scrolling Instagram I saw a photo she posted. If I remember right, it was a white and floral skirt and a white top and black shoes. The shoes totally ruined the look for me and I commented:
"I dont know if I would have worn those shoes with that outfit."
Well… she blocked me!! I didn't even figure it out for about a month. I thought something was wrong with my insta but after about 2 months I realized, she blocked me.
I was super bummed. I had to stalk her blog to see the IG feed at the bottom. Finally I commented on her husband's IG requesting she unblock me and I was so sorry. She did, YAY!
It hit me, if you don't have anything nice to say, don't say anything at all. Yep, pretty basic. For me though, and maybe you can relate, I feel like I really don't think something is rude until the damage is done.
So, I *try* to use the acronym below, Before you speak, comment, etc, THINK. Is it True, Helpful, Inspiring, Necessary, or Kind? My Comment to Rachel may not have been outright rude but was it necessary? Nope. Was it Kind? Nope. Was it Helpful? Not really… So, should I have wasted my time essentially putting her outfit down? No.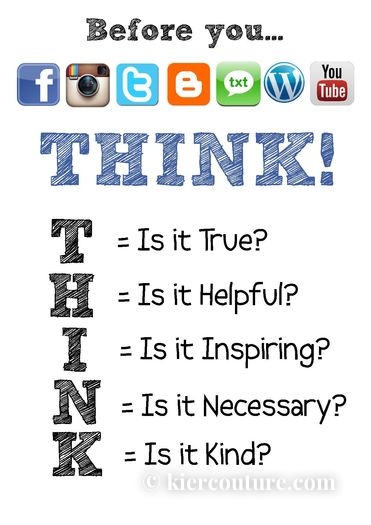 But then I did it again…
Last night watching Bachelor in Paradise I kept thinking "Lacey slouches so much, just like my friend —— She is so pretty but the posture makes her look insecure…"
So I tweeted *cringe* (now deleted)
"@LaceyMMark you'd be 100x hotter if you improved your posture #confidenceissexy"
Her response gutted me!!!
"I have scoliosis. It's physically impossible for me to sit up straight. I'd rather be strong with my mind than with my shoulders."

— Lacey Mark (@laceymmark) September 13, 2017
So yeah, I'm an asshole. I guess I thought I was being helpful? I used to tell my friend all the time to sit up straight. I know for her, she was insecure about her height so slouching was a way for her to feel less tall but it made her look worse. As a friend, I was honest with her, but I am not Lacey's friend. We aren't close like that, and I sure as hell didn't know she has scoliosis. Which just goes to show, we NEVER know other people's journeys. We shouldn't judge or offer unsolicited advice. It's RUDE.
So yeah it was a humbling reminder that we can all fall into being a "hater" and not even mean to… I know when I was on House of DVF the tweets were brutal. I probably should be more sensitive. Thanks for the reminder universe.
Maybe my comment to Rach wasn't as rude as mine to Lacey but I don't know what Rach was going through that day. I think she was trying to get pregnant at the time and having a tough time, but I only know that now after her daughter was born and I'm connecting the timeline myself. Maybe she had another negative pregnancy result that day I set her over the edge… We, myself included obviously, need to be less judgmental and honestly just worry about ourselves.
I know it's easier to pinpoint all the things other people should do than to work on ourselves but real talk- that will never make you happy. Trust me. I have gained more happiness working on myself than ever. I still make major mistakes but I think owning up and apologizing is a big step.
And if this helps bring a new POV to any of you or even just lets you know that yup, I'm human too and I make mistakes too, then good. It's worth it.
Lacey, if you read this, I am so sorry. You do have a strong mind, you're beautiful and you handled a super insensitive tweet with grace. I WISH I were more like you! I wish more people were more like you. I know you'll find an incredible man who sees what Daniel didn't. I'm excited for you. Lastly, Thank you. Thank you for opening my eyes to the trap I keep falling into. Thank you for reminding me to be kind and to THINK before I tweet, comment, etc. You're a babe.
Have you ever commented or tweeted something and instantly regretted it?  Let me know!
Humbly yours,
Top: Nordstrom, sold out but similar.
Jeans: ASOS, similar. Belt: Vintage.
Shoes: Stuart Weitzman. Bag: Louis Vuitton.
Ring: Urban Outfitters, old. Shades: Bebe, old.
Bracelets: Piaget and Brighton. Earrings: Unknown.