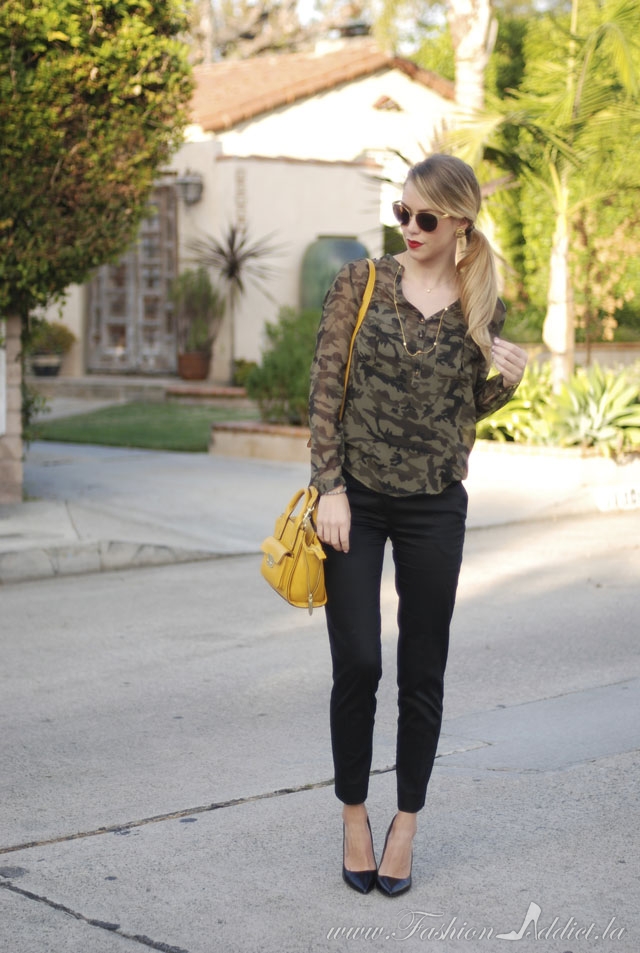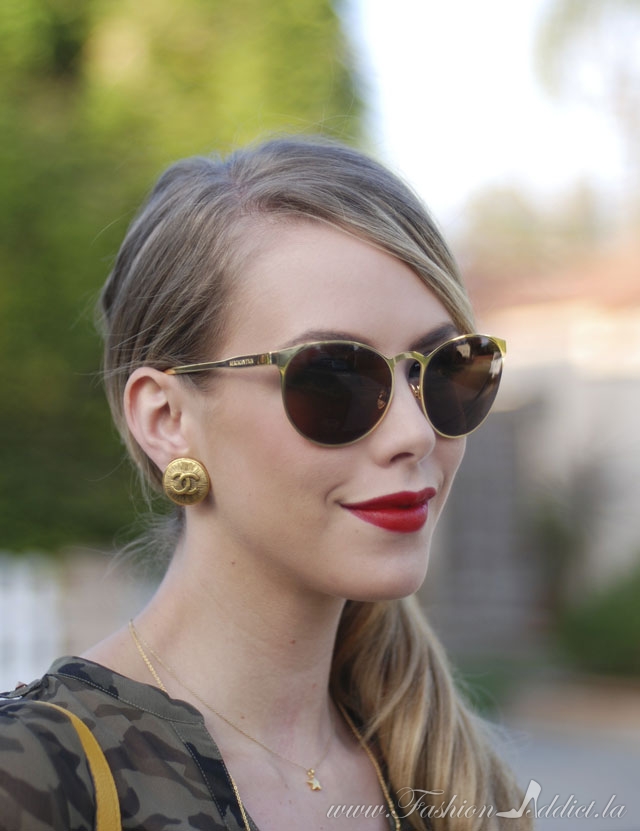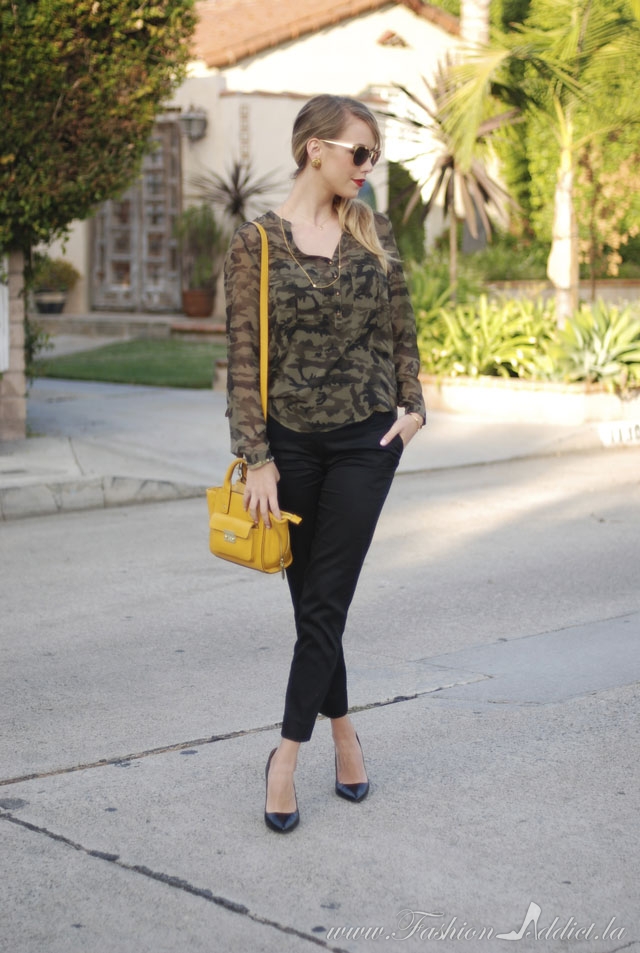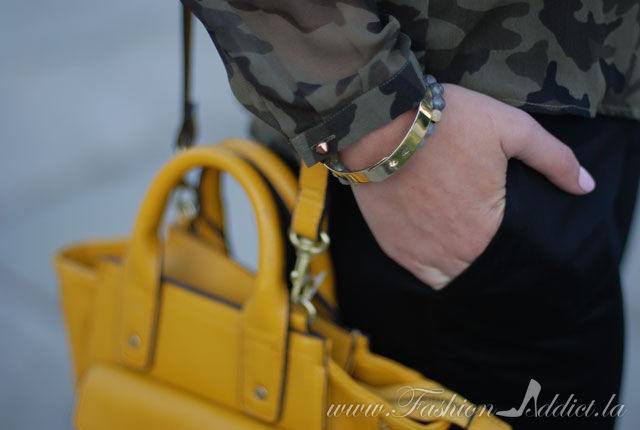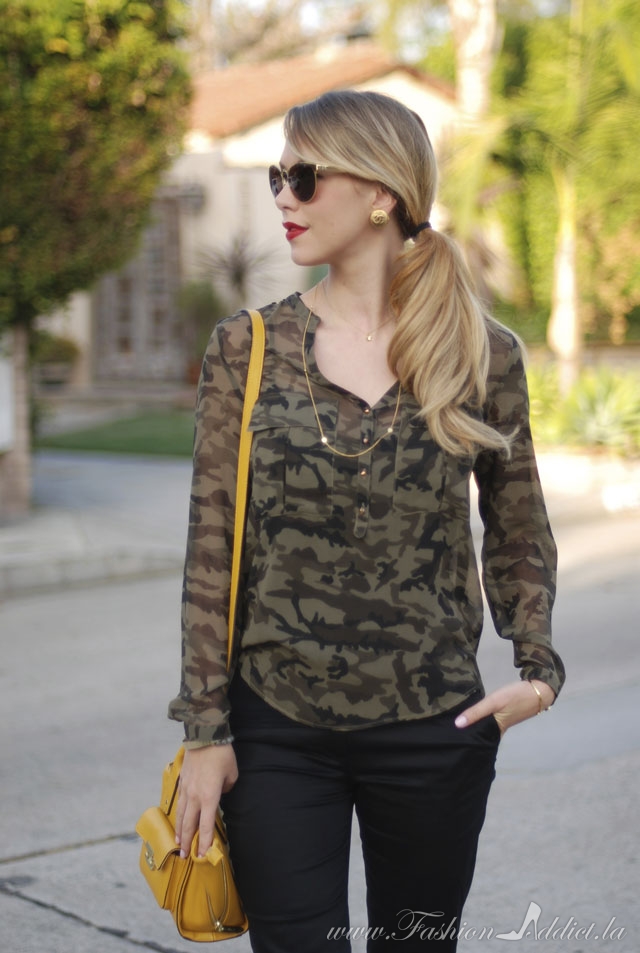 Camo Top: ZARA f/w 2012. Ankle Pants: H&M. Bag: 3.1 Phillip Lim for Target.
Earrings: vintage Chanel.
Bracelets: Beso Beso, Naked Wardrobe, Gorgana Griffin.
Shop the Look:
Camo Trend
The Camo trend is still going strong in 2013 which is great because I know a few girls who bought a lot of it… last fall I really only fell in love with this top, but that doesn't mean I'm not still looking for the perfect pair of camp skinnies. Camouflage, in my opinion is like leopard in the way that there are a lot of bad versions.. my dad happens to be a fan of the pixelated looking version, but I tend to stick to a very traditional print.- I actually snuck up on him shopping for this shirt… note the wardrobe choice- I guess like father like daughter… "If the shoe fits, buy it in every color."

Love, Preview
In other news… I want to invite you all to a really fun charity event called Love, Preview benefitting No Kid Hungry, it's this Sunday November 10th in Costa Mesa and not only do ticket sales benefit No Kid Hungry, but it's going to be a really fun shopping event that will support local retailers and small businesses!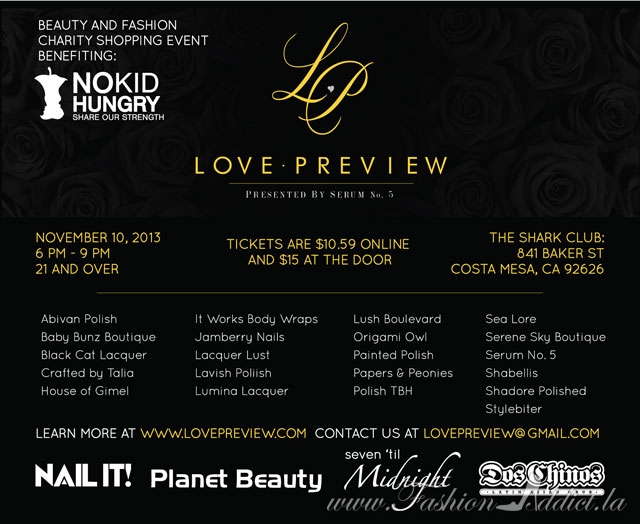 "Love, Preview presented by Serum No. 5 is a curated beauty and fashion charity shopping event supporting local brands and retailers. This event is all about supporting local small businesses and showing the the support this community can give, and all for a good cause.
For Love, Preview's inaugural year, profits from the event (ticket sales, vendor fees, sponsorships and donations) will go towards No Kid Hungry. No child should grow up hungry in America, but one in five children struggles with hunger. Share Our Strength's No Kid Hungry campaign is ending childhood hunger in America by ensuring all children get the healthy food they need, every day. "
This topic is something that really reaches me at a personal level because I grew up in a small town full of deadbeats and my mom let more than one of my friends stay with us throughout my childhood, friends who would have been home alone and hungry without her generosity.. I didn't realize it at the time, I thought she was just being a cool mom and letting me have endless sleepovers, but looking back I know that some of my childhood friends were actually starving- it's a more common problem than we realize and the economy isn't as good as it was back then, there are fewer "friends moms" helping out, and that's where you come in.
I know that Love, Preview can be a success, but we need your help! Click here to purchase tickets or donate– even $5 will help. But, of course, I hope to see you there!
Please, if you can't make it on Sunday, click here to donate.

With love from Hollywood,
Kier