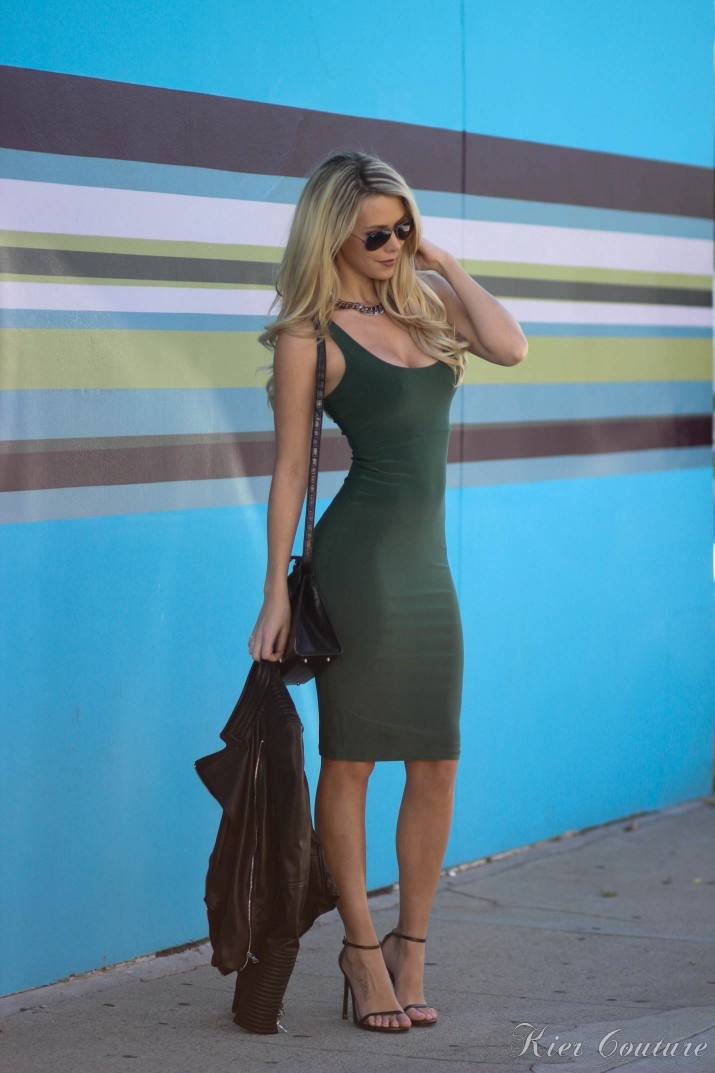 I'm kind of obsessed with this two-in-one dress, it's a racer back dress that is reversible and turns super sexy when worn with the racer back in the front. I love it both ways, it totally just depends on the look you are going for. Whenever I wear this army green/olive color I always get a military vibe. I paired this look with a faux leather jacket, black minimalist heels and to play up the army tone of the look, I added masculine accessories like a vintage silver chain necklace and aviator shades. This dress is double lined so it's shaping and opaque unlike a lot of other similar styles. I actually got this Vanessa Dress in white and burnt orange too- I'm just in love with it, and for $39.99, you can't go wrong!
P.S. I always say "Shades" instead of "sunglasses" or worst of all: "Sunnies" I swear I can't stand it when people say "sunnies" unless you are from overseas, don't call them sunnies. Just. Stop. Please. I say "shades" because thats what my dad always called them, therefore thats what I called them.. Just be yourself! if you call them "lenses" because of you great great aunt, it's better than saying "sunnies" because it's trendy to say… ok enough ranting lol.
Thank you so much for reading!
Photos by Laura Yazdi.
With love from Hollywood,
Kier
Shop the look:
Dress: Want My Look "Vanessa Dress" (Use code: kier for a discount!)
Jacket: Zara. Heels: Stuart Weitzman. Bag: Vintage Ralph Lauren.
Necklace: Vintage. Shades: Ray Ban. Rings: Berricle.
Lips: Covergirl Sultry and MAC Blankety.
Hair: Bellami Clip in LillyHair (Use code: kier for a discount!)