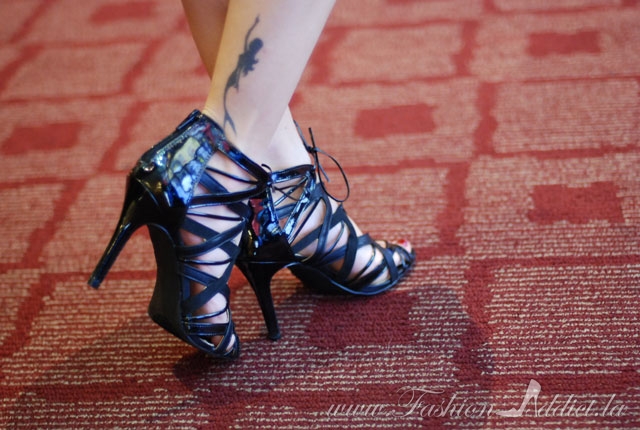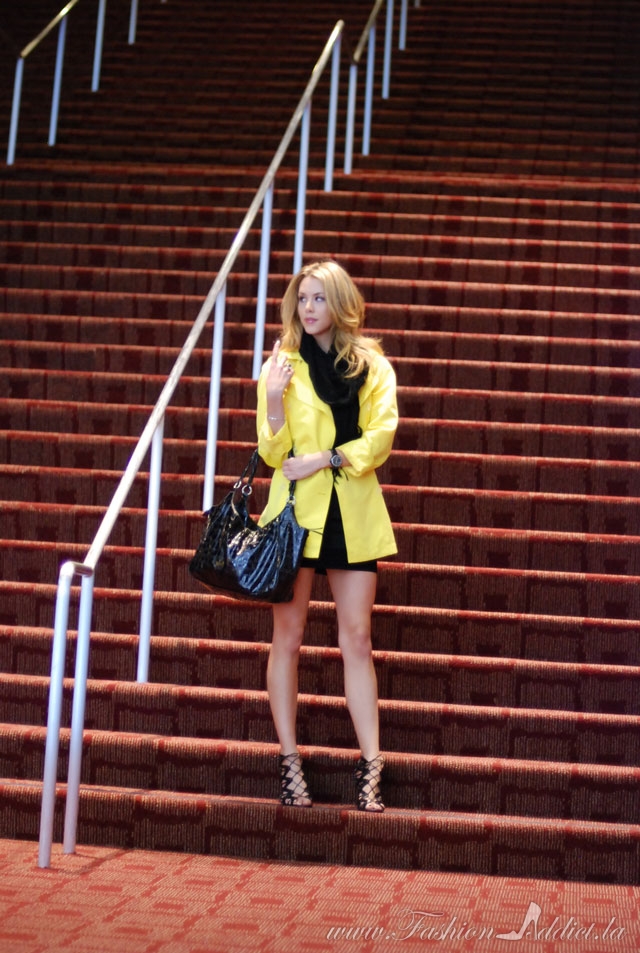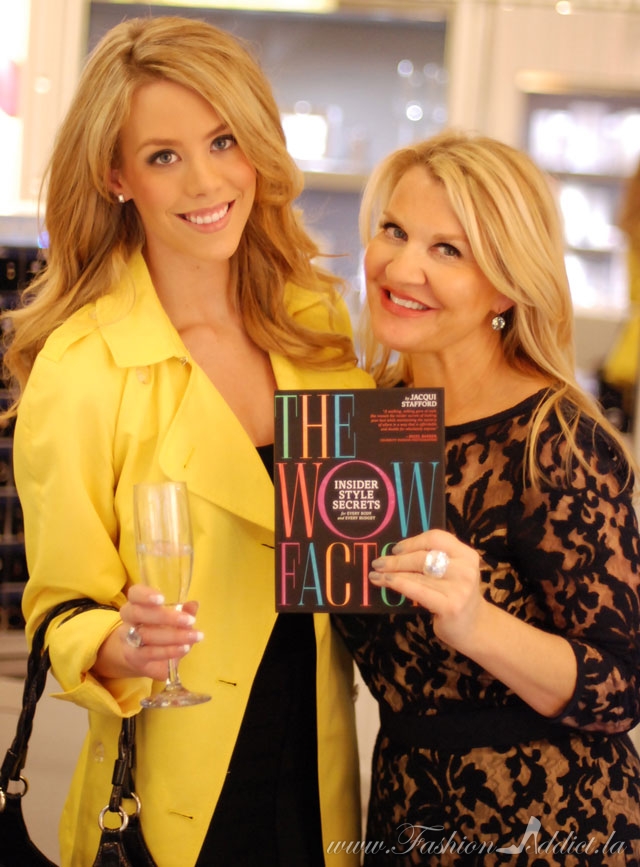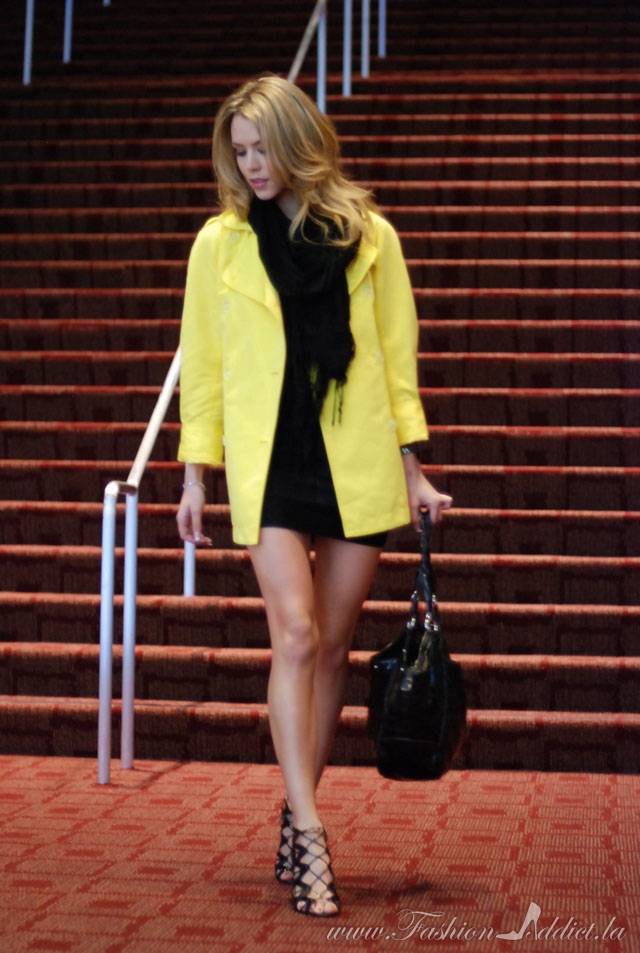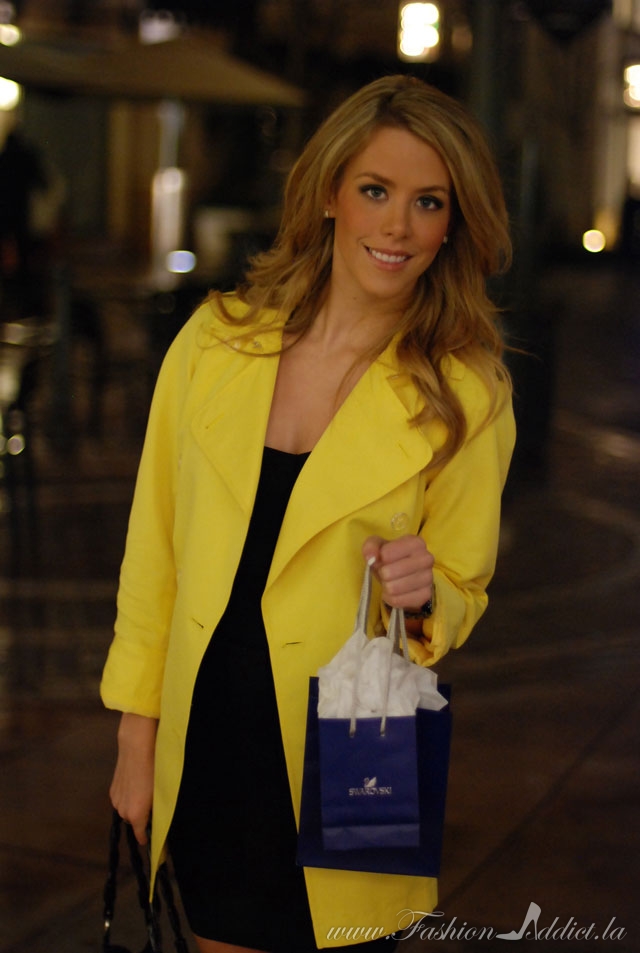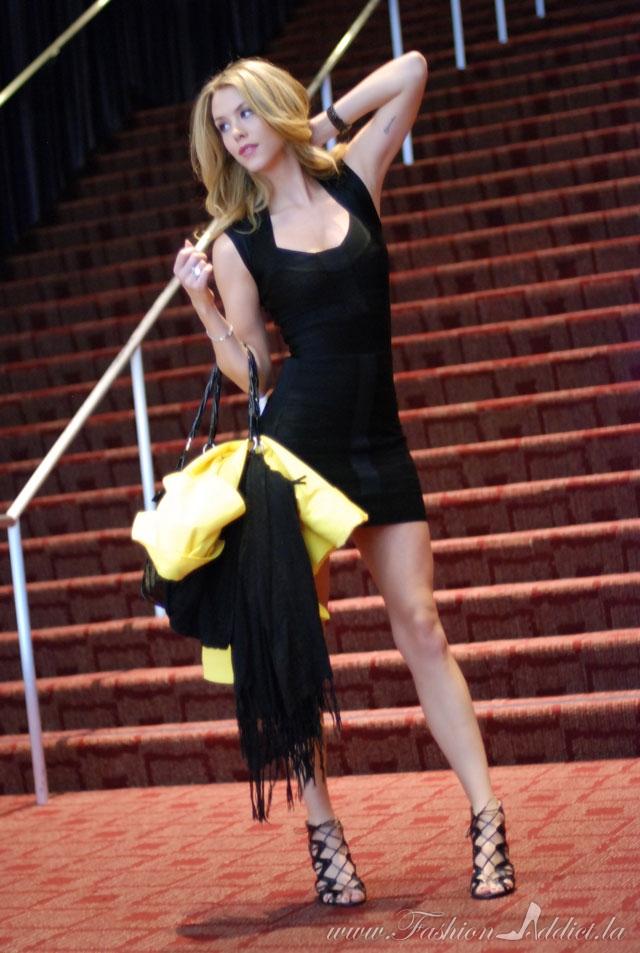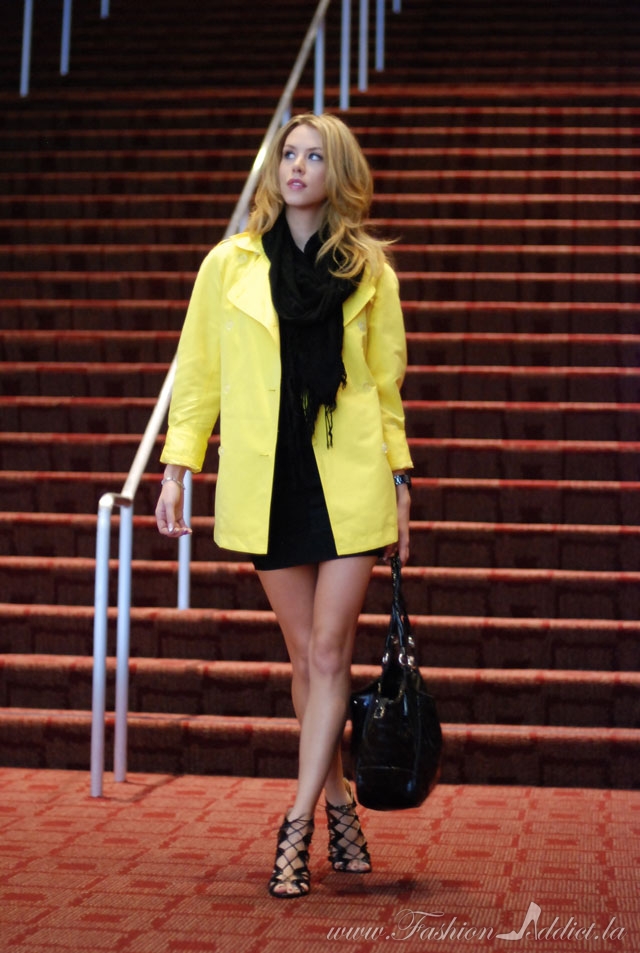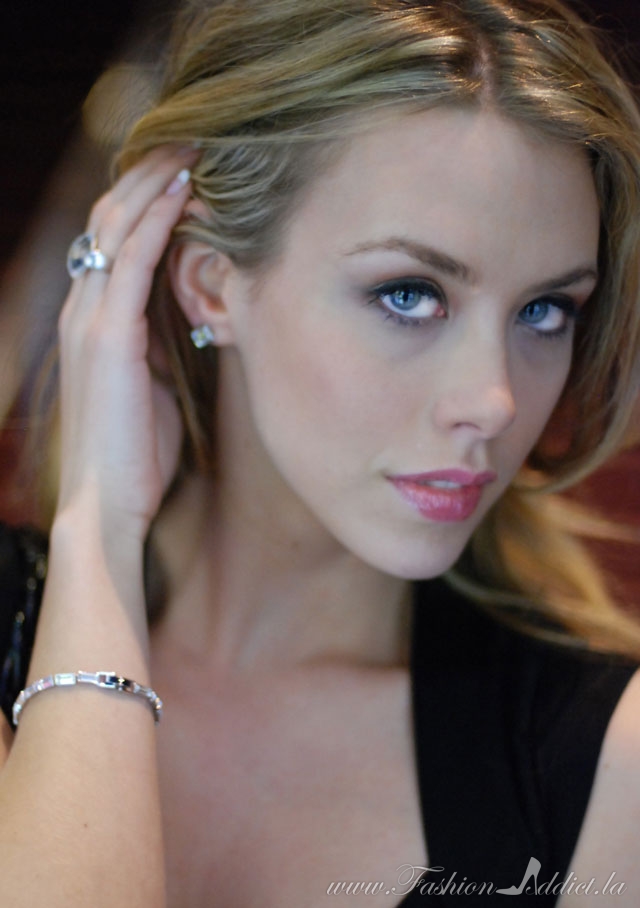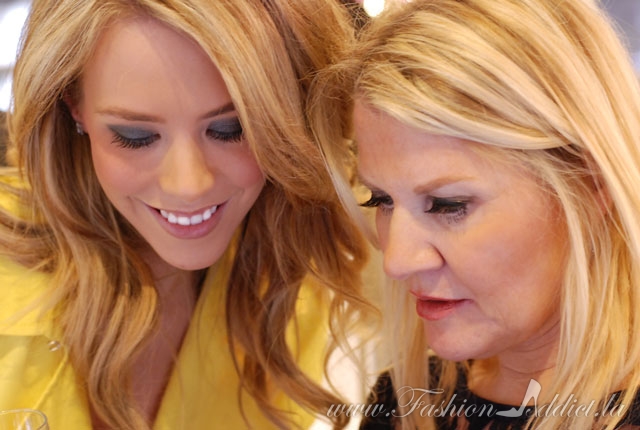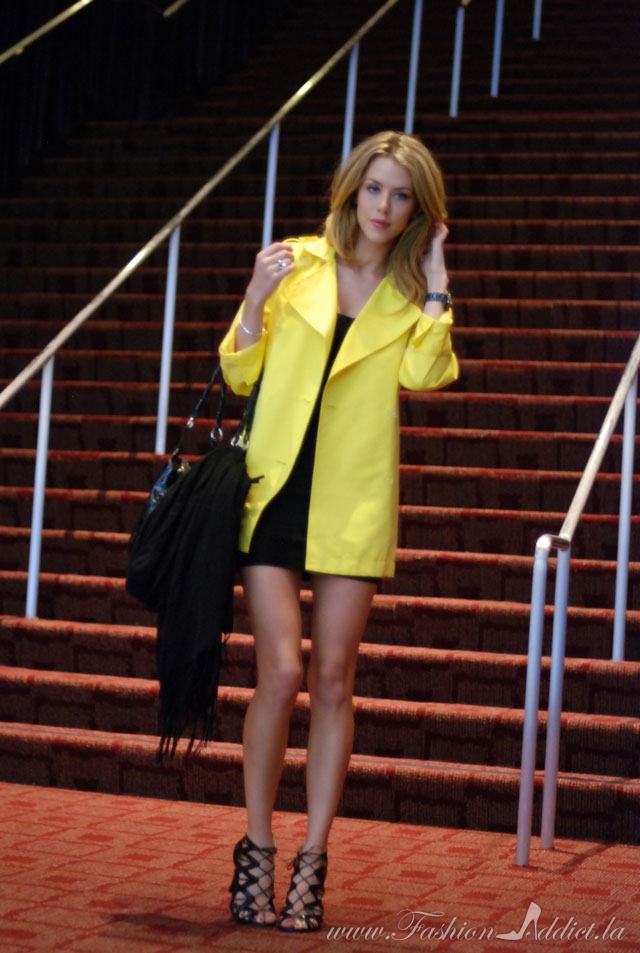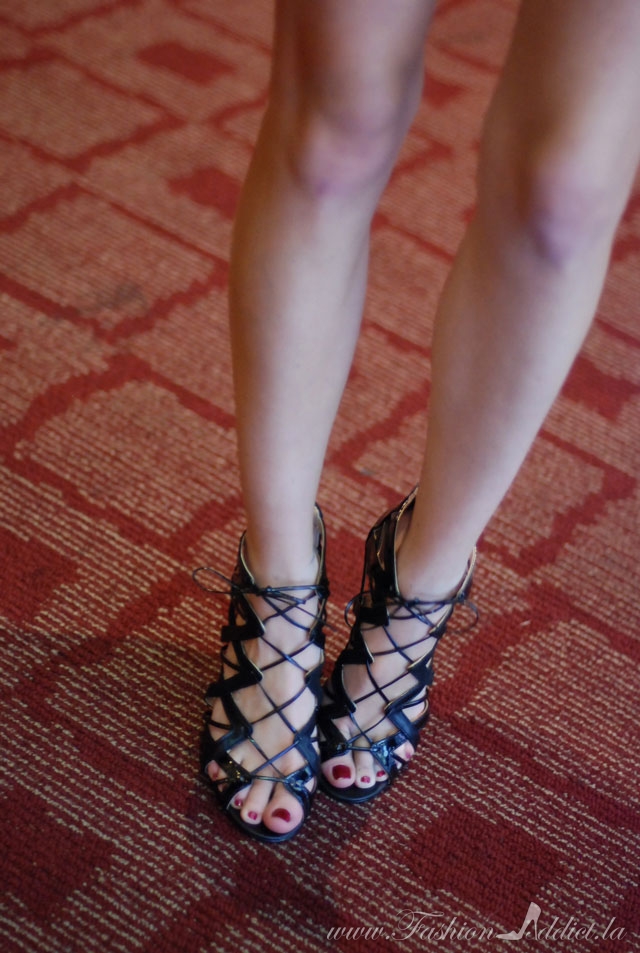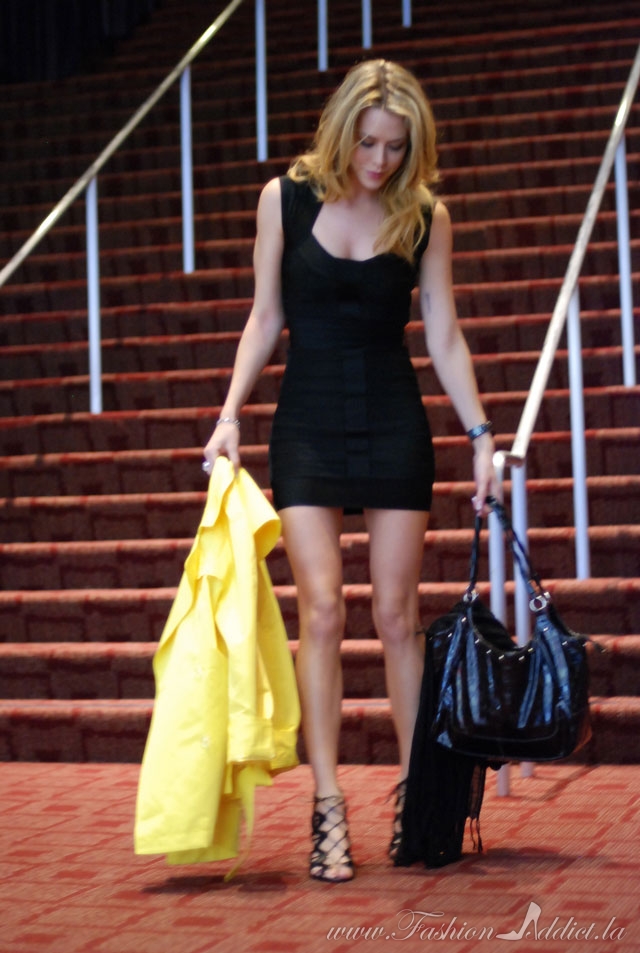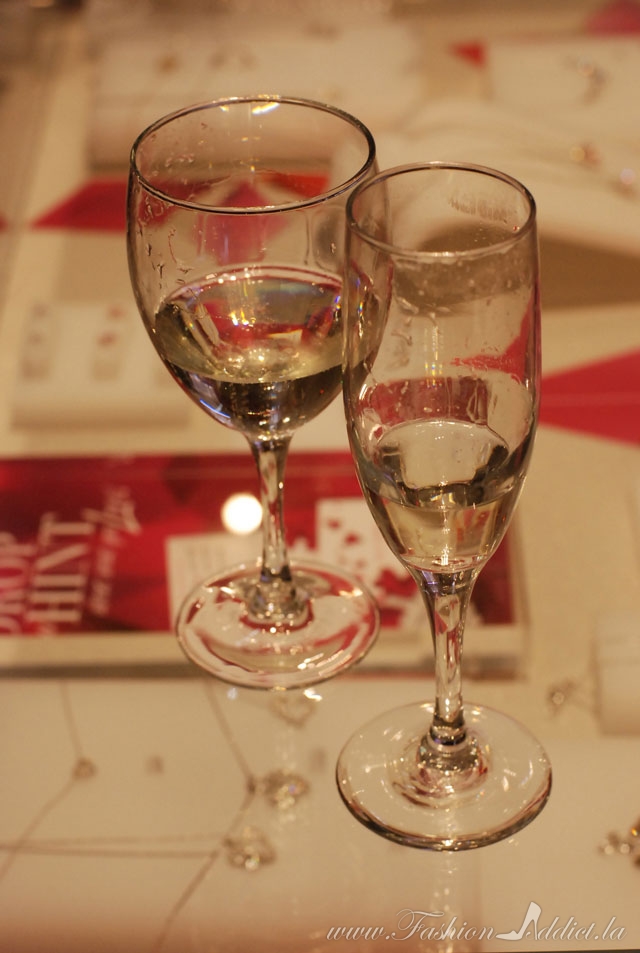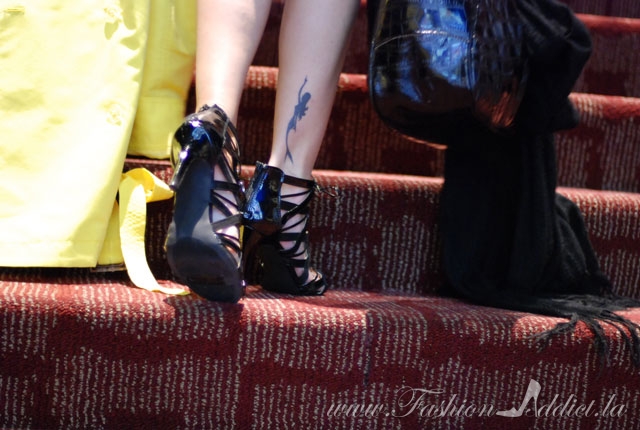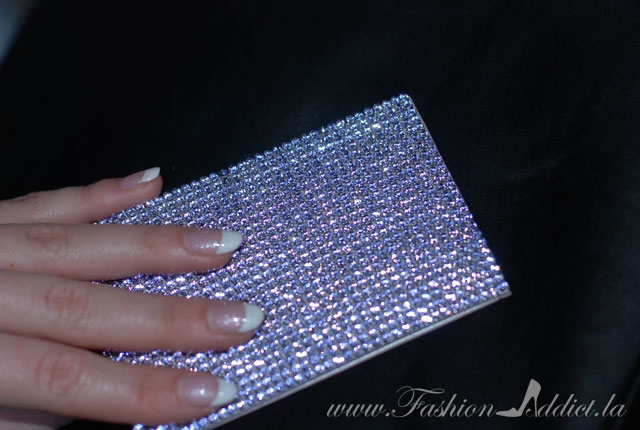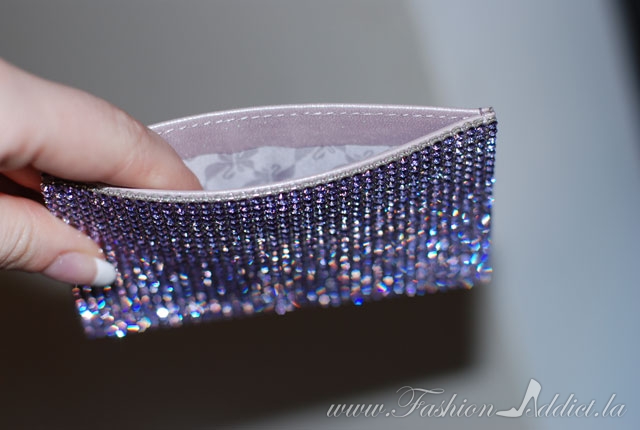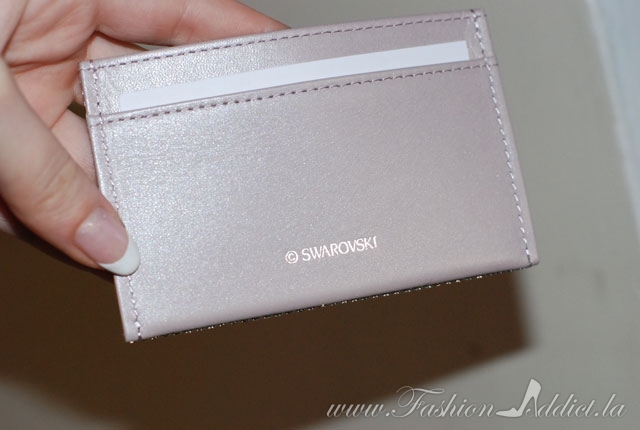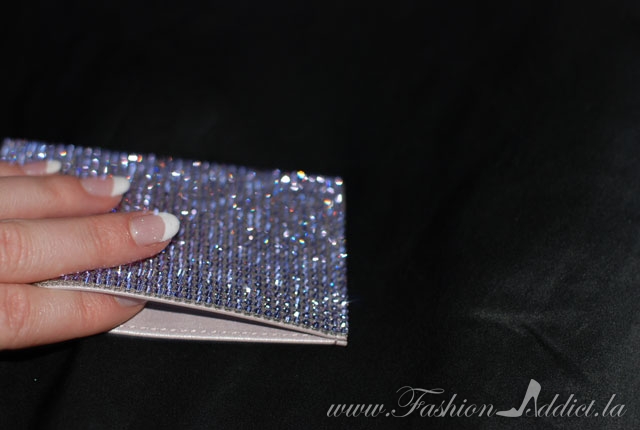 Dress: French Connection. Scarf: H&M. Bag: Sag Harbor.
Shoes: Prabal Gurung For Target. Yellow Trench: Isaac Mizrahi for Target.
Watch: Fossil. Jewels: Swarovski.
The Wow Factor
Last week I attended a party for Jacqui Staffor's new book The Wow Factor at the Swarovski Store at the Grove, and it was so fun! However, while I was getting ready to leave for the party, it started pouring down rain! All of the sudden my look had to change. "What am I going to wear now?!" I asked Roger, "A rain coat" he replied blankly… um duh, why didn't I think of that? So I tossed on my trusted yellow trench, (the second item in my outfit that happens to be a designer collaboration for Target) and off we went! The event was fun, (I shopped too much of course) and I got to meet Jacqui, and she was just a delight- so sweet and charming, I can't wait to read her new book. I love that her book The Wow Factor has fashion tips for every body and budget, because I've gotten style books in the past that have said, "Every woman needs a fabulous trench coat, the greatest trenches are by Burberry" (I'm paraphrasing) but it's like, um yeah, not everyone can go out and buy a Burberry trench coat, so… any ideas for the rest of us who can't just go out and spend $2000 on a jacket (yet)? Well Jacqui's book has just that, plenty of ideas and tips for the rest of us!
Roger and I left the party a little early and I was bummed that I missed out on the gift bag, until I was going through my purchases later, and realized that they tucked my gift into my purchase bag without me noticing! So to thank Swarovski for such a wonderful time, I've decided to host this next giveaway in their honor, and selflessly give up this amazing leather, Swarovski crystal studded card holder (that I want to keep) to one lucky winner (you're welcome). If you want to buy this card holder in silver click here, otherwise, this pale pink leather & pale purple crystal color combo is limited edition and you can't get it anywhere else, so make sure you complete as many entries as you can to increase your chances of winning! This pouch is worth $195!!! (Scroll below to enter the giveaway!)
Prabal Gurung for Target
I went to Target very early in the morning last Sunday for the launch of Prabal Gurung for Target and snagged a few of the fab items from the incredible collection, these shoes are one of my favorite new wardrobe additions but I absolutely can't wait to show you my other pieces! Did you guys shop this collection? Any favorite items? I'm still waiting for one item I ordered on-line to arrive in the mail!
How to Enter & Giveaway Rules:
Log in to the RaffleCopter form below with Facebook or your email address (will not be shown or shared) and complete  at least the first two entries and as many or all of the entries listed.
Open to International Residents & *new and old friends alike.*
On March 9th  I will choose a winner using Random.org which is built into the RaffleCopter app.
If the winner doesn't respond to claim their prize within three (3) days I will choose a new winner.
Good Luck! 
HYPE on LOOKBOOK.nu