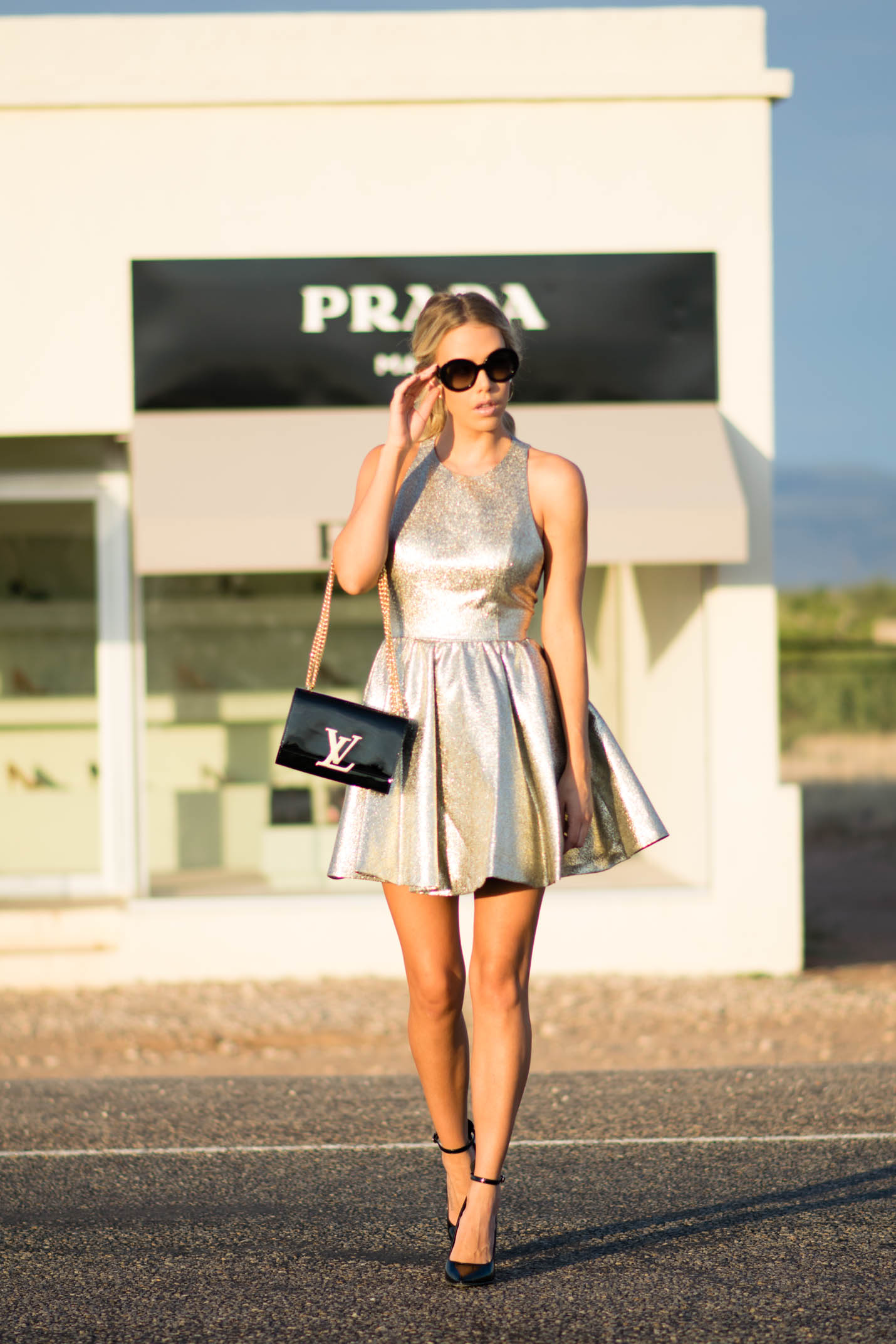 Prada Marfa was equally high on my list of places to visit as Salvation Mountain. I have been wanting to shoot and visit here for a few years. After sleeping only two hours (my sister had to stop and watch the Seahawks game which put us way behind schedule but was really fun) we woke up at 5:40am and drove an hour from our hotel The Maverick Inn (in Alpine, TX) to shoot at sunrise. The Jumpsuit was a blast to shoot and wear and we were loving the lighting so we decided we had to shoot more than one look with this iconic location and scenery. By this point the sun was up and it was reflecting off anything it could so I wanted to play off that and rock another metallic look. This gold number will transition nicely into holiday season, I can just picture it with a black turtleneck and tights. Until then though, it's perfect for Vegas or a birthday celebration and the cut is uber flattering! (make sure to get a stick on bra like this one that won't show!)
I do have to mention that The Maverick Inn was adorable but we timed ourselves to get back for the continental breakfast (which was supposed to end at 10am) and we were very sad (and hungry) to see everything was already cleaned up and put away at 9:30.. not to mention, the woman putting everything away just kind of stood there looking at us without a greeting, apology or explanation. Major FAIL.
Thank you for reading.
With love from Vegas,
Kier
Shop the look:
Dress: Alice & Olivia (also in rose gold on sale)
Shades: Prada. Bag: Louis Vuitton.
Earrings: Kris Nations. Ring: Nissa.
Shoes: Want My Look (Save with code kier)
Hair: Bellami Lilly Hair (Save with code kier)