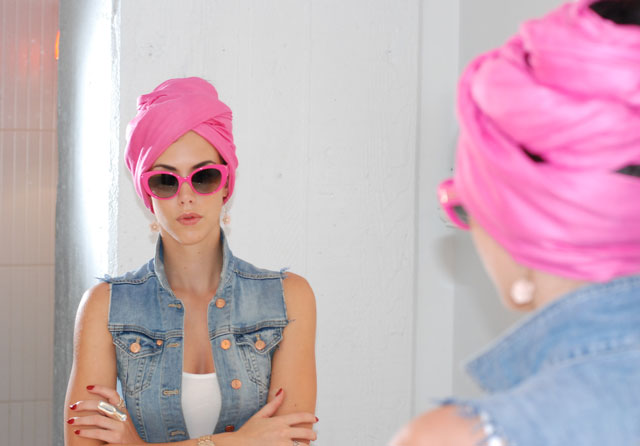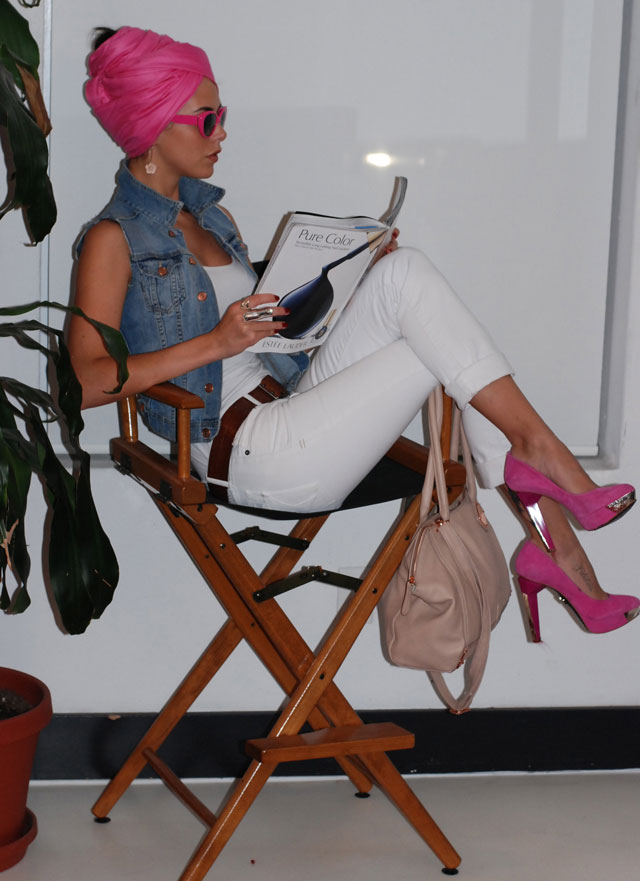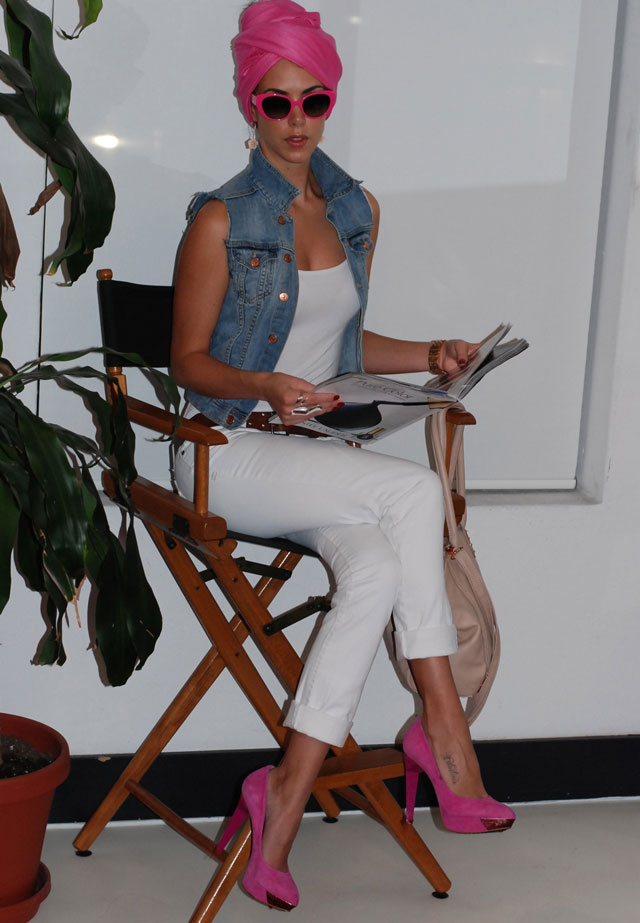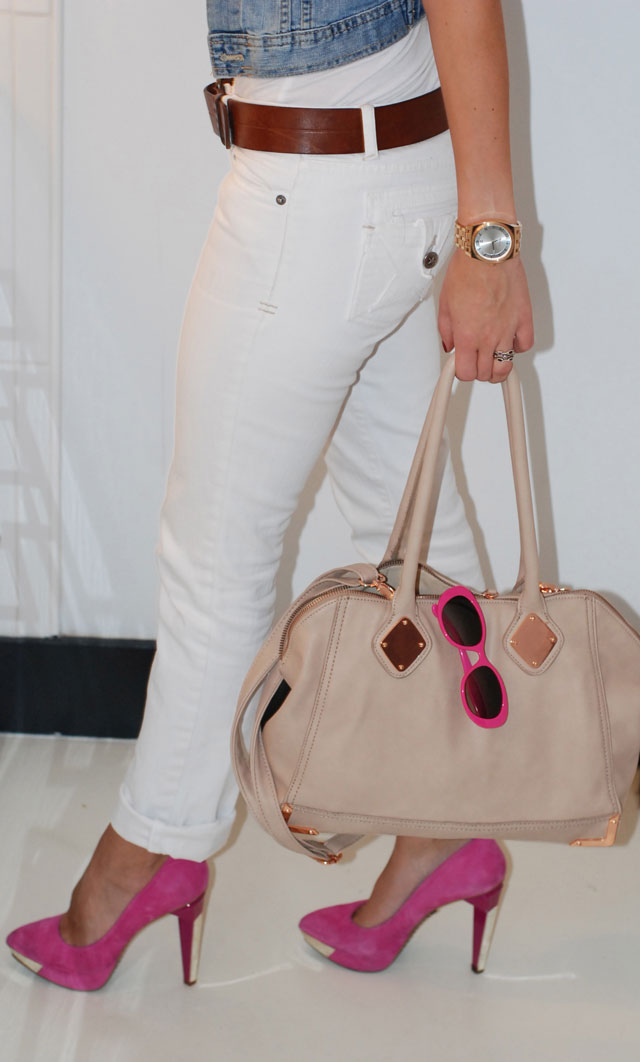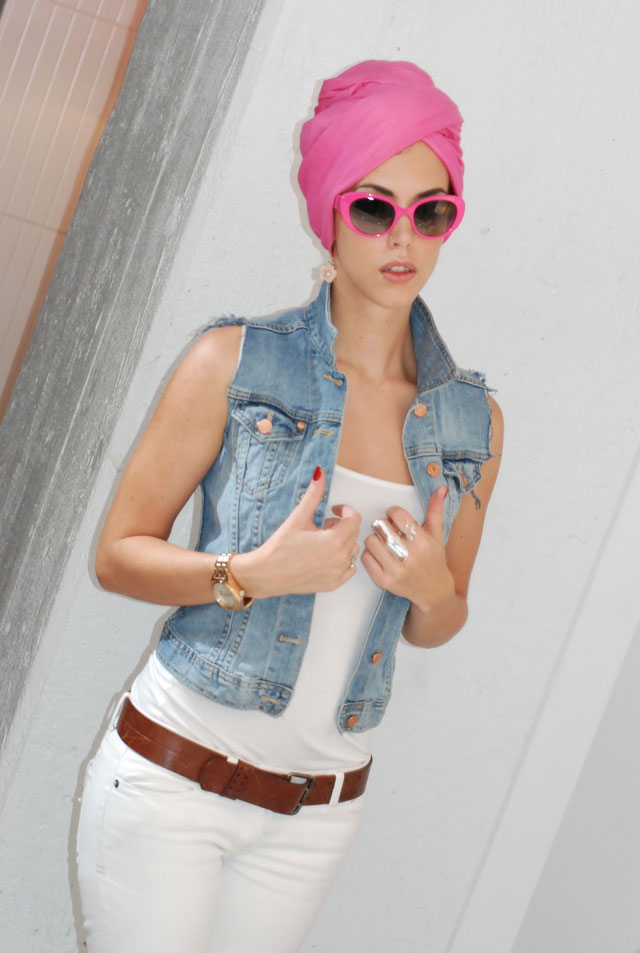 Vest: DIY Vintage, Tank top: Arden B. (old), Jeans: People's Liberation – old-
similar
,
Belt: Vintage: Bag: Aldo, Watch: 
Nixon
, Rings: David Yurman | Vintage | Giftshop,
Breast Cancer Awareness Month
I wore my new pink scarf as a turban in an attempt to cover my blonde roots that are so far back now, that I look like my hairline starts on the top of my head. I did a little shopping at Target and Ulta, and it was pretty apparent that a lot of people thought I was wearing the turban to cover chemo induced hair loss. Most people would glance at me and then quickly look away. I wasn't trying to trick anyone or take advantage, in any way, of people who really are suffering from hair loss. I thought my bun peaking through made it pretty apparent that this was a fashion turban… However it got me thinking, especially because it's October, National Breast Cancer Awareness month. There are women out there who are suffering from breast cancer and have to wear turbans, hats, wigs, etc, to feel beautiful. Well, I did feel beautiful, and I hope in some way I spread breast cancer awareness to everyone who saw me, I hope I reminded them that there are people out there who are suffering. Whether I inspired them to donate, volunteer, or simply- yet importantly- get a mammogram, ¬† ¬†I hope my makeshift turban/ fashion statement / root cover …whatever.. did made a difference somehow.. If you want to buy a scarf like this that helps pay for mammograms for women in need please
click here
, they are around $10 for most people, or only $4 if you are a chemo patient, and there are multiple color choices- not just pink.
PS. To tie, I started with my hair in a high bun, pulled the scarf around the base of my head and pulled ends forward crossing in the front, then back around my head and up around the bun to knot. I tucked in the ends and adjusted accordingly.
PPS Roger said I looked like Norma Desmond, I took that as a compliment.
With love from Hollywood,
Kier
I DO NOT MAKE – COMMISSION – OR RECEIVE COMPENSATION OF ANY KIND ON THE SALE OF THIS SCARF. YOU CAN READ MORE ABOUT HOW YOUR PURCHASE HELPS WOMEN IN NEED BY VISITING THE SITE LINKED ABOVE AND CLICKING ON "FUNDS 1% OF A MAMMOGRAM".
HYPE on LOOKBOOK.nu