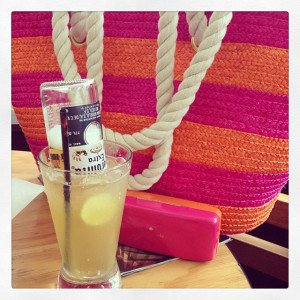 I wore this in Vegas a few weeks ago and didn't have time to snap photos so I threw it back on the other day for your viewing pleasure. I love the bag- that was my focal point so to speak, meaning I basically planned the outfit around the bag. You know me, matchy, matchy, and more matchy. Rope detailing on the bag and shoes. Pink visor, pink shades, pink earrings… and the fashion gods were smiling down on me when Kate Spade decided to put these shades in a color blocked pink and orange case, which would  perfectly match my outfit years after she designed it.This outfit is a perfect example of my ability to shop anywhere. I think I mentioned it before, but I got this visor at a CVS drugstore and never looked back. It is totally something an old lady would wear, but then again, I'm pretty sure cat eye shades and orange lipstick are right up that alley as well. Sometimes I think I am 80 years old, sent back in time to live it again, how I would have wanted to live it the first time, but with the wisdom, spunk, and fashion sense of an 80 year old…. but saying that makes me sound like I haven't got a clue. Gosh I'm weird.
Review: Australian Gold Continuous Spray Sunscreen with Instant Bronzer
In other news, I have done it. You're welcome, I have found the best sunscreen of all time. If you follow me on Instagram, I have raved about this Australian Gold Continuous Spray Sunscreen with Instant Bronzer several times but let me give you the full review. This nozzle is great, it sprays on evenly, and layers you with a fine mist of sunblock and bronzer to get your tan started. It's so subtle, but looks like you instantly got a "healthy tan" perfect of your guys "farmers tan" or if you're feeling like your stomach is wayyy lighter than your legs.. The SPF 15 is a little light, but that's fine with me! I'll just keep reapplying the SPF and layering the bronzer :) . I spray it on every hour, and I feel like I look like a sun goddess by the end of the pool day… Unlike the girls who are "tanning" and "don't need sunblock" who end up red as a lobster and with skin cancer down the road. My first job was a tanning salon and I've had a photo of my sun damage, it's NO JOKE. I know I can't be out without sun protection, none of us can, so it's about time someone provided us with adequate, luxurious, and affordable sunblock. Which leads me to the smell…. OH MY GOD. Imagine the $60 (or more) bottle of your favorite tanning lotion, this $10 can smells better. It is the epitome of luxurious in a freaking drugstore can- honestly…. if any of you watch those AT&T commercials, I felt like the kid who asks "Wha, wha, what would the animals be made of?" shaking my head back and fourth all hyperactive like "Wha, wha, what do you mean this sunblock is the answer to my prayers??". I recommend this sunblock to EVERYONE. I literally have a can in 3 different purses, my medicine cabinet and in my car. If you ever see me out and you need some sunblock I will come to the rescue with my Australian Gold proudly in tow. Oh yeah, and it doesn't rub off on white bikinis or dresses. BOOM!!   If you don't know what commercial I'm talking about, I have included it below.. Again, you're welcome.
With love from Hollywood La Jolla,
Kier
Belly Shirt: BDG. Circle Skirt: American Apparel. Bikini: H&M, old. Bag: Boardwalk Style c/o. Visor: Panama Jack. Shades: Kate Spade. Shoes: Aldo, similar. Wet Bikini Bag: Kitson. Sunscreen: Australian Gold. Earrings: Kate Spade. Beer: Corona Light. Lips: MAC Morange.
Shop the Look: