Dress: Bri Seeley. Shoes: Aldo. Clutch ZARA. Earrings: Hollywood Farmers Market.
Bracelet: Thanks to Domain (unknown brand).  Ring: Getty Center Gift Shop.
Shop the Look:
Some amazing pieces I saw at the party…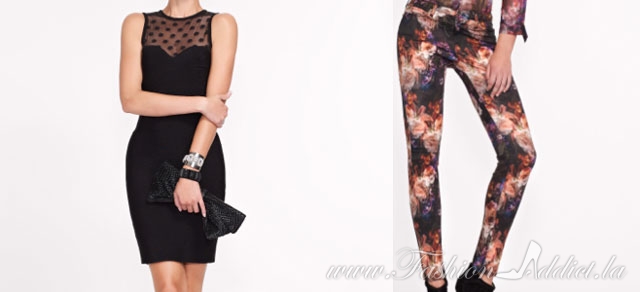 Dress | Pants
Both not out yet, sorry!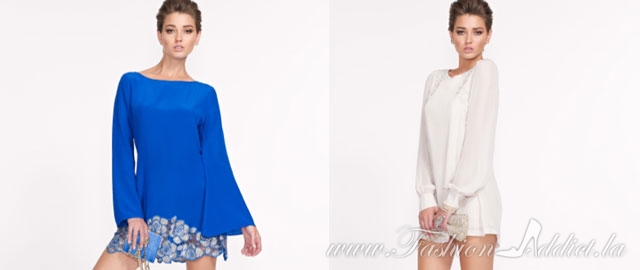 Dress, not out yet. | Dress, not out yet, similar here.
 Blue Jacket | Ombre Faux Fur Coat.
Above: The pieces in the Fall and Holiday lines I'm obsessed with.
Be sure to follow me on Facebook and I will announce the releases of these pieces as they come. I also announce fun events, and share photos that don't make it on the blog!
The Marciano Holiday Preview Party
I attended the Marciano Fall / Winter preview party recently at the Petit Ermitage Hotel rooftop and the party was stunning, if you've never been to the rooftop there it really is something to see- especially adorned with fashionistas, bloggers like Sydne and Kim, and the newest collections by Marciano. The Petit Ermitage is my favorite venue in LA so to attend the debut of these amazing pieces- several of which I am obsessed with, was incredible. I mean…. Ombre Faux Fur coat… hello beautiful! Or the blue, bell sleeved, floral sequin bottom dress… OH MY GOODNESS.. I need to own that dress or my life won't be complete. The printed pants and blue peplum leather jacket are also making their way into my wardrobe somehow..
The line showed love to ankle straps, calf hair clutches, sequins, luxe leather, and fabulous floppy hats with chain details. I'm sure you can tell but I am kind of a dramatic, and slightly sexy dresser and it seams like it's always the statement pieces I wear the most. Pink cat eye shades, giant floppy hats, loud prints are what I feel most comfortable in and Marciano has a way of infusing classic pieces with drama and a lot of sex appeal, a perfect line for me and all of you fashion addicts too. I hope we are all lucky enough to get our hands on some pieces from these collections! Well done Marciano, and thank you for the gifts, see them here soon!!!
P.S. This blue is actually cerulean blue… if you don't remember the tense scene from The Devil Wears Prada in which Miranda schools Andy on the history of cerulean and how it's not turquoise or lapis, well I've included it for your viewing pleasure and education below. Enjoy.
With love from Hollywood,
Kier