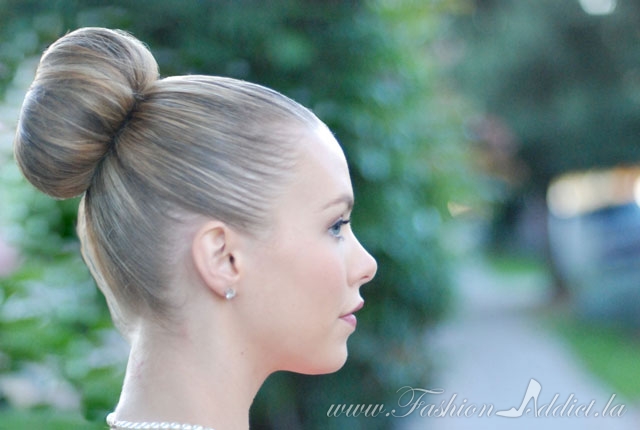 How to do a Sock Bun
I wore my sock bun here to a friend's wedding and about a thousand people asked me how to do a sock bun, I told them to "Just search  youtube for sock bun"  yet they all seamed to return saying their's didn't turn out right and they still wanted me to show them my secrets. I tried to record a video a few months ago but when my hair was so black it was very hard to see, so I scrapped it. Now that my hair is much more blonde I decided to try again- I'm sorry it's not fancy, but It's informative.
I also want to mention that it works much better with texurized hair, Silky hair doesn't stay as well- so either spray it with a texturizer, use hairspray or just the mentioned Kenra Thermal Heat Activated Styling Spray on the ponytail and brush through.
Also make sure your pony tail is tight and secure or your bun wont be.
Keep in mind, my sock buns don't always come out perfect the first time, sometimes I have to pull it out and start again, but I think the type of sock is the most important part. Roger is pretty sure these socks are Nordstrom brand (we got his at Nordstrom Rack) just make sure they have a thick, tight elastic band at the end.
Thanks for watching my first video! Make sure to "Like" my video and share it with anyone who you think might benefit!
With love from Hollywood,
Kier