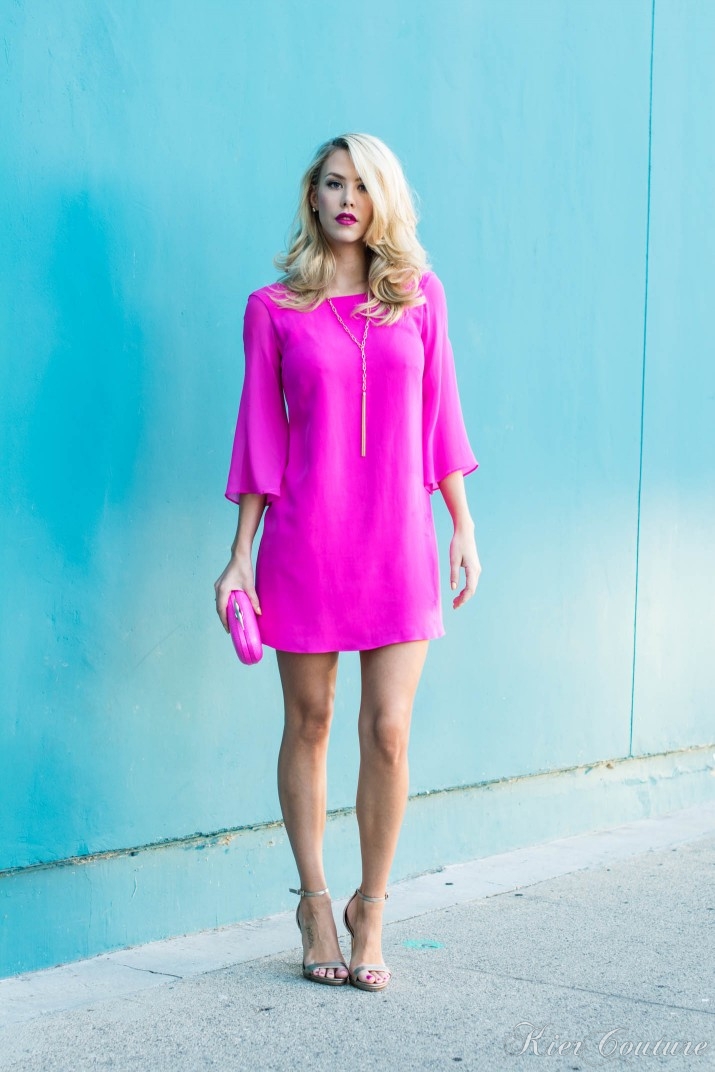 Hi y'all! I am so excited for today because it's episode 2 of House of DVF! Last week I was so lucky to be able to have some of my closets friends and family with me to celebrate the premier. I opted for this beautiful silk Buckley K dress and gold shoes and jewelry. This DVF clutch is sold out in pink, but the gold is actually on sale!
I want to thank Bear from Lolli & Pops for sponsoring the candy bar, Joann and Marilyn for showing up early and helping, Emily for taking these photos and helping set up and clean up, Laura for filming the "get ready with me" video… (coming soon) Glam Squad for getting me ready- specifically Erik and Christopher who made me feel so beautiful and relieved a lot of stress, Roger for his undying support, all of my friends for coming and my beautiful mom for driving 6 hours to, not only come to my premier party, but to scrub my kitchen and help me set up… I am so grateful and genuinely touched that you all care and put so much effort into a big day for me.
Check out my blogger gals who came to support: Elizabeth, Enocha, Joann, Laura, Marilyn, Mel, Melanee, and Taye…
Thank you also to Nick, Nasim, Derek and Meggie, and Chris and Linda for all the beautiful gifts and sweet words of support!
I know it seams like I was on my phone a lot in the photos below but I was trying to live tweet during the show, and yes I saw the negative comments, I'm trying to not let them bother me, and I'm doing okay at that. It's so strange because, yes I'm human, yes I think terrible things about people but to me, writing that negativity down and sending it into the world just seems so… pointless and small minded. Keep in mind that not everything could possibly be shown as they have to narrow down days of footage for about a 47-minute episode so things may not be exactly as they appear. I wouldn't trade my experiences for anything, and I wouldn't want to have shared this experience with anyone but the seven remaining girls! Make sure yo follow all the #HouseofDVF girls on Instagram! @Abspetit @AmandaSchauer @Bhampton @i.am.codi @GreaseandGlamour @LenoreGenovese @TimberWar <3
Thank you for reading!
Photos with a Nikon D5300 and 50mm 1.4 lens.
With love from Hollywood NYC,
Kier
Shop the look:
Dress: Buckley K, c/o. Shoes: Steven. Clutch: DVF. Tassel Necklace: Forever 21.
Ring: Nordstrom. Earrings: Nordstrom.
Hair and Makeup: GLAMSQUAD, c/o.  (Video coming soon)

Make sure to watch House of DVF tonight on E! at 10/9c 
And, checkout the clip below… I was inspired by the 2010 DVF Resort Runway show (photo below) so I wore this big gold bow- some of you may remember it from Instagram.. anyway, Stefani let me have it- maybe she wasn't aware of Spring 2010 ;)