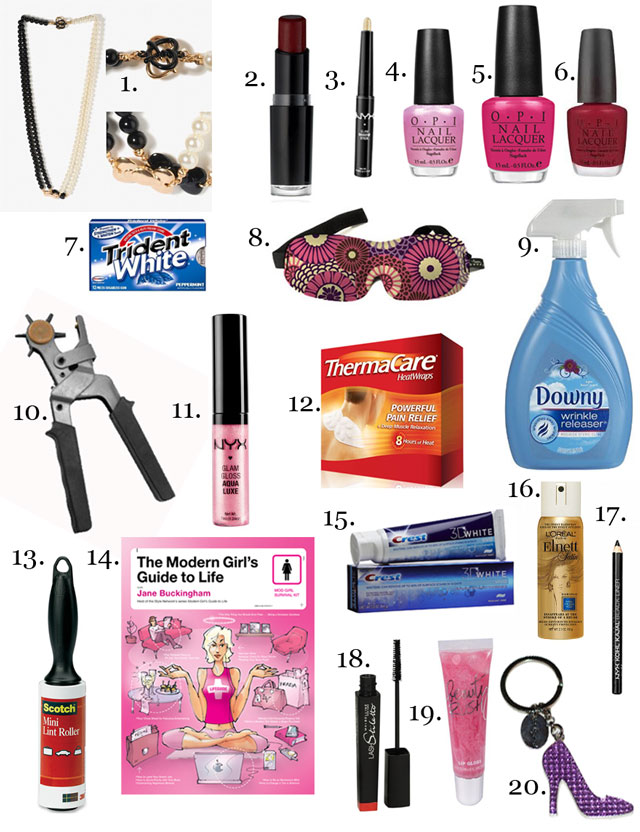 So as you may know this is a month of posts featuring my favorite things, and I just wanted to thank all of my lovely readers for your continued support  by offering this giveaway featuring my favorite cosmetics, secret weapons, and my Fashion Addict logo keychain. To make the deal sweeter, not one, but two of you will win this gift box. So please tell everyone you know to enter. Thank you, for all your sweet comments, shares, and support, This blog is one of the best things that ever happened to me, and I am eternally grateful for all of you. Enjoy!!!
Whats in the box???
1. Hello Kitty® & Onch Movement Pretzel Bow Necklace:
My favorite piece of the collection, and it's sold out everywhere- Win it here!
2. Wet n' Wild Lipstick in 'Cherry Bomb'
A perfect long lasting deep bordeaux lip shade that mixes well. (I like it mixed with MAC 'Blankety' for an extra creamy finish)
3. NYX Glam Shadow Stick
Perfect for applying under the lower lash line, under the brows for a highlight and in the corners on the eyes!
4. OPI 'Petal Faster Suzi'
Perfect light pink
5. OPI 'Kiss me on my Tulips'
Perfect hot pink
6. OPI 'Got the Blues for Red'
Perfect Red
7. Trident White Gum in Peppermint
Great for after red wine or coffee to prevent stains from setting
8. 40 Blinks Sleeping Eye-mask
I can't go one night without this amazing eye mask, the strap is adjustable and the foam is light and contoured to avoid pressure on your eyeballs, it's also great for lash extensions or for people with just really long lashes.
9. Downy Wrinkle Releaser
No matter how hard I try, I seem to run late more often than I'd like, but just because I'm short on time, doesn't mean I have to have wrinkly clothes- this spray is a quick fix and it's great for traveling, you never know about those hotel irons..
10. Adjustable Leather Punch
I always have one of these handy- not only is this what I use for my DIY spiked shoes, but I don't like my belts being too tight or too loose, so I can always place a new hole in the perfect spot, This leather punch is a secret weapon to always looking polished.
11. NYX Glam Gloss
The perfect non-sticky, non-goopy, glittery gloss that is inexpensive enough to lose at the nightclub without ruining your night.
12. Therma Care Heat wraps
Obviously these are helpful for menstrual cramps and sore muscles, but here is a trick you may or may not have heard: When I go out at night and it's cold, but not too cold to wear a heavy coat, or when I'll only be in the cold for  little while and I just don't want to carry my coat around after that, I wear one of these on my lower back- it warms me up and is thin enough to not show through- even with body conscious clothes. I like these small neck/wrist ones instead of the menstrual ones because they are smaller, so there is less adhesive, and they don't get too hot like the bigger ones can.
13. Mini Lint Roller
Especially if you have a pet, this is a no brainer, the small version fits in my bag, and is easy to pack!
14. The Modern Girls Guide to Life by Jane Buckingham
I read this book as a young girl and firmly believe it's a fabulous book for every woman to read. Some of the tips are common sense, but some tips I had never heard of, there are even computer instructions, and easy recipes to whip up last minute, how to taste wine, how to write a proper thank you note, tips for throwing a party, it really is a a guide for the modern girl!
15. Crest 3D White Toothpaste
I recently started to use this toothpaste and it works wonders. It is making a difference long term, but I really notice a difference right after brushing. I've tried a lot of things for teeth whitening, but I genuinely have never notice such a difference and so fast as with this toothpaste. Also, the 3D part, I totally get, I have little teeth that stain easily and aren't very thick, but this toothpaste whitens so well, that my teeth actually look more opaque.
16. Mini Lorial Paris Elnett Satin Extra Strong Hold Hairspray
The best hairspray ever. The first hairspray to easily brush out, but keep the hold. This hairspray was used in the 60's and 70's by every stylist who could get their hands on it. Containing an ingredient not legal in the USA, maybe stylists would go to Europe and buy hundreds of cans to smuggle back into America. finally available in the states, I've been obsessed with it since the first spray, never stiff or flakey, it holds, smells great, and you can spray it on your legs to prevent static cling and it wont coat them with a think coat of sticky mess.
17. NYX Kohl Kajal Noir Collection liner in black
Glides on smoothly, and I love the creamy semi-matte finish. It also doesn't run or smudge like MAC and  Smashbox liners..
18. Maybeline Lash Stiletto in Black
I find that this works and layers best by curling, then applying a thin coat, letting it dry, curling it again, and repeating- Comb out any rare clumps, and finish with a tiny bit on the ends.
19. Beauty Rush lipgloss in 'Strawberry Fizz'
Lasts for hours, and softens lips, while smelling incredible!!
20. Hollywood High Heel "Fashion Addict" Keychain
The same keychain I have, it's the true Fashion Addict Keychain complete with a "Hollywood" Charm.
How to Enter & Giveaway Rules: 
Log in to the RaffleCopter form below with Facebook or your email address (will not be shown or shared) and complete  at least the first two entries and as many or all of the entries listed.
Open to International Residents-  *new and old friends alike.*
On December 31st  I will choose TWO Winners.
If a winner doesn't respond to claim their prize within three (3) days I will choose a new winner.
Good Luck! 
a Rafflecopter giveaway
With love from Hollywood, Kier