No Sew DIY Slip Dress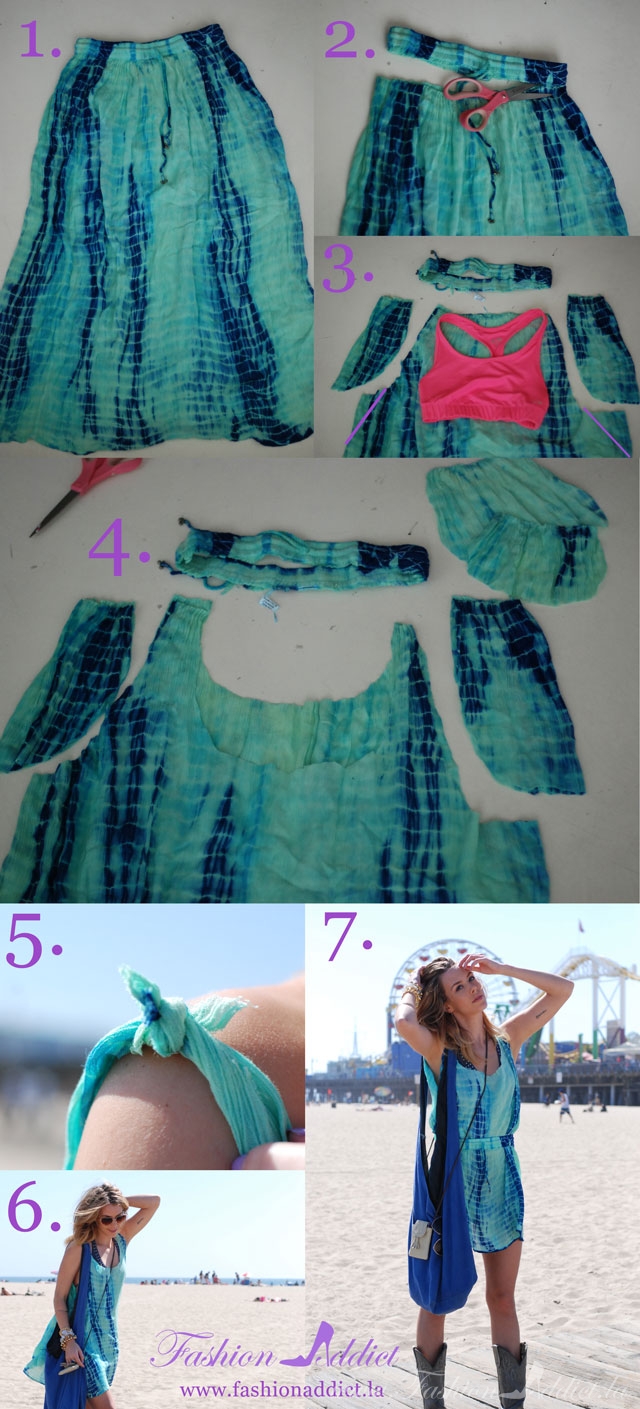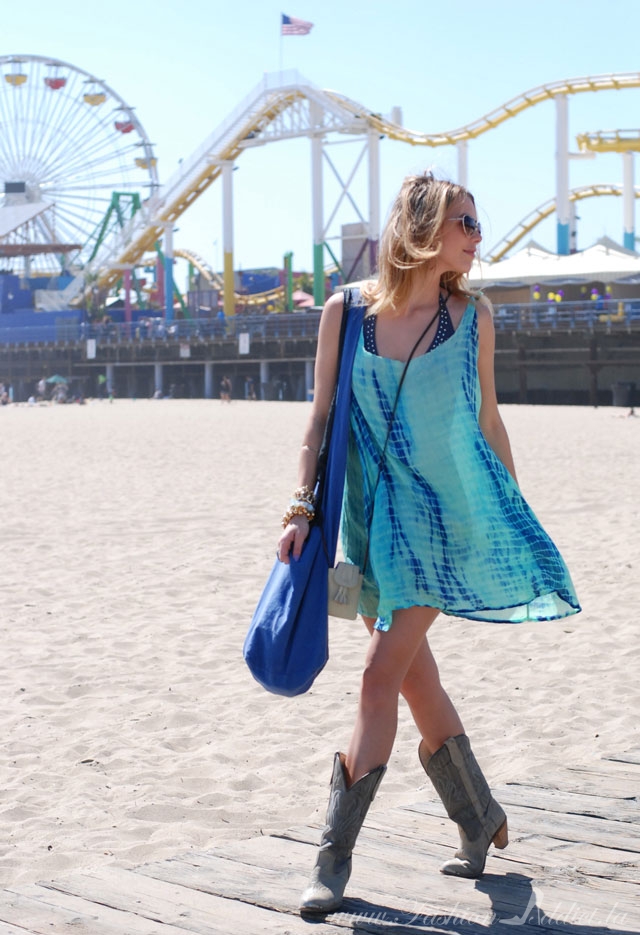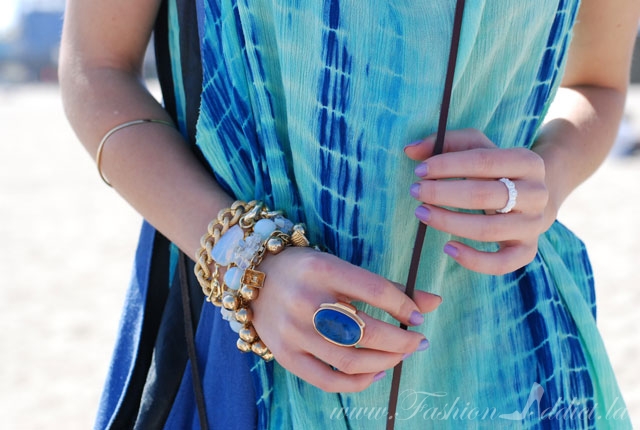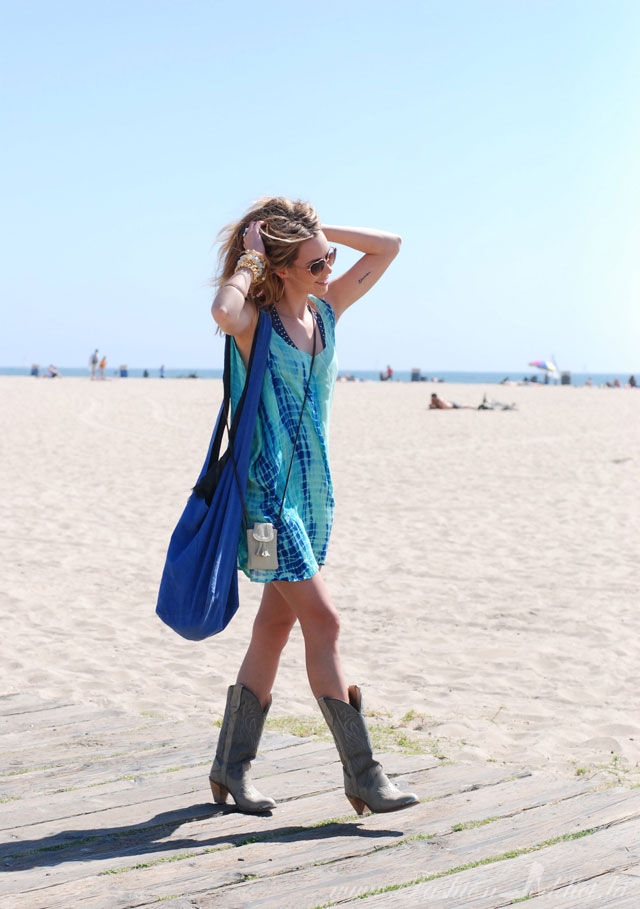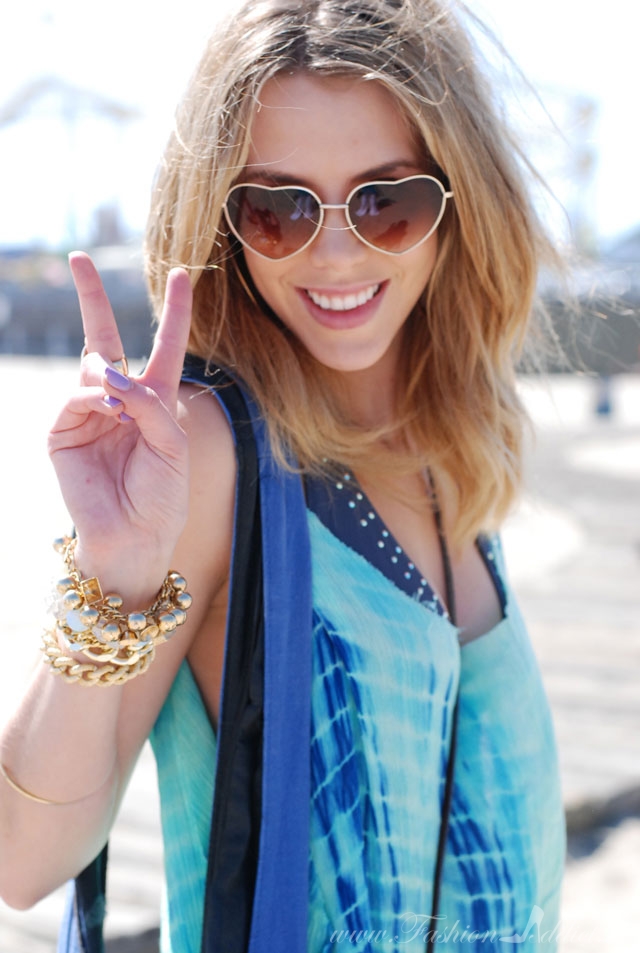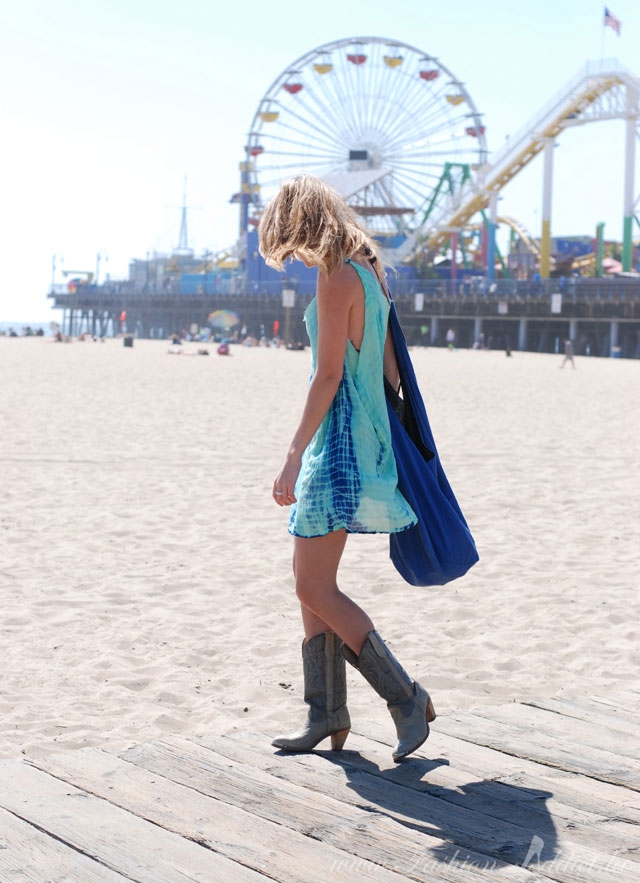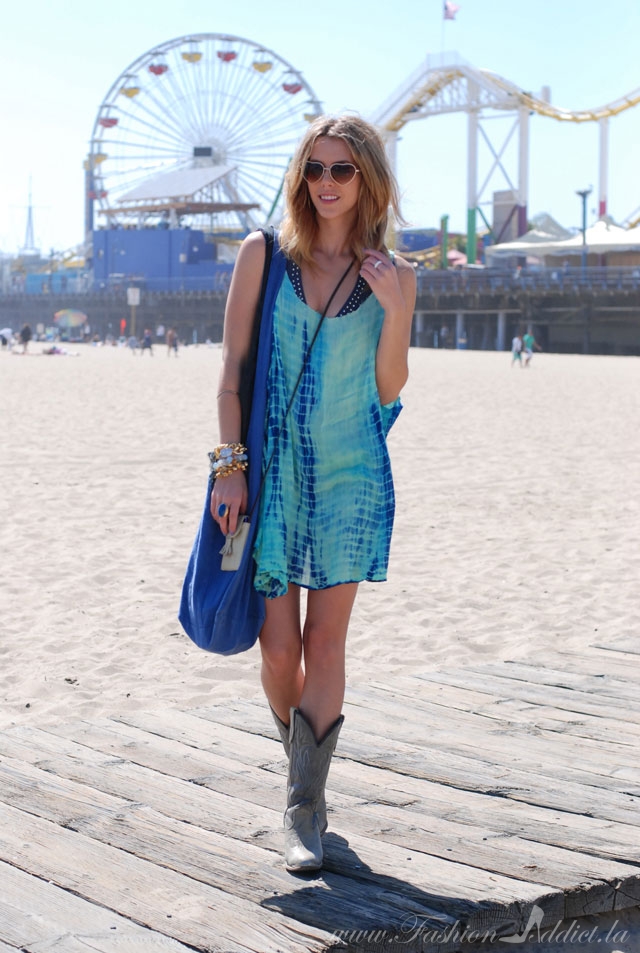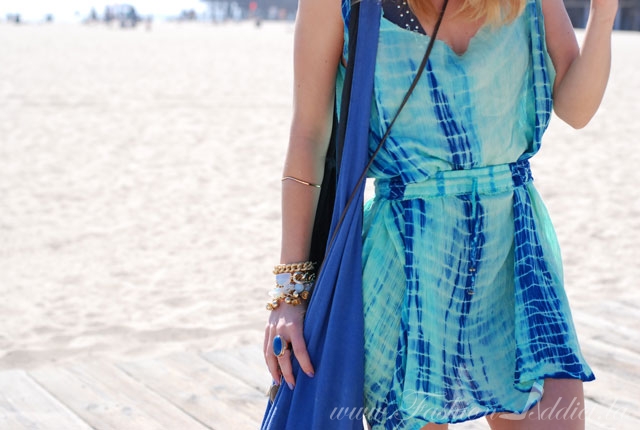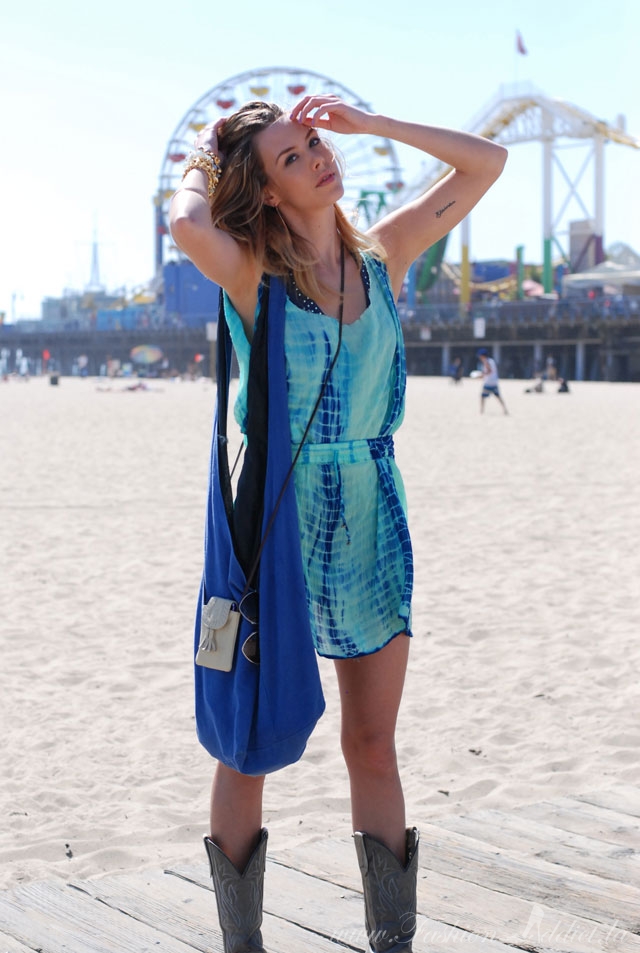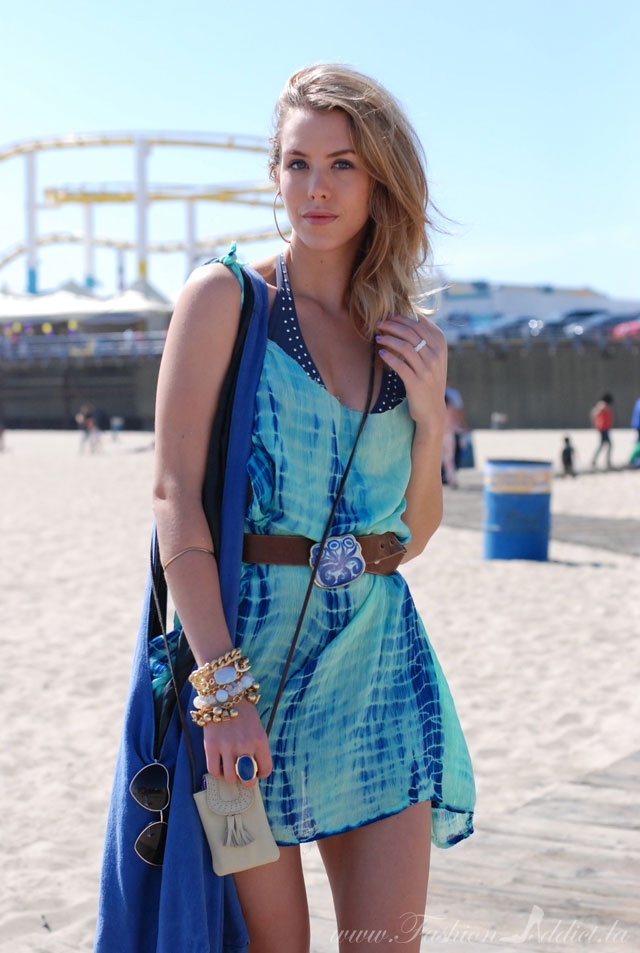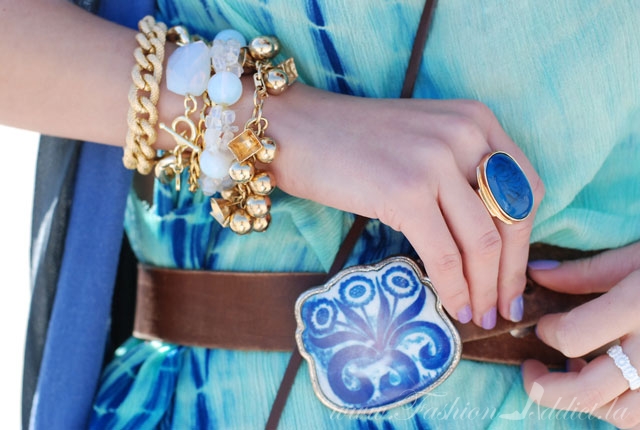 Dress: DIY (Instructions Below) Similar Maxi Skirt. Belt: Lucky Brand, old. Boots: Vintage Capezio.
Bag: Bought at the Bazaar in Tel Aviv, Israel 2006. Cell Phone Pouch: Urban Outfitters, last year.
Rings: H&M. Earrings: Aldo, Heart Shaped Shades: Borrowed. Swimsuit Top: Unknown.
Forearm cuff: Chloe + Isabel. Gold Chain: Oia Jules c/o. Gold Chain with Opal: Oia Jules c/o.
Small Chain: Leolalace, Opal Beads: Gift Shop. Bells and Beads: Vintage.
DIY No-Sew Slip Dress…
I was inspired by this post from One of Each in December, so this is my no-sew version!
1. Start with a maxi skirt, I got mine at RiteAid for $10 (I told you I can shop anywhere), It never fit me right, (surprised?) but I love the colors, and the fabric.
2. Lay flat and cut off the waistband
3. Lay a tank top or sports bra that fits you over the skirt to get an idea of the sleeve placement and cut triangles off the corners- trim a few inches below where the sleeves of your tank top or sports bra fall. I trimmed more off than shown in the photos, I indicated my final sleeve with purple lines. I did triangles instead of half moons because with a traditional half moon sleeve cutout the right angle was sticking out under my arm like wings. The triangle shape makes the sleeve holes deeper resulting in needing to wear a bikini top or bralette for side-boob coverage. Also, make sure you make the straps long enough so that you have enough fabric to tie them together.
4. Cut out the neck and back, trim it until it has the shape you want.
5. Tie sleeve straps together in a double knot.
6. Enjoy loose, or
7. Use elastic waistband as belt…
Or Use any belt of your choice
Coachella Fashion:
I decided not to spend a bunch of money and make my dress out of an old maxi skirt that never really fit right. The breezy fit is comfy and moves beautifully making dancing, and even walking look etherial. I always opt for a backpack or shoulder/cross body bag for festivals because I want to be hands free, and the cell phone pouch keeps my phone readily available for easy instagraming, instead of lost in my bottomless pit of a bag. I stacked bracelets including a noise making one with bells to create a built in tambourine. Cowboy boots are comfy enough to wear all day and give some lift to your butt and legs so you can go bare, and barely there- they also keep your feet dry, warm, and clean regardless of how the weather changes. Heart shaped shades complete this feminine relaxed look!
Thank you for reading, make sure to visit my "Home" Page to see what's new on Kier Couture!
With love from Hollywood,
Kier